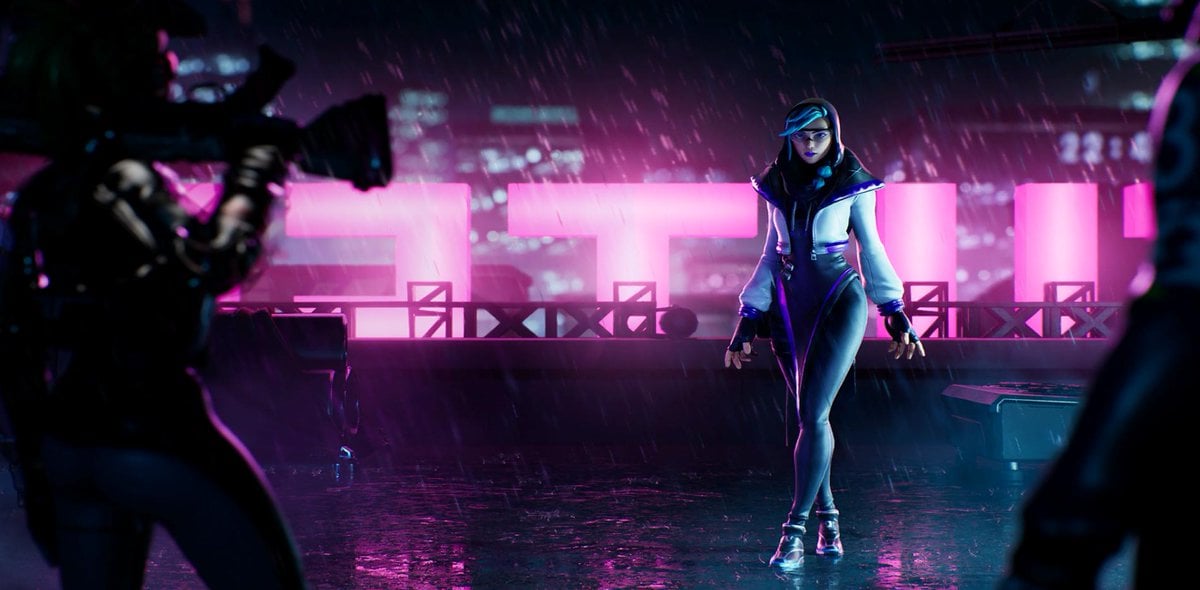 Week 6 of Fortnite's 9th Season has arrived, bringing with it the extremely fun (and deadly) Proximity Grenade Launcher. This new toy will come in handy, as the challenges this week are all about action. You'll be dealing damage, eliminating opponents, and searching ammo boxes on your way to earn more Battle Stars.
We post the challenges each week when they go live, so be sure to follow our blog! If you're looking for past challenges, you can find them here:
Race Track and Turbine Locations, Dark Vertex Bundle Now in Stock | Fortnite Season 9, Week 5 Challenges
How to Destroy a Loot Carrier, Plus Maps and Locations | Fortnite Season 9, Week 4 Challenges
How to Get the Flying Disc, Fortbyte 16 Map and Location | Fortnite Season 9, Week 3 Challenges
Phone, Piano, Fish, and Fortbyte #13 Map and Locations | Fortnite Season 9, Week 2 Challenges
Everything New and Week 1 Challenges | Fortnite Season 9 Is Live
Fortnite Season 9, Week 6 Challenges
Overall, it's a pretty simple week! After completing the challenges you should have plenty of time to check out the new Limited Time Co-Op mode "Horde Rush" that starts today!
Horde Rush is a 4 player squad mode that has you prepping your base and then defending it from waves of fearsome Fortnite Fiends. Each match consists of multiple stages taking place at different locations across the map. Grab some friends and get in there!
Free Challenges
Stage 1 of 5: Land at Lucky Landing = 1 Battle Star each

2: Land at Loot Lake
3: Land at Shifty Shafts
4: Land at Frosty Flights
5: Land at Haunted Hills

Deal damage with SMGs to opponents (0/500) = 5 Battle Stars
Stage 1 of 3: Search ammo boxes at a Hot Spot = 3 Battle Stars

2: Search ammo boxes at a Hot Spot 3 = Battle Stars
3: Elimination at a Hot Spot 4 = Battle Stars
Battle Pass Challenges
Deal damage to a vehicle driven by an opponent (0/200) = 5 Battle Stars
Use a Storm Flip in different matches (0/3) = 5 Battle Stars
Use different vehicles in a single match (0/2) = 10 Battle Stars
Eliminate opponents in The Block or Fatal Fields (0/3) = 10 Battle Stars
Cheat Sheet with Locations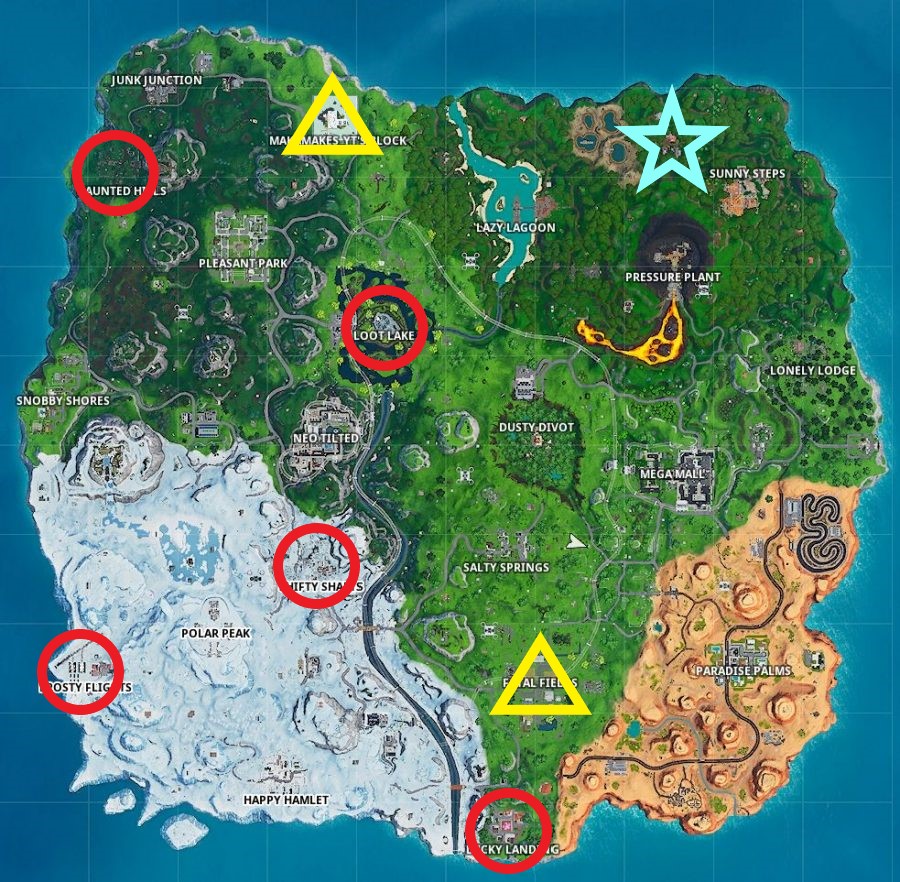 Because the challenges are so straightforward this week, we've grouped multiple guides together into one handy cheat sheet! Use the map above to solve the Week 6 challenges quickly and easily. Here's what all the symbols mean:
Red Circles = Land at Named Location Challenges
Yellow Triangles = Eliminate opponents in The Block or Fatal Fields
Blue Star = Location to Use Different Vehicles in a Single Match
Dark Vertex Skin, Eon, Double Helix, and More– All on Sale in the CDKeys Store
Drop in with legendary style wearing the Dark Vertex skin, available right now in our webstore! And while you're at it, check out the Eon bundle for Xbox One and the Double Helix for Nintendo Switch.
All of these cosmetic bundles also include V-Bucks. Use them to buy multiple items or even a Battle Pass in the Fortnite Item Shop.
Just need V-Bucks? We have a way for you to get discounted V-Bucks simply by using the cards available in the Top-Ups section of our webstore. Follow those links if you want to save yourself some money. Or, simply buy your V-Bucks directly while they're on sale.
That wraps up all of the new challenges (and potential loot) waiting for you in Week 6 of Season 9. If you have any questions, let us know in the comments and we'll help you out!