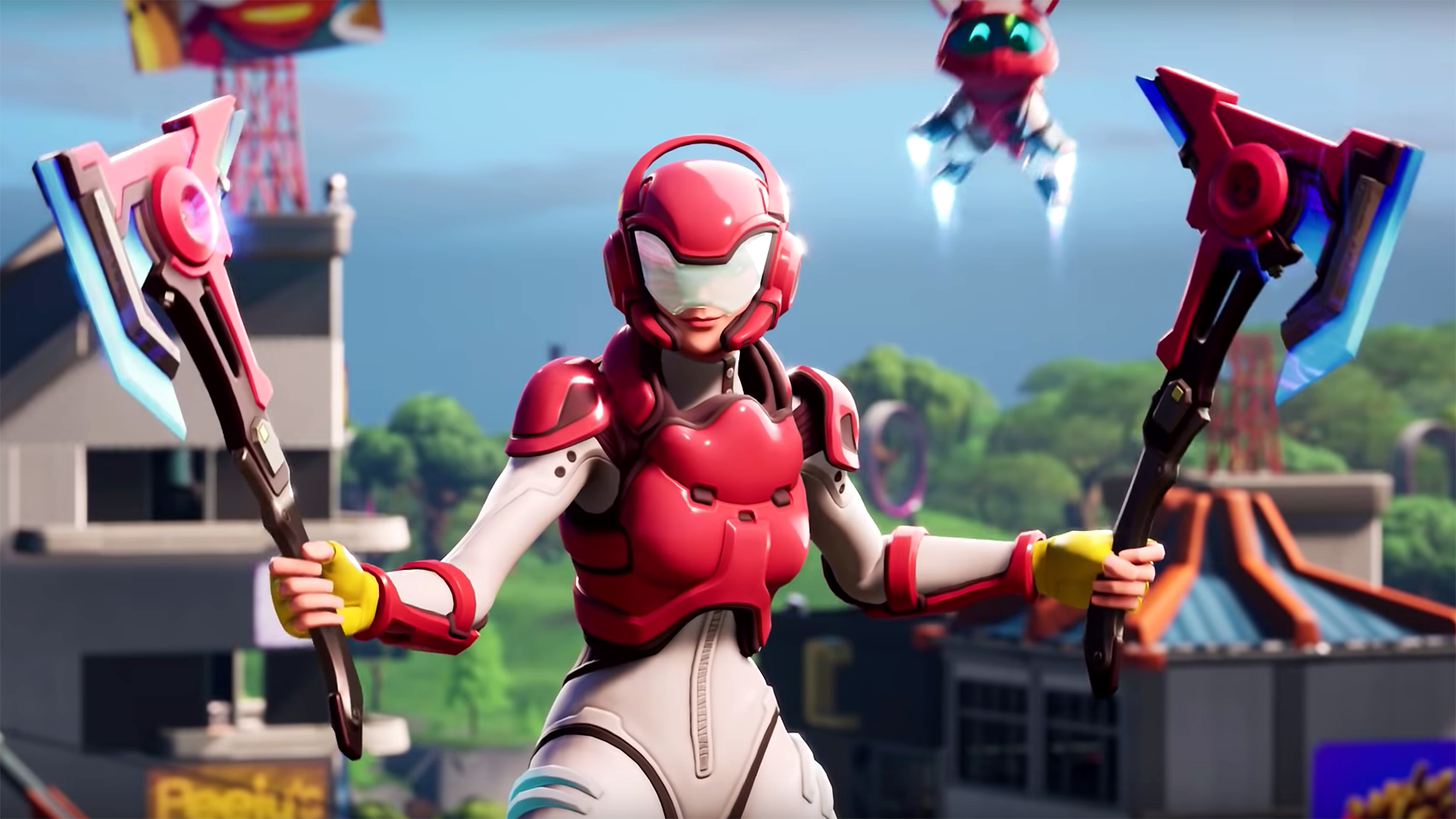 Welcome to the future. Fortnite Season 9 is now live, bringing with it high-tech upgrades to the map, an all-new Battle Pass, new weekly challenges, and more!
The volcano at the heart of Season 8 is gone, after erupting and destroying half the map. But don't worry, new locations have been "rebuilt" in the wake of the destruction, and there is a futuristic new way to get around. Here's everything you need to know about the start of Season 9.
Fortnite Season 9
New Battle Pass
The best way to play Fortnite Season 9 is with a Battle Pass. What's a Battle Pass? It's a collection of skins, cosmetics and exclusive gear that are all new for Fortnite Season 9. You don't get all of these items at once, though. Your job is to unlock them before the season ends by playing the game and completing things like the weekly challenges below.
You can get your Battle Pass with a single purchase of 950 V-Bucks. V-Bucks are Fortnite's in-game currency, and we have a way for you to get discounted V-Bucks simply by using the cards available in the Top-Ups section of our webstore. Follow those links if you want to save yourself some money.
New Named Locations and Changes to the Map
Futuristic changes can be found all around the updated Fortnite map, most prominently in two important named locations. Thanks to the Volcano's destruction, a new location called "Pressure Plant" has taken its place, and new areas have been "rebuilt" around the island.
There is now an ultra-modern version of Tilted Towers called "Neo Tilted", and the old-fashioned Retail Row has been transformed into "Mega Mall"– a shiny, sleek, 3-story complex decked out with neon and holograms. Don't forget to look out for the new digital clocktower and the Blade Runner-esque blimps floating overhead too!
Fortbytes: A New Collectible Challenge
Beginning today, Battle Pass owners will be able to find and collect a series of items called Fortbytes. The more of these computer chips you find around the map, the more you'll work to decrypt a mysterious image and earn exclusive loot! There are 100 of these Fortbytes to find in total, with at least one new one revealed each day. You can find out more info in the patch notes for Season 9.
Slip Streams: A New Way to Get Around
New seasons of Fortnite often introduce new vehicles to the game, but that so… old fashioned! The futuristic new way to get around the map this season is with "Slipstreams".
Giant rings now dot the map, allowing players to jump in and travel (rather slowly and dangerously) through sleek wind tunnels. You'll need to try out these new devices to complete one of the Week 1 challenges listed below!
New Weekly Challenges
Fortnite Season 9 begins with some fairly simple challenges that encourage you to explore the updated surroundings and try out the new items (like the Shadow Bomb).
As usual, some of the challenges are for Battle Pass owners only. To get a Battle Pass, you need V-Bucks.
Get yourself some discounted V-Bucks by using the cards available in the Top-Ups section of our webstore. Or, purchase your V-Bucks directly for Xbox One and PS4. Follow those links if you want to save yourself some money.
Free Challenges
Stage 1/2: Ride the Slip Stream around Neo Tilted = 2 Battle Stars

Stage 2/2: Ride the Slip Stream around Mega Mall = 3 Battle Stars

Visit all (7) Sky Platforms = 5 Battle Stars
Deal (200) damage to an opponent within 10s after using a Shadow Bomb = 10 Battle Stars
Battle Pass Challenges
Pick up a Legendary Item in (5) different matches = 5 Battle Stars
Search (7) chests at Lucky Landing or Loot Lake = 5 Battle Stars
(3) Scoped Weapon Eliminations = 10 Battle Stars
Stage 1/3: Deal 300 damage to opponents from at least 2 stories above = 3 Battle Stars

2/3: Deal 200 damage to opponents from at least 4 stories above = 3 Battle Stars
3/3: Deal 100 damage to opponents from at least 6 stories above = 4 Battle Stars
Sky Platform Locations Map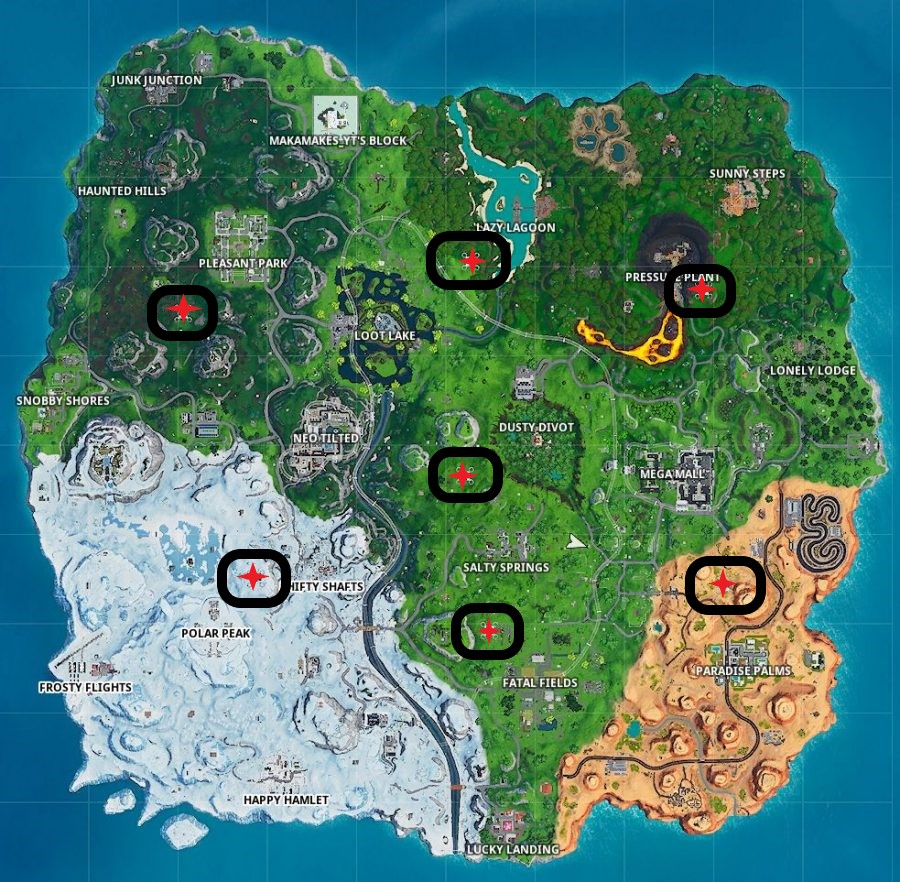 Remember the Expedition Outposts from Season 7, or the Pirate Camps from Season 8? The Sky platforms look to fill a similar role in both gameplay and weekly challenges in Season 9. We've marked all 7 of the floating locations on the map above, and you'll need to visit them all to earn yourself 5 Battle Stars.
Once you reach a Sky Platform, the best way to get up to it is to use the Slip Stream that leads straight to it. Building up to it will be time consuming and dangerous. Or, at the start of a match, drop right onto one of them!
Have you looked through all the new loot in the Battle Pass yet? Let us know what you think about Fortnite Season 9 in the comments below, or join the discussion on our social media accounts: Facebook, Twitter, or Instagram.