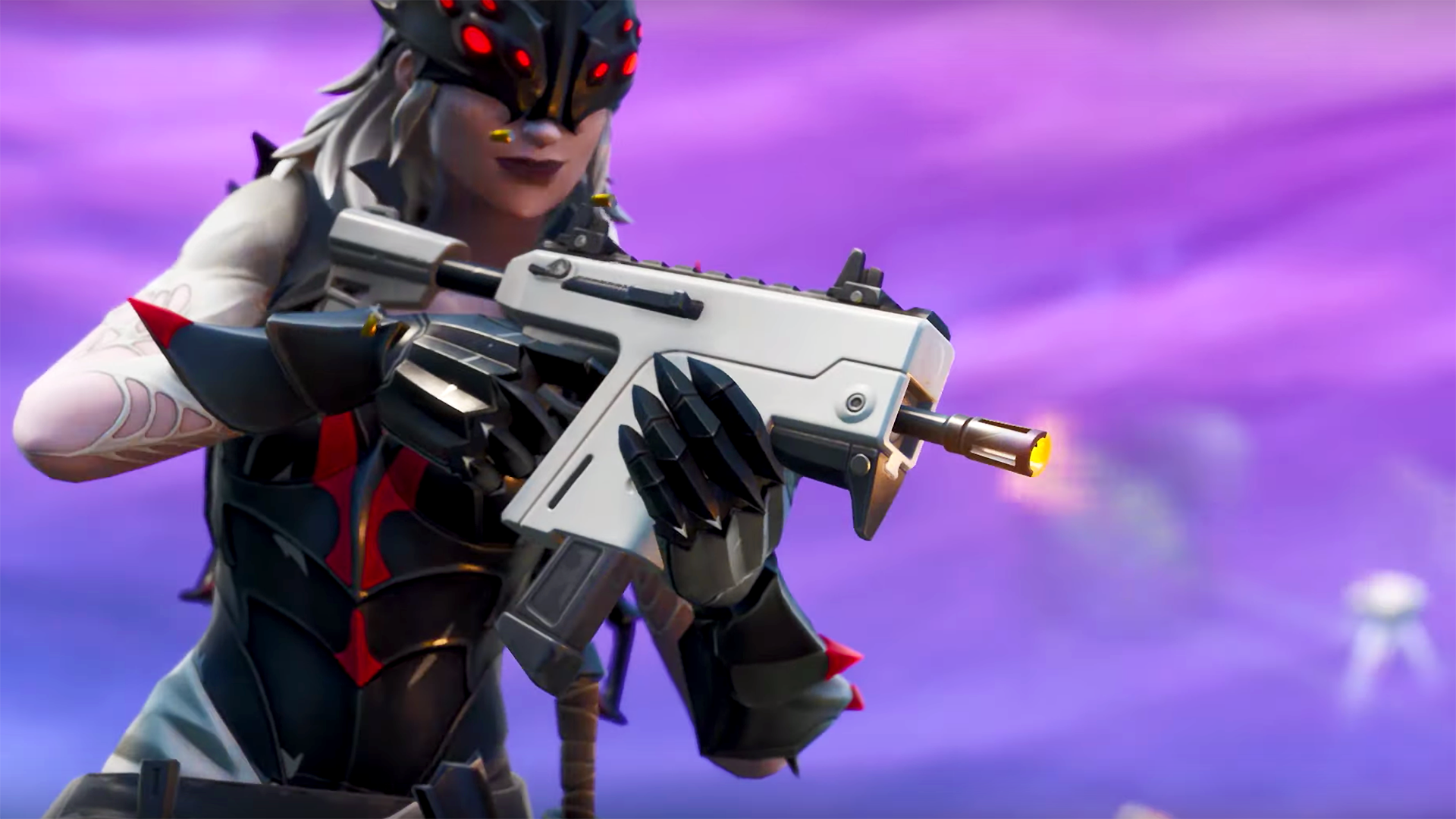 Week 4 of Fortnite Season 9 is here, adding the quick-firing Burst SMG to the game along with an all-new Limited Time Mode Rotation. New weekly challenges have just dropped as well, giving you a chance to level up your Battle Pass to unlock new loot. Don't have a Season 9 Battle Pass yet? Pick up some discounted V-Bucks in the CDKeys webstore to get one for yourself today.
We post the challenges each week when they go live, so be sure to follow our blog! If you're looking for past challenges, you can find them here:
How to Get the Flying Disc, Fortbyte 16 Map and Location | Fortnite Season 9, Week 3 Challenges
Phone, Piano, Fish, and Fortbyte #13 Map and Locations | Fortnite Season 9, Week 2 Challenges
Everything New and Week 1 Challenges | Fortnite Season 9 Is Live
Fortnite Season 9, Week 4 Challenges
Free Challenges
Deal damage with Sniper Rifles to opponents (500) = 5 Battle Stars
Stage Challenge: Dance inside… (3)

Stage 1: Dance inside a holographic Tomato head (1) = 1 Battle Star
2: Dance inside a holographic Durrr Burger head (1) = 2 Battle Stars
3: Dance on top of a giant Dumpling head (1) = 2 Battle Stars

Legendary weapon eliminations (3) = 10 Battle Stars
Battle Pass Challenges
Destroy a Loot Carrier (3) = 5 Battle Stars
Stage Challenge: Land at… (5) = 1 Battle Star each

Polar Peak (1)
Lazy Lagoon (1)
Salty Springs (1)
The Block (1)
Lonely Lodge (1)

Eliminate opponents in Haunted Hills or Dusty Divot (3) = 10 Battle Stars
Visit different Named Locations in a single match (5) = 10 Battle Stars
Lots of traveling around the map to visit different locations this week, including 5 of them in a single match! This is a perfect opportunity to make use of those new Slipstreams.
Visiting named locations is pretty straightforward (it's basically just "play Fortnite"), but finding those specific dance locations or Loot Carriers is a little trickier. Lucky for you we cover both of those challenges in our guides below!
Where to Dance Inside a Holographic Tomato Head, Durr Burger Head, and on Top of a Giant Dumpling Head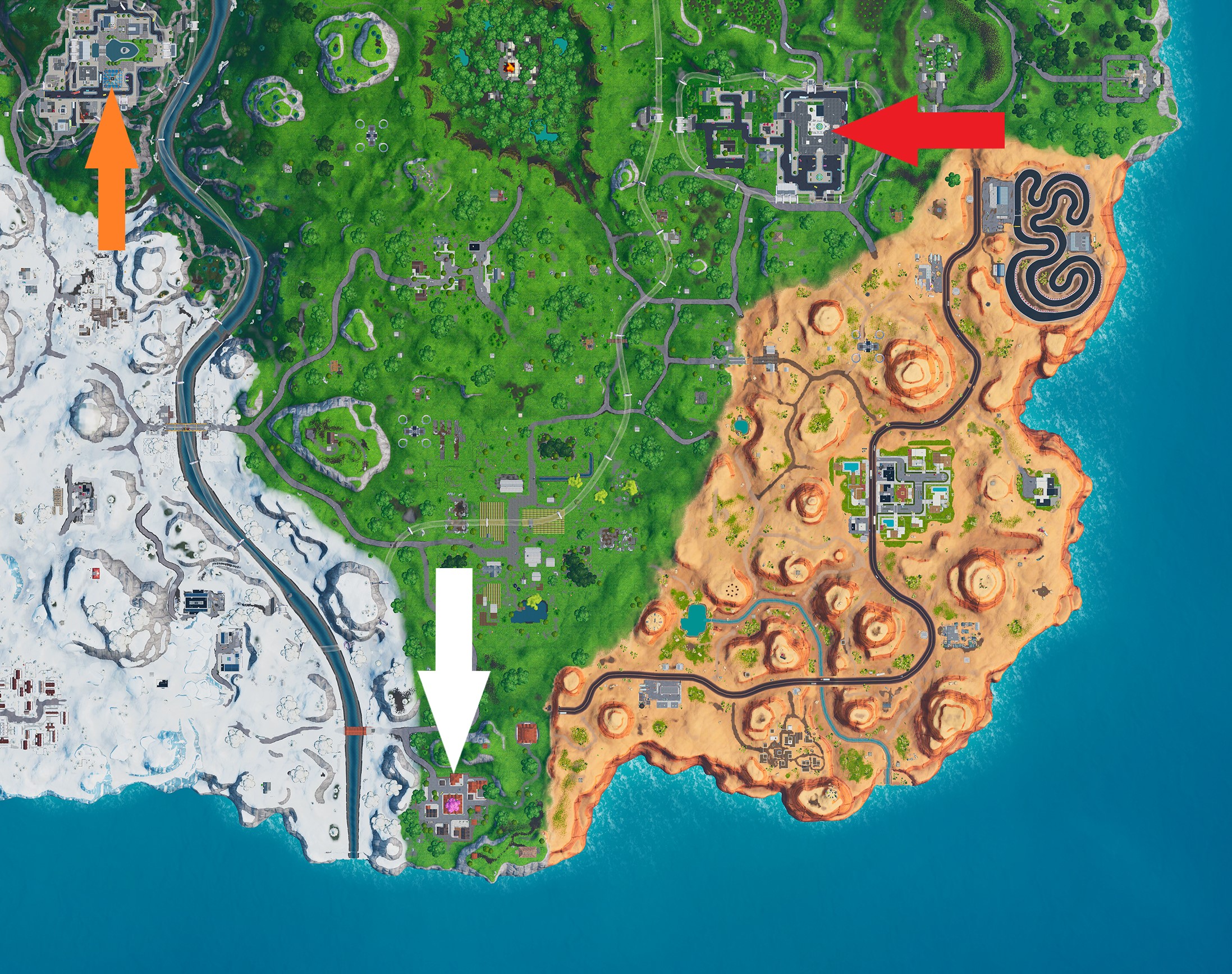 Holographic Tomato Head – Red Arrow
This futuristic new Pizza Pit logo can be found at the shiny new Mega Mall. When you arrive at the location marked on the map above, you'll notice that the hologram appears to be floating in midair. Yep, you're going to have to build up to it.
This should lead to some… interesting interactions, as this location will undoubtedly be crowded with other players attempting the challenge themselves.
Durr Burger Head – Orange Arrow
The Durr Burger hologram is also difficult to get "inside", however it's not completely floating in midair like the Tomato Head. When you get to the location on the map above, you'll see that the Burger is actually resting on a slim antenna structure, leaving just enough room to dance on. Hopefully, your dance partners are friendly…
Giant Dumpling Head – White Arrow
As you may have noticed, the Giant Dumpling Head is not a hologram like the other two parts of this challenge. You can find this final dance location in Lucky Landing, located on top of a restaurant, and your options are either to build up to the dumpling or drop onto it from the Bus.
How to Destroy a Loot Carrier in Different Matches
Loot Carriers were just added to Fortnite last week. These drone-like delivery devices are part of the game's new Hot Spot mechanic.
Have you noticed that some of the named locations on your map are occasionally written in yellow? That means those places are temporary Hot Spots, and they'll have increased loot drops provided by helpful Loot Carriers.
Simply head to one of those yellow letter locations on your map and shoot down one of the flying bots. They're pretty weak, don't put up a fight, and should go down easily.
Get V-Bucks and Exclusive Skins for Less at CDKeys.com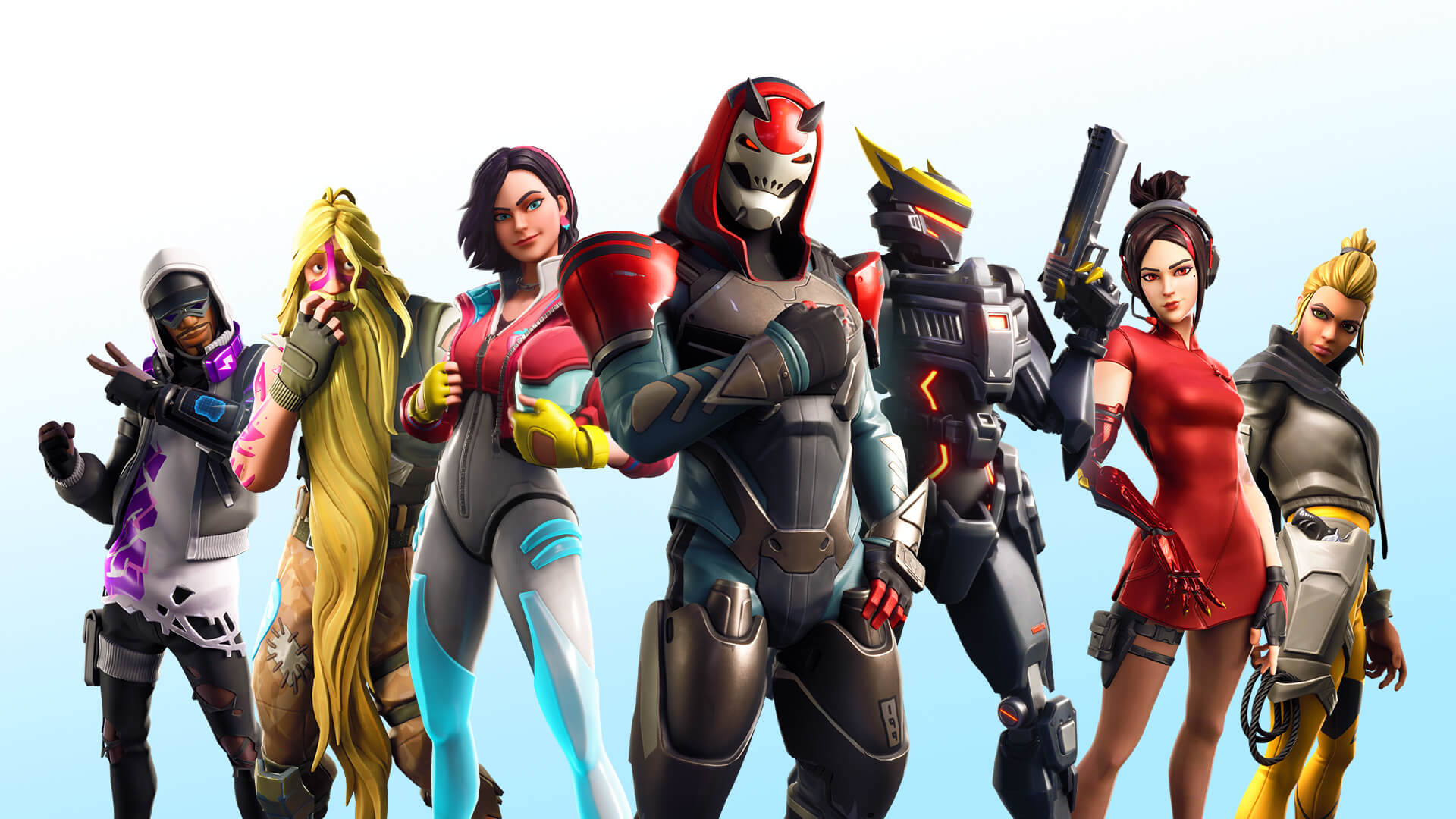 V-Bucks are Fortnite's in-game currency, and we have a way for you to get discounted V-Bucks simply by using the cards available in the Top-Ups section of our webstore. Follow those links if you want to save yourself some money. Or, simply buy your V-Bucks directly while they're on sale.
While you're at it, don't forget to check out the exclusive cosmetic bundles we have in stock– including Eon for Xbox One and Double Helix for Nintendo Switch.
That wraps up all of the new challenges (and potential loot) waiting for you in Week 4 of Season 9. If you have any questions about how to get yourself discounted V-Bucks from the CDKeys webstore let us know in the comments and we'll help you out!