Fortnite's Season 9 is off to an exciting start with lots of new content in Week 2. There a new John Wick themed Limited Time Mode, new Weekly Challenges, and a new Fortbyte location to track down– not to mention the new Tactical Assault Rifle pictured above! We have info on all of this week's action along with a guide on where to find the oversized Phone, big Piano, and a giant Dancing Fish Trophy that you need to visit this week. Let's get started!
We post the challenges each week when they go live, so be sure to follow our blog! If you're looking for last week's challenges, you can find them here:
Everything New and Week 1 Challenges | Fortnite Season 9 Is Live
Tick Tock, Mr. Wick.
John Wick, the legendary Keanu Reeves-portrayed action star is back in an all-new Limited Time Mode entitled "Wick's Bounty". In this mode you'll attempt to collect gold tokens before other bounty hunters do. The first one to collect all the tokens to fulfill their order wins!
As usual, this LTM offers unique challenges and unique (free) loot, including the Gold Token Back Bling, One Shot Glider, and Boogeyman Wrap. You'll earn bonus XP during this event as well!
Before you drop in, be sure to pick up some V-Bucks and then head to the Fortnite shop grab the John Wick Set.
Fortnite Season 9, Week 2 Challenges
There's nothing incredibly original or difficult this week, but that's ok! We're eager to get everything done so we can go after the hidden Fortbye location. The most difficult challenge this week is the one that has you track down giant items around the island. We have a map of all the locations you need to find below.
Free Challenges
Launch off of (5) Air Vents in different matches = 5 Battle Stars
Stage 1/5: Land at Snobby Shores = 1 Battle Star

2/5: Land at Fatal Fields = 1 Battle Star
3/5: Land at Sunny Steps = 1 Battle Star
4/5: Land at Dusty Divot = 1 Battle Star
5/5: Land at Happy Hamlet = 1 Battle Star

Eliminate (3) opponents in Sunny Steps or Shifty Shafts = 10 Battle Stars
Battle Pass Challenges
Deal (500) damage with Pistols to opponents = 5 Battle Stars
Visit an oversized Phone, a big Piano, and a giant Dancing Fish Trophy = 5 Battle Stars
Search a Chest in (3) different Named Locations in a single match = 10 Battle Stars
Stage 1/3: Eliminate an opponent from at least 50m away = 3 Battle Stars

2/3: Eliminate an opponent from at least 75m away = 3 Battle Stars
3/3: Eliminate an opponent from at least 100m away = 4 Battle Stars
Where to Visit an Oversized Phone, a Big Piano, and a Giant Dancing Fish Trophy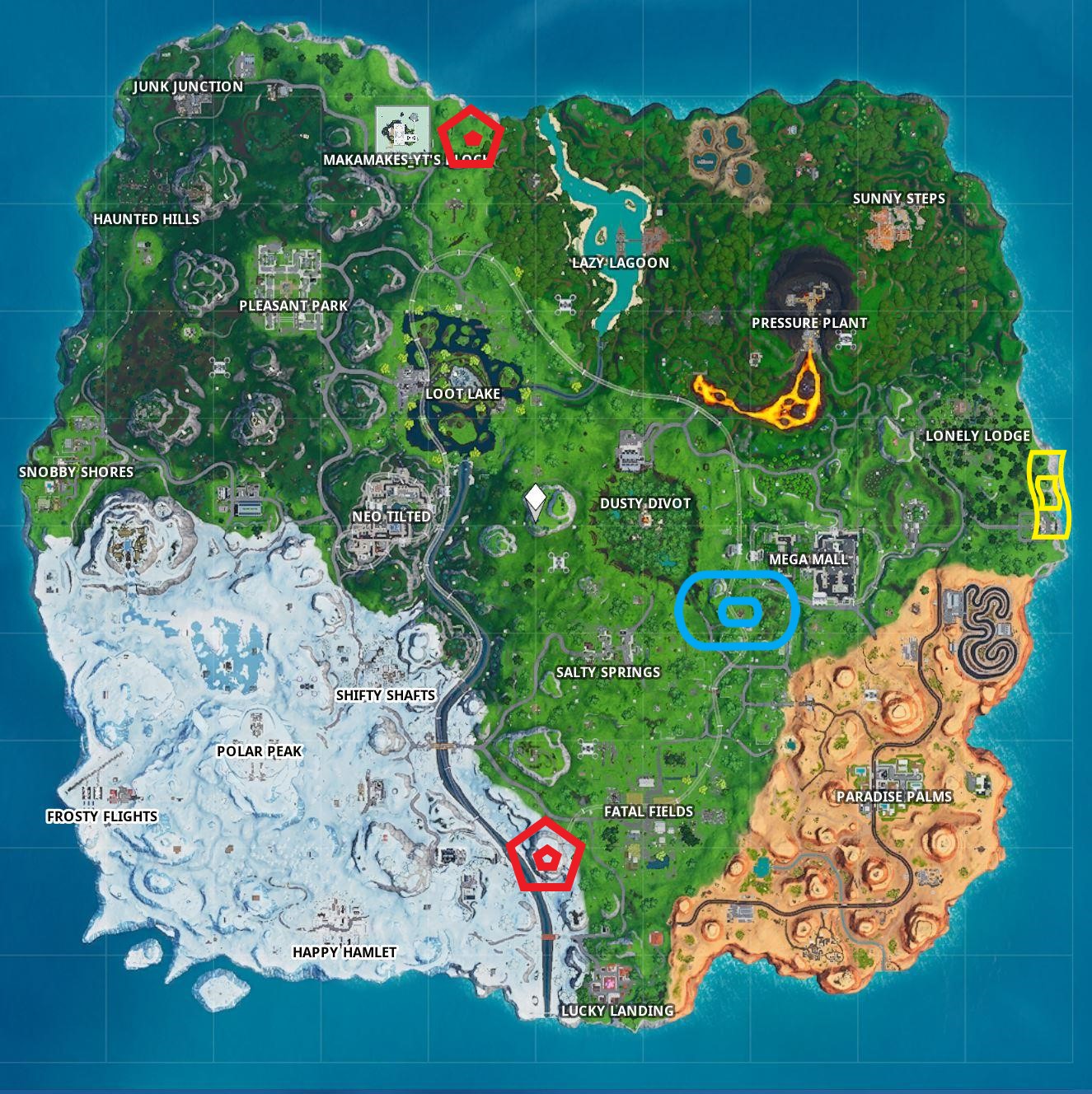 We've seen this kind of challenge before, and we've also had to track down these exact items before. With the map above, this should be pretty easy. Just find one big Phone (marked in red), one Fish Trophy (marked in blue), and a giant Piano (yellow). Simply finding the locations will be enough to complete the challenge, however, dancing is encouraged if you so desire.
Fortbyte #13 Hidden Location in Loading Screen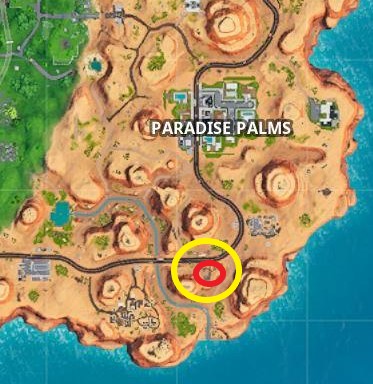 Fortbytes are a new collectible item introduced at the start of Season 9 last week. The more of these computer chips you find around the map, the more you'll work to decrypt a mysterious image and earn exclusive loot! There are 100 of these Fortbytes to find in total over the course of the season. You can learn more about Fortbytes in our guide on everything new in Season 9.
Fortbyte #13 can only be acquired after you complete all of the challenges for Week 2 first. Once you do, you'll receive a special loading screen that reveals a hint as to where the hidden Fortbyte is located. In this case, you'll need to head to those 3 dinosaurs located near Paradise Palms. We've marked the location on the map where Fortbyte #13 will be waiting for you.Get
Get V-Bucks for Less from CDKeys
The best way to play Fortnite is with a Battle Pass. What's a Battle Pass? It's a collection of skins, cosmetics and exclusive gear that are all new for Season 9. You don't get all of these items at once, though. Your job is to unlock them before the season ends by playing the game and completing things like the weekly challenges above.
You can get your Battle Pass with a single purchase of 950 V-Bucks. V-Bucks are Fortnite's in-game currency, and we have a way for you to get discounted V-Bucks simply by using the cards available in the Top-Ups section of our webstore. Follow those links if you want to save yourself some money.
That wraps up all of the new challenges (and potential loot) waiting for you in Week 2 of Season 9. If you have any questions about how to get yourself discounted V-Bucks from the CDKeys webstore let us know in the comments and we'll help you out!