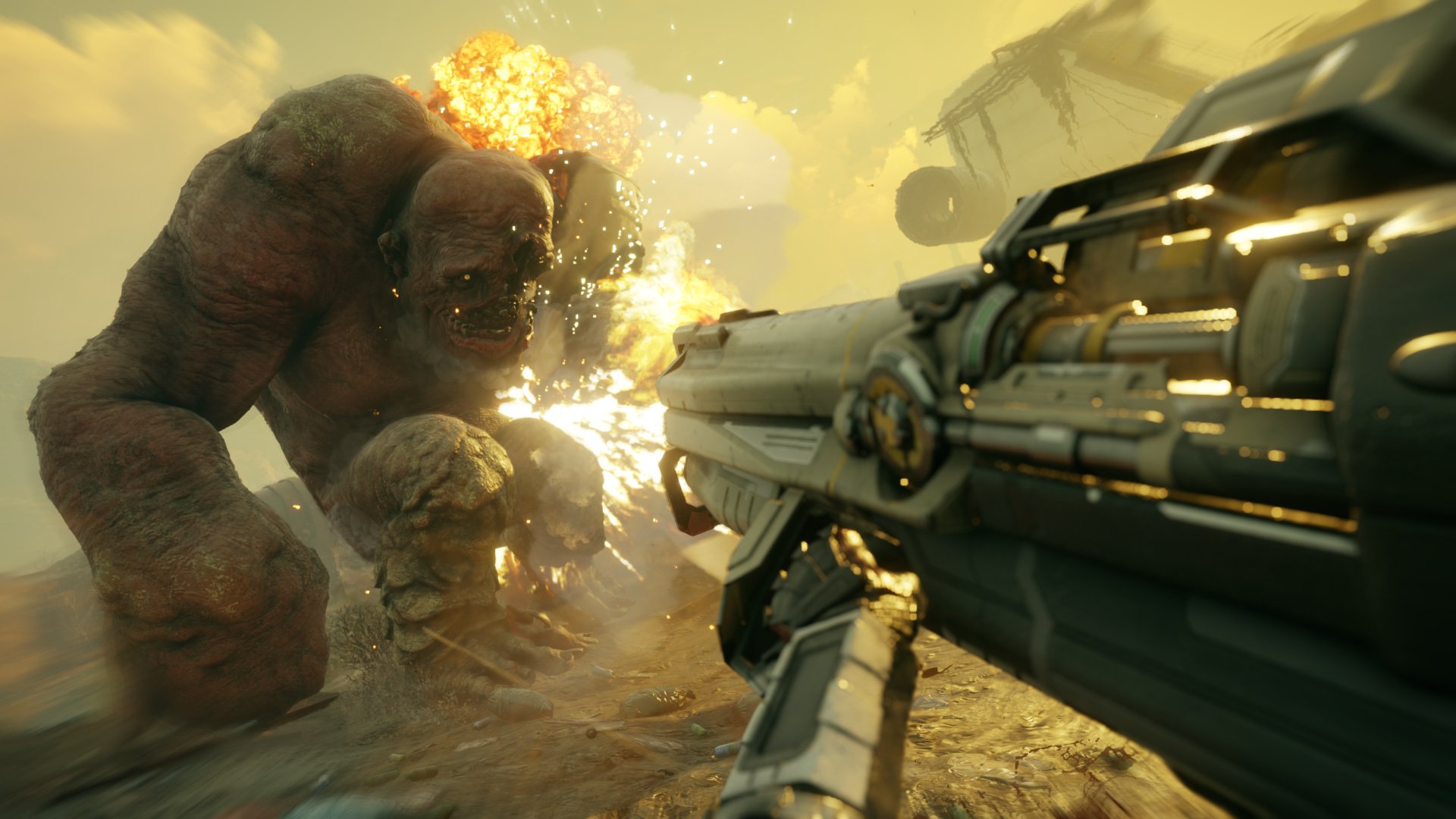 Whether you're thinking of picking up Rage 2 in our sale or you're already knee-deep in mutant guts, this handy guide will help you track down best Rage 2 weapons the game has to offer.
Each of the Rage 2 weapons is totally unique and useful in certain situations, but some are a bit more versatile with their devastation. Here's a guide to the 5 most powerful Rage 2 weapons and how to get your hands on them.
WARNING: Spoilers past this point!
Combat Shotgun
The Combat Shotgun is the most powerful and useful weapon in the early game (before you go out exploring the dangerous wasteland). This gun is perfect for taking down unarmored or fast moving targets quickly and easily, especially at close range. Even if your enemy is armoured, the combat shotgun can stun your foe for a few seconds, allowing for a well-placed final blow.
Like the other guns on this list, you'll find this excellent weapon in one of the Arks. These challenging areas are optional, except for this first one that's part of the main quest leading to the Combat Shotgun. Specifically, The Gun Barrel Ark is where you'll find this handy tool, and you'll also discover the process of clearing out Arks while you're at it. We recommend you play through the main quest far enough to unlock this gun before venturing into the open world.
Ranger Assault Rifle
If we had to choose any one of the Rage 2 weapons to use throughout the game, it would be the Ranger Assault Rife. This gun does high damage at a variety of different ranges and is useful for minions and bosses alike. As a bonus, this weapon basically falls into your lap too so no need to go hunting through Arks.
During the opening mission, you'll watch as a much less fortunate Ranger falls victim to a ferocious mutant, leaving his valuable firearm on his mangled corpse. Hey, finders-keepers, right?
Smart Rocket Launcher
Armoured target? Not a problem if you have the Smart Rocket Launcher handy. This bad boy has two different explosive firing modes. Primary fire is your standard rocket that shoots where you initially aim it. The secondary fire, however, is what's "smart" about this gun: it's a homing missile that can target multiple enemies at once!
You're going to want to get this weapon early in the game because of how useful it can be in certain situations (boss fights!). You can find the Smart Rocket Launcher in the Torn Plains region within the Strongbox Ark. Head north of the Chazcar derby and look for a question mark on your map.
Charged Pulse Cannon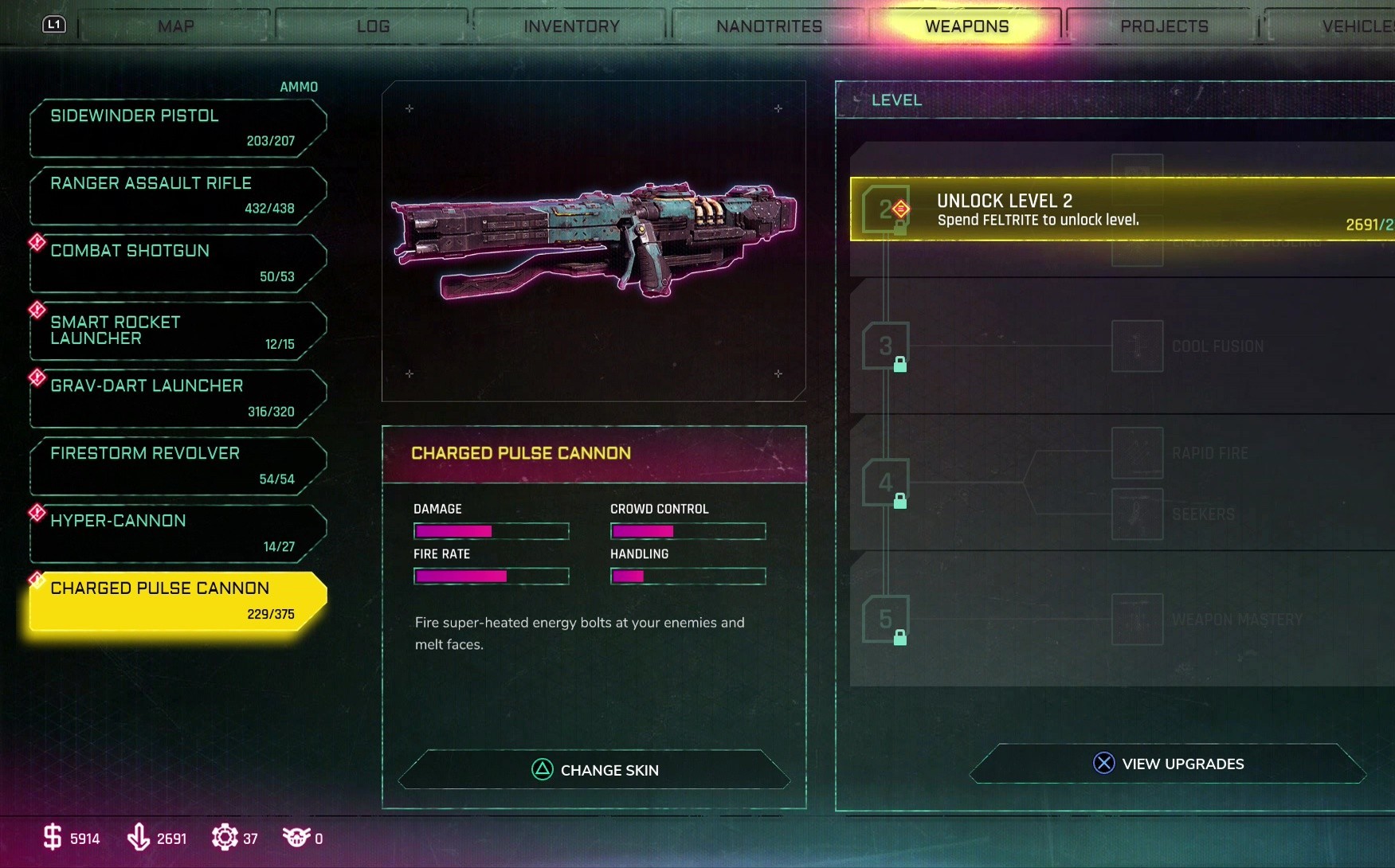 What kind of enemies do you think can survive the powerful bolts of energy that the Charged Pulse Cannon unleashes? If you answered "none", then you are correct. Ammo is scarce for this weapon, but when you have it, you can deal rapid fire death to any mutants that cross your path.
Fittingly, the Charged Pulse Cannon is slightly harder to obtain than other guns. Start by heading to the Shrouded Vault Ark on the eastern rim of the Dune Sea. You'll need to first destroy two nearby reactors that will appear on your map (Shrouded Sub Station Alpha and Bravo).
It'd be wise to pick up one of the other powerful weapons on this list before attempting the multiple stages involved with the reactors. Plus, Once the reactors are destroyed, you'll have more baddies to fight after entering the Ark– but don't dismay, it's worth it!
BFG 9000
This gun was badass when it first appeared in the original DOOM and it was even more badass in the DOOM reboot in 2016, but this could be the most badass-y version of this iconic gun yet! In Rage 2, the BFG 9000 is an over-powered, green orb shooting, boss killing machine!
Right now, the only way you can get your hands on this weapon is by getting yourself the Deluxe or Collector's Edition of Rage 2. The BFG 9000 is an add-on that's exclusive to those versions of the game. If you've got one of those upgraded editions, you'll need to head to a meteor crash site that's north of Vineland. The gun will actually be inside a chunk of the meteor itself! You can find the location on the map above.
Get Rage 2
There are more weapons, and even more weapon upgrades (not to mention special abilities and vehicles) packed into Rage 2. Right now, you can pick it up at a discount from the CDKeys store:
Standard Edition
This version of Rage 2 is your standard "open world insanity" experience. It includes the base game and is available at a sizeable discount for regions around the world.
Deluxe Edition
Upgrade your Rage 2 experience with all the bonus goodies included in this Deluxe Edition. Along with the base game, you'll get:
Rise of the Ghost Expansion
BFG9000 Super Weapon
Nicholas Raine Armour and Settler Pistol
Mutant Monster Truck Skin
Wasteland Wizard Cheat Codes
Progress Boaster
Exclusive Mission – Cult of the Death God
Battle Standard
For more information, check out the store pages below! And for a Roadmap of all the content coming to Rage 2 in the near future, check out this post on Bethesda's official blog!
Buy Rage 2 Deluxe Edition Now for PC