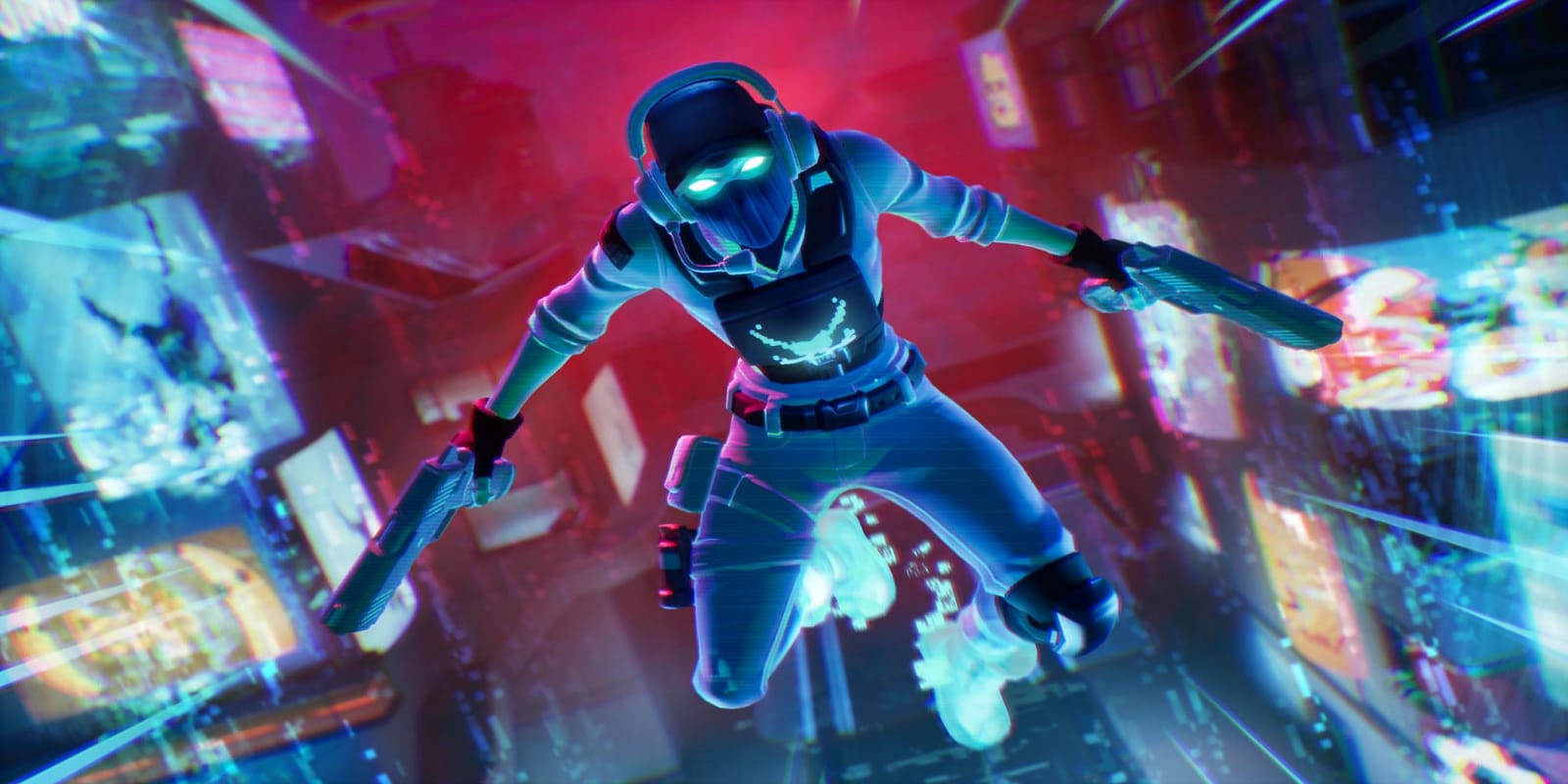 The 10th and final set of weekly challenges has arrived for Fortnite's 9th season. That means this is the home stretch before a major event brings this season to a close and a new one begins. It also means that this is your last chance to level up your Battle Pass to 100 and grab all of the unique loot before it's gone!
If you're looking for past weekly challenges, you can find them here:
Battle Star and Solar Array Locations Map and Cheat Sheet | Fortnite Season 9 Week 9 Challenges
Clock Locations Map and Cheat Sheet | Fortnite Season 9, Week 8 Challenges
Fast and Easy Guide | Fortnite Season 9, Week 7 Challenges
Vehicle Locations and Cheat Sheet | Fortnite Season 9, Week 6 Challenges
Race Track and Turbine Locations, Dark Vertex Bundle Now in Stock | Fortnite Season 9, Week 5 Challenges
Fortnite Season 9, Week 10 Challenges
Free Challenges
Use an Air Strike in different matches (3)
Damage opponents with Shotguns (500)
Search 7 Ammo Boxes in a single match (7)
Battle Pass Challenges
Visit different public service announcement signs in Neo Tilted, Pressure Plant, or Mega Mall (5)
Stage 1: Collect Wood from a Pirate Ship or Viking Ship (100)

2: Collect Stone from a Fork Knife or Umbrella (100)
3: Collect Metal from a Robot Factory (100)

Eliminate opponents in Pleasant Park or Paradise Palms (3)
Damage opponents with a pickaxe (200)
Week 10 Challenges Cheat Sheet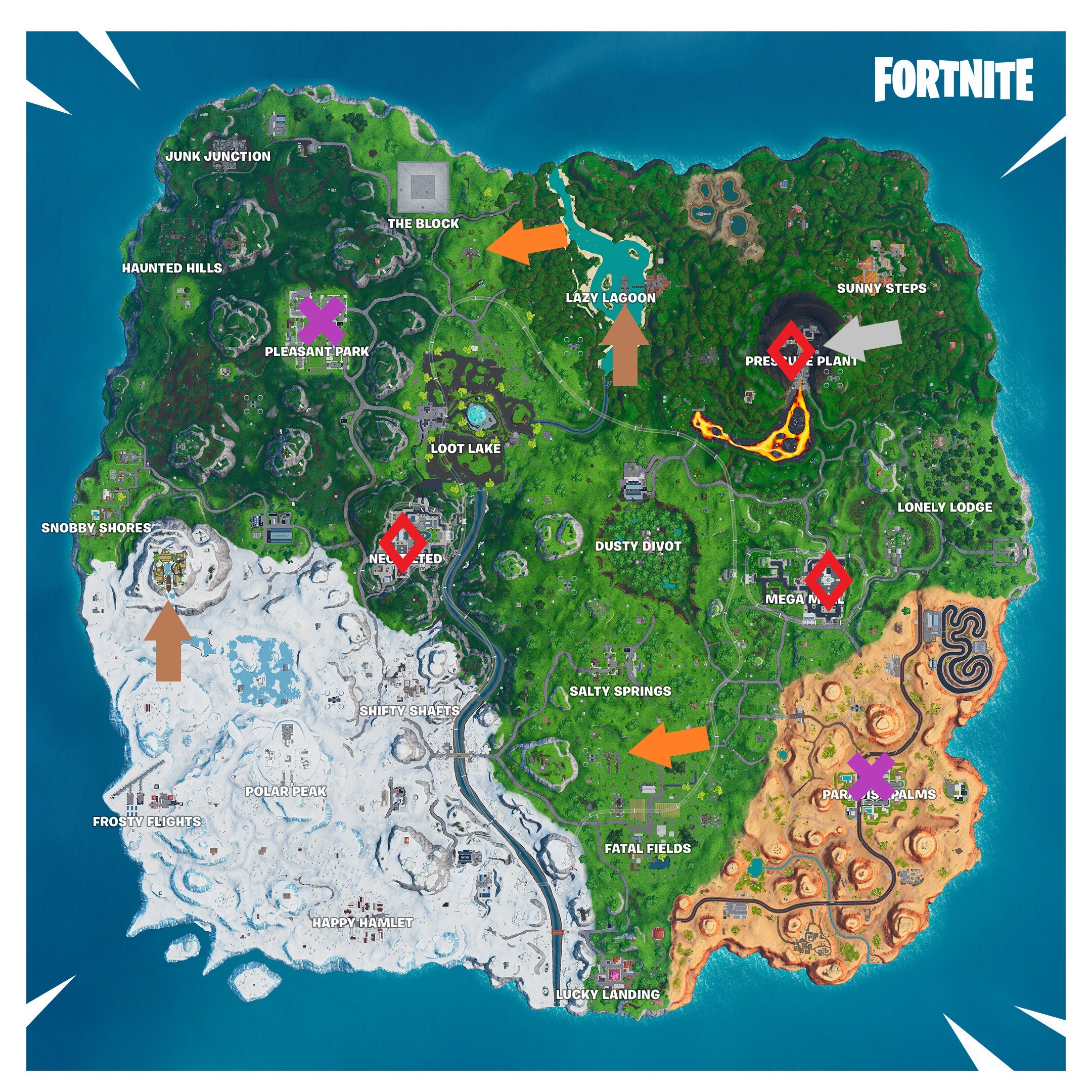 We've grouped multiple guides for the toughest challenges into one handy cheat sheet. Just follow the map above to earn those Battle Stars quickly and easily. Here's what all the symbols mean:
Red Diamonds = Public service announcement sign locations. You'll find them in Neo tilted, Pressure Plant, and Mega Mall.
Purple X's = This is where you'll need to eliminate at least 3 opponents (Pleasant Park and Paradise Palms).
Arrows = These arrows indicate where you need to collect different materials. The brown arrows point to where you should gather wood, the orange to the "Fork Knife" and "Umbrella" where you'll find stone, and the gray arrow marks the location of the Robot Factory/metal.
V-Bucks and Exclusive Skins – On Sale in the CDKeys Store
Tired of waiting for the Singularity Skin? Grab the Dark Vertex cosmetic set, available right now in our webstore! While you're at it, check out the Eon bundle for Xbox One and the Double Helix for Nintendo Switch. All of these cosmetic packs also include V-Bucks, which you can use to buy multiple items or even a Battle Pass in the Fortnite Item Shop.
Just need V-Bucks? We have a way for you to get discounted V-Bucks simply by using the cards available in the Top-Ups section of our webstore. Follow those links if you want to save yourself some money. Or, simply buy your V-Bucks directly while they're on sale.
That wraps up all of the new challenges (and potential loot) waiting for you in Week 10 of Season 9. If you have any questions, let us know in the comments and we'll help you out!