The challenges for Week 7 of Fortnite Season 9 are a little…. boring. This week will have us doing more seaching and visiting named locations just like last week.
In any case, today's challenges should be easy to complete (especially with our helpful guide) and will give you even more time to try out the rotating Limited Time Modes and the new Chug Splash item. Just like last season, completing all the weekly challenges is required to unlock the Legendary skin that's waiting for you at the end. So let's get started!
We post the challenges each week when they go live, so be sure to follow our blog! If you're looking for past challenges, you can find them here:
Fast and Easy Location Cheat Sheet | Fortnite Season 9, Week 6 Challenges
Race Track and Turbine Locations, Dark Vertex Bundle Now in Stock | Fortnite Season 9, Week 5 Challenges
How to Destroy a Loot Carrier, Plus Maps and Locations | Fortnite Season 9, Week 4 Challenges
How to Get the Flying Disc, Fortbyte 16 Map and Location | Fortnite Season 9, Week 3 Challenges
Fortnite Season 9, Week 7 Challenges
Overall, it's a pretty simple week! It's also a pretty easy week too. So enjoy knocking out those challenges quickly.
We've included a map with some of the locations to help you find what you need. We didn't include all of the challenges because some are pretty self-explanatory, like "Eliminations from 5m or less"…
Free Challenges
Search chests at Junk Junction or Neo Tilted (0/7)
Search ammo boxes in different named locations (0/7)
Suppressed weapon eliminations (0/3)
Battle Pass Challenges
Deal damage to opponents while riding in a vehicle (0/200)
Stage 1: Visit The Block and Loot Lake in a single match (0/2)

2: Visit Fatal Fields and Neo Tilted in a single match (0/2)
3: Visit Snobby Shores and Mega Mall in a single match (0/2)

Search a chest, use a vending machine and a campfire in a single match (0/1)
Eliminations from 5m or less (0/3)
Week 7 Cheat Sheet Map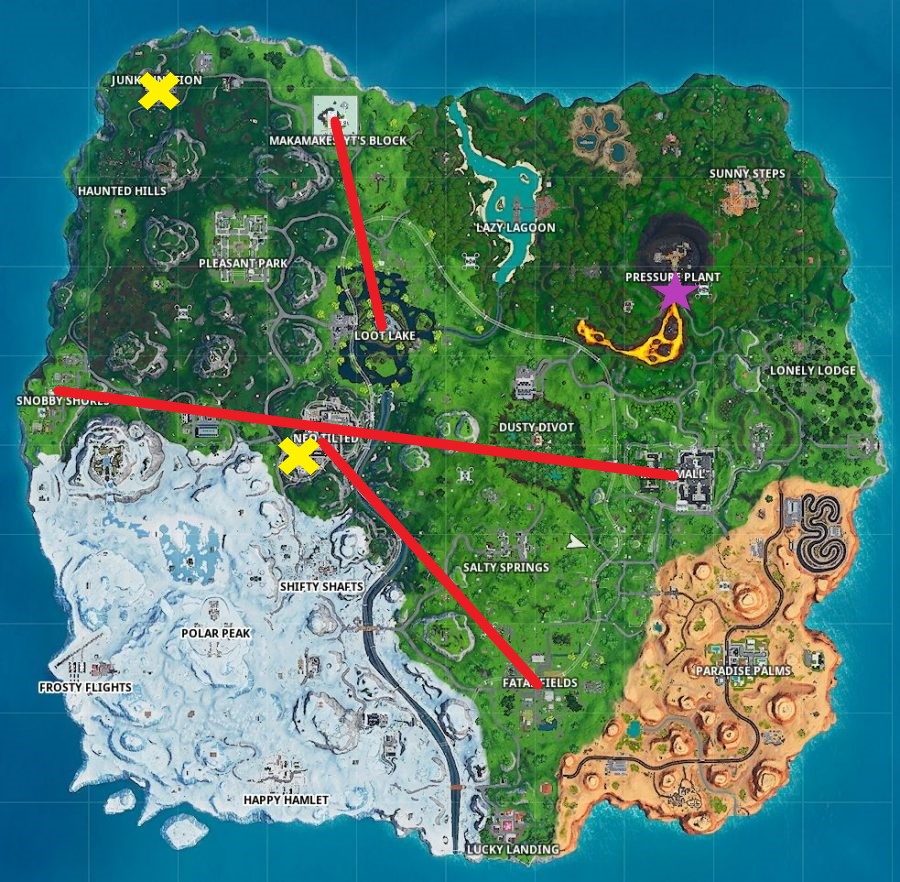 Because the challenges are so straightforward this week, we've grouped multiple guides together into one handy cheat sheet! Use the map above to solve the Week 7 challenges quickly and easily. Here's what all the symbols mean:
Red Lines = These mark the two named locations you'll need to travel between in a single match. There are 3 different pairs of them.
Yellow X's = Here you will find the locations where you need to search chests.
Purple Star = This is the location of the secret battle star that you will unlock after completing all of this week's challenges.
V-Bucks, Dark Vertex Skin, Eon, Double Helix, and More– All on Sale in the CDKeys Store
Why wait weeks for the Utopia skin when you can drop in with legendary style wearing the Dark Vertex cosmetic set, available right now in our webstore! While you're at it, check out the Eon bundle for Xbox One and the Double Helix for Nintendo Switch.
All of these cosmetic packs also include V-Bucks. Use them to buy multiple items or even a Battle Pass in the Fortnite Item Shop.
Just need V-Bucks? We have a way for you to get discounted V-Bucks simply by using the cards available in the Top-Ups section of our webstore. Follow those links if you want to save yourself some money. Or, simply buy your V-Bucks directly while they're on sale.
That wraps up all of the new challenges (and potential loot) waiting for you in Week 7 of Season 9. If you have any questions, let us know in the comments and we'll help you out!