A new set of Challenges have dropped for Week 8 of Fortnite's 9th Season. This set of tasks is more challenging than last week's, and they'd be a lot more difficult without our handy guide and cheat sheet below!
We post the challenges each week when they go live, so be sure to follow our blog! If you're looking for past challenges, you can find them here:
Fast and Easy Location Cheat Sheet | Fortnite Season 9, Week 7 Challenges
Fast and Easy Location Cheat Sheet | Fortnite Season 9, Week 6 Challenges
Race Track and Turbine Locations, Dark Vertex Bundle Now in Stock | Fortnite Season 9, Week 5 Challenges
How to Destroy a Loot Carrier, Plus Maps and Locations | Fortnite Season 9, Week 4 Challenges
Fortnite Season 9, Week 8 Challenges
Free Challenges
Apply Shields (0/400)
Visit different clocks (0/3)
Eliminate opponents in Snobby Shores or Mega Mall (0/7)
Battle Pass Challenges 
Damage opponents with assault rifles (0/500)
Stage 1: Land at Paradise Palms (0/1)
Use a volcano vent, air vent and zipline in a single match (0/1)
Eliminations outside named locations (0/5)
Where to Visit Different Clocks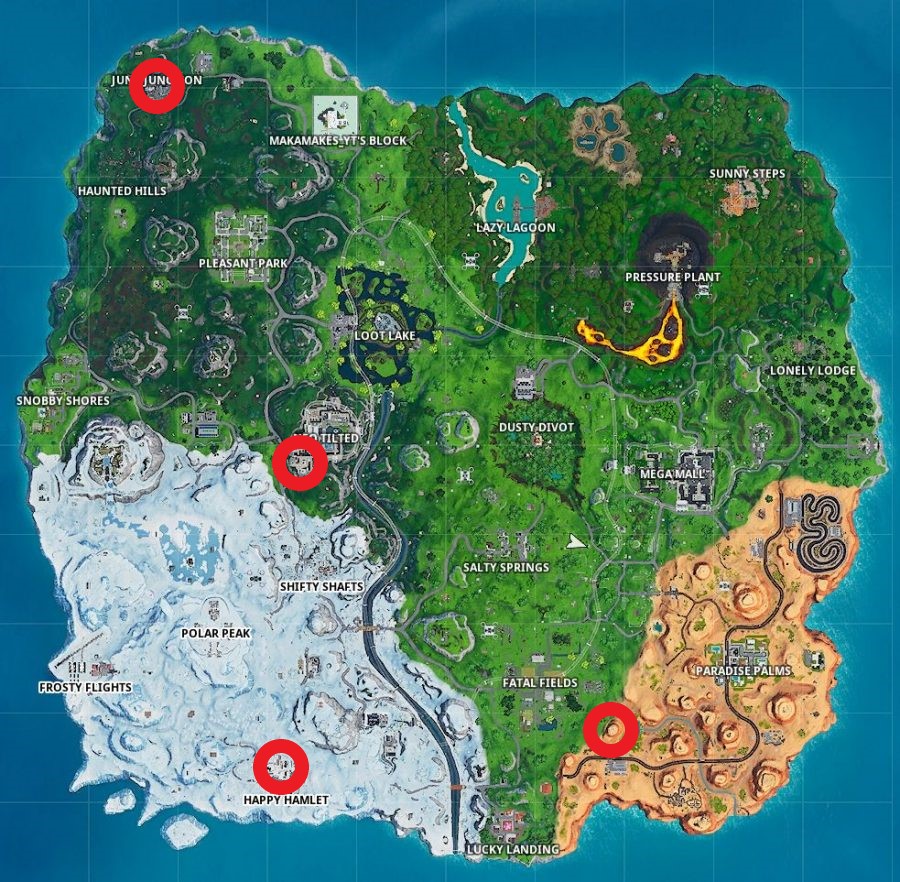 The "visit" part isn't difficult, but remembering where three different clock towers are located is probably challenging for most of us. We've marked them on the map above.
There are actually 4 different clocks on the island that work for this challenge. If you know of any others, let us know and we'll update the map!
Week 8 Locations Cheat Sheet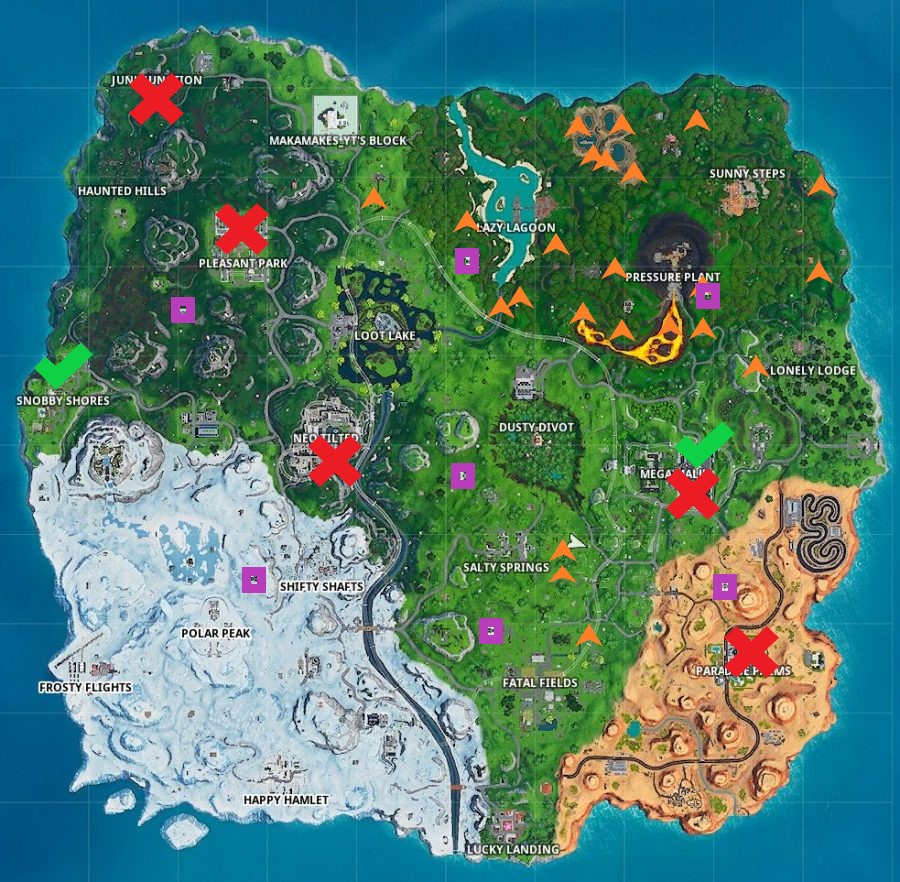 We've grouped multiple guides together into one handy cheat sheet to help you solve the rest of the challenges this week! Just follow the map above to earn those Battle Stars quickly and easily. Here's what all the symbols mean:
Red X's = Where to land at different named locations.
Green Checkmarks = Where to eliminate opponents "outside of named locations".
Orange Arrows = Volcano Vent locations.
Purple Squares = Air Vent locations.
V-Bucks, Dark Vertex Skin, Eon, Double Helix, and More– All on Sale in the CDKeys Store
Why wait weeks for the Utopia skin when you can drop in with legendary style wearing the Dark Vertex cosmetic set, available right now in our webstore! While you're at it, check out the Eon bundle for Xbox One and the Double Helix for Nintendo Switch.
All of these cosmetic packs also include V-Bucks. Use them to buy multiple items or even a Battle Pass in the Fortnite Item Shop.
Just need V-Bucks? We have a way for you to get discounted V-Bucks simply by using the cards available in the Top-Ups section of our webstore. Follow those links if you want to save yourself some money. Or, simply buy your V-Bucks directly while they're on sale.
That wraps up all of the new challenges (and potential loot) waiting for you in Week 8 of Season 9. If you have any questions, let us know in the comments and we'll help you out!