After an epic battle between a massive monster and a giant mecha-dog, Fortnite's 9th season is about to come to a close. Season 10 begins on 1st August, which means this is your last chance to level up your Battle Pass, hit Tier 100, and grab all the limited-time loot before it's gone.
To add to the excitement of these final days of Season 9, Epic Games has added new items like the Storm Scout Sniper Rifle and celebratory Birthday Cake and Presents to Battle Royale Mode. It's hard to believe it, but Fortnite is turning 2 years old!
To help you rank-up your Battle Pass, Season 9 Overtime Challenges have returned as well, allowing you to earn new skins and a huge amount of XP before the season comes to a close.
If you're looking for past weekly challenges, you can find them here:
Public Service Announcement Signs and Wood/Stone/Metal Locations | Fortnite Season 9, Week 10 Challenges
Battle Star and Solar Array Locations Map and Cheat Sheet | Fortnite Season 9 Week 9 Challenges
Clock Locations Map and Cheat Sheet | Fortnite Season 9, Week 8 Challenges
Fast and Easy Guide | Fortnite Season 9, Week 7 Challenges
Vehicle Locations and Cheat Sheet | Fortnite Season 9, Week 6 Challenges
Race Track and Turbine Locations, Dark Vertex Bundle Now in Stock | Fortnite Season 9, Week 5 Challenges
Fortnite Season 9 Overtime Challenges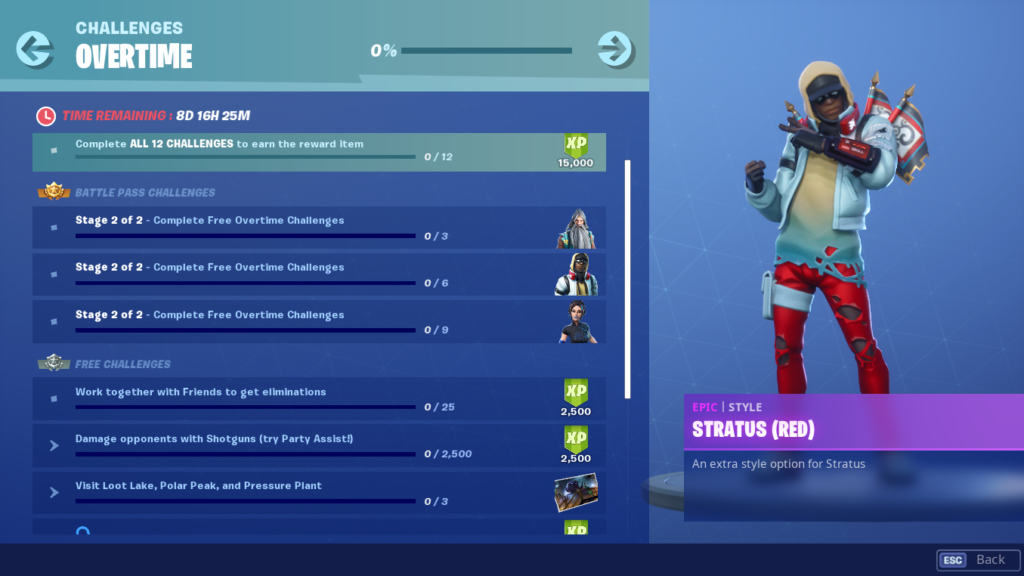 The first three Season 9 Overtime Challenges are now live in-game, and the rest will be released every couple days. In addition to the rewards you'll earn from completing each individual challenge, you can unlock additional loot for completing 3, 6, and 9 Overtime Challenges in total. That's how you'll unlock the Bunker Jonsey, Demi, and Stratus skins.
Work together with friends to get eliminations (25)
Damage opponents with Shotguns (try Party Assist!) (2,500)
Visit Loot Lake, Polar Peak, and Pressure Plant
As usual, a data-mined leak of the rest of the Overtime Challenges is available for players who want to get a head start on the rest of the tasks. You can find those, courtesy of Lucas7Yoshi, in the tweet below:
Season 9 Overtime Challenges pic.twitter.com/olzm5eDI1o

— Lucas7yoshi // Fortnite Leaks/News (@Lucas7yoshi)
V-Bucks and exclusive Skins – On Sale in the CDKeys Store
Right now, you can grab the Dark Vertex cosmetic set on sale in our webstore. While you're at it, check out the Eon bundle for Xbox One and the Double Helix for Nintendo Switch. All of these cosmetic packs also include V-Bucks, which you can use to buy multiple items or even a Battle Pass in the Fortnite Item Shop.
Just need V-Bucks? We have a way for you to get discounted V-Bucks simply by using the cards available in the Top-Ups section of our webstore. Follow those links if you want to save yourself some money. Or, simply buy your V-Bucks directly while they're on sale.
How's your Battle Pass looking? Have you hit Tier 100 yet? Let us know in the comments what you think of Season 9 and what you want to see most in Season 10.