A new month brings new bonus games for Xbox Live Gold and Playstation Plus subscribers. A total of 6 free games will be available for PS Plus and Games with Gold November – 2 for Playstation and 4 for Xbox. Take a look at what's in store and grab a deal on subscriptions for each service. And don't forget, there's still time to grab last month's PS Plus and Games with Gold offerings.
Become a PS Plus September Member Now
PS Plus November
Nioh | Available 5th November for PS4
Outlast 2 | Available 5th November for PS4
If you're not a PlayStation Plus member yet– you should be! You're not only missing out on online play, you're also missing out on free games like the ones above every month. Here's what a PS Plus membership gets you:
Online play: If you're not playing online, you're not getting the most out of your PlayStation experience and you're missing out on a lot of gaming fun!
Cloud Storage: Save your progress on one system, and then continue your game on a different one! Cloud storage allows you to save up to 100GB of game save data that you can access on-the-go.
Free games: Who doesn't like free stuff? All the free games offered each month are yours to download and play 24/7 as long as your subscription is active.
Games with Gold November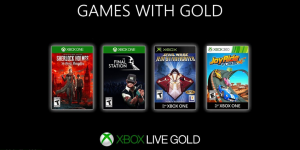 Sherlock Holmes: The Devil's Daughter  | Available 1st to 30th November on Xbox One
The Final Station | Available 16th November to 15th December on Xbox One
Star Wars: Jedi Starfighter | Available 1st to 15th November on Xbox One & Xbox 360
Joy Ride Turbo | Available 16th to 30th November on Xbox One & Xbox 360
Take your online experience to the next level! Free games aren't the only good thing about a Games with Gold November subscription. Here are some of the other features that come with upgrading to Xbox Live Gold:
Access to Microsoft's most advanced online multiplayer service
Exclusive access to Deals With Gold – special sales that give you up to 75% off games in the Xbox Store, every single week
Demos and different content way before basic Xbox Live subscribers
A better way to group up with friends and a way to chat cross-platform between Xbox One and Windows 10
And, of course, free games every month
Which service has the better free games this month? Let us know in the comments!