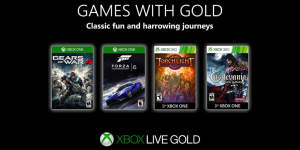 Microsoft has announced a lineup of four new free games for Xbox Live Gold members. Two of the games available in Games with Gold August are for Xbox One, and two are for Xbox 360. Game Pass Ultimate members can pick these games for free as well, since an Xbox Live Gold subscription is included with that service.
Some of last month's offerings will still be available until the middle of the month. Check them out here while there's still time!
Gears of War 4
Available 1st through 31st August on Xbox One
In Gears of War 4, you can play every game mode in split-screen multiplayer! The Gears of War series has been known for its quality cooperative gameplay, and this 4th entry in the series does it best. Gears 5 releases later this year, so now is the perfect time to play through this one and gear up (yes, pun intended) for the upcoming sequel.
Forza Motorsport 6 Standard Edition
Available 16th August through 15th September on Xbox One
Forza Motorsport 6 brings you an authentic racing experience that you can enjoy in full HD resolution at 60 frames-per-second! 26 well-known locations and over 450 different cars await you in this ultimate motorsport experience. Challenge yourself in campaign mode or compete in the Forza Race Leagues against drivers around the world via online play. Motorsport 6 is the perfect game for any racing enthusiasts.
Torchlight
Available 1st through 15th August on Xbox 360
In Torchlight, a rare and mysterious natural resource has been discovered, and you want to get your hands on it. Delve into randomised caverns to explore detailed environments filled with treasures, puzzles, and "Ember". The only problem is, hordes of monstrous creatures want a piece of this valuable resource as well…
Castlevania: Lords of Shadow
Available 16th August through 31st August on Xbox One
Xbox Live Gold members got another Castlevania title last month, which should make fans of this beloved action-adventure series very happy. In Lords of Shadow, you'll play as Gabriel Belmont as he works to defeat an evil overlord and resurrect his wife. The game features a critically-acclaimed soundtrack and Hideo Kojima, the mind behind the Metal Gear series, was involved in its production.
Get All These Games and Online Access for £5.99 With a 1-Month Gold Membership
Take your online experience to the next level! Free games aren't the only good thing about a Games with Gold August subscription. Here are some of the other features that come with upgrading to Gold:
Access to Microsoft's most advanced online multiplayer service
Exclusive access to Deals With Gold – special sales that give you up to 75% off games in the Xbox Store, every single week
Demos and different content way before basic Xbox Live subscribers
A better way to group up with friends and a way to chat cross-platform between Xbox One and Windows 10
And, of course, free games every month
Which one of the Games with Gold August titles are you going to be playing? Which ones are you going to skip? Let us know in the comments below.
Keep following our blog at CDKeys.com for more gaming info.