Have you been enjoying the pirate theme of Fortnite's 8th season? We hope so because the all-new event "Buccaneer's Bounty" is set to bring more pirate action in the form of treasure hunting Limited Time Modes each day of the week 7 challenges.
You can find all the tasks below, along with a map of every Pirate Camp location and info on how to get yourself some cheap V-Bucks.
We post the challenges each week when they go live, so be sure to follow our blog! If you're looking for previous Season 8 challenges, you can find them here:
Pirate Camp Locations, Bouncy Ball Guide and More | Fortnite Season 8, Week 5 Challenges
Pirate Cannon and Baller Locations Map | Fortnite Season 8, Week 4 Challenges
Full List and Treasure Map Location | Fortnite Season 8, Week 3 Challenges
Fortnite Season 8, Week 7 Challenges
There are even more Pirate Camps to track down, which should make this week easier than usual to rank up your Battle Pass and earn new loot. We've had this task before in Week 1 of Season 8 and a similar one in Week 5 when we had to eliminate opponents at Pirate Camps.
We've got a map of all the camp locations for you below and the rest of the challenges are really straightforward this week. A good thing because the Buccaneer's Bounty Event has its own challenges and in-game rewards we need to tackle!

Free Challenges
Deal damage with a pickaxe to opponents (100)
Visit Junk Junction and The Block in a single match (1)

2: Visit Pleasant Park and Dusty Divot in a single match (1)
3: Visit Happy Hamlet and Snobby Shores in a single match (1)

Visit Pirate Camps in a single match (3)
Battle Pass Challenges
Deal damage to players from above (500)
Search chests at Loot Lake or Snobby Shores (7)
Deal damage to opposing players while riding the Zipline (1)

2: Deal damage to opposing players who are riding the Zipline (1)

Eliminate opponents in different Named Locations (5)
Visit Pirate Camps in a Single Match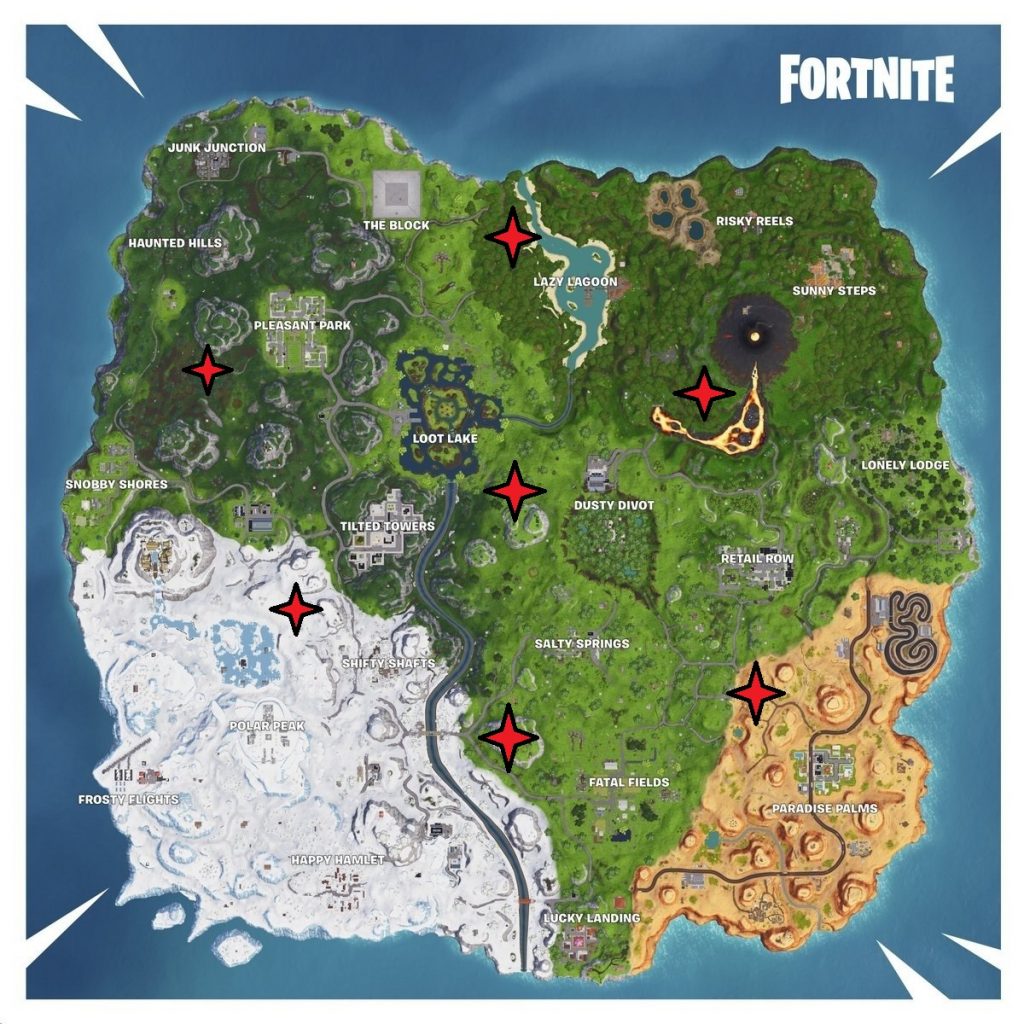 Season 8 has brought all kinds of new things to the Fortnite world, most notably– pirates! Along with these pirates have come many different pirate skins, weapons and, in this case, "camps." These new pirate camps look like broken-down wooden structures with a flag on top, and they're usually surrounded by palm trees. We've noted all 7 that are available, but you only need to visit 3 to complete this week's challenge.
Get Your V-Bucks and Exclusive Fortnite Skins from CDKeys
Some of the Week 7 challenges are for Battle Pass owners only. To get a Battle Pass, you need V-Bucks.
We have a way for you to get discounted V-Bucks by using the cards available in the Top-Ups section of our webstore. Or you can get V-Bucks directly for Xbox One and PS4. Follow those links if you want to save yourself some money.
Which challenge do you think is the hardest this week, and which one is the easiest? Post your response in the comments below!