Week 3 of Fortnite has rolled into town along with all new challenges. Have you been having fun with the new Baller and Vending Machines? We were expecting to see these new additions involved in the challenges this time around, but no dice. Below you can all of the Season 8, Week 3 challenges and a guide on where to find the location under the magnifying glass on the treasure map.
We'll post the challenges each week when they go live, so be sure to follow our blog! If you're looking for previous challenges, you can find them here:
Pirate Camp, Giant Face Locations and Map | Fortnite Season 8, Week 1 Challenges
Pirate Cannon Locations and Furthest Points on the Map | Fortnite Season 8, Week 2 Challenges
Fortnite Season 8, Week 3 Challenges
As usual, some of the challenges this week are for Battle Pass owners only. You can get yourself a Battle Pass with 950 V-Bucks (Fortnite's in-game currency). We have a way for you to get discounted V-Bucks by using the cards available in the Top-Ups section of our webstore. Or you can get V-Bucks directly for Xbox One and PS4. Follow those links if you want to save yourself some money.
Finding the Treasure Map from the loading screen will be really easy with the map we've provided for you below (in addition to a short guide). Check it out, and let us know in the comments if you have any questions!

Free Challenges
Stage 1: Visit Fatal Fields and Salty Springs in a single match

2: Visit Haunted Hills and Tilted Towers in a single match
3: Visit Frosty Flights and Loot Lake in a single match

Stage 1: Destroy Cacti in the Desert

2: Search ammo boxes in the Snow
3: Search chests in a Jungle

Place different Trap Slot items in a single match (2)
Battle Pass Challenges
Search where the magnifying glass sits on the Treasure Map loading screen
Search Chests at Sunny Steps or Fatal Fields (7)
Deal Headshot Damage to opponents (500)
Get an Elimination with an SMG, Pistol and a Sniper Rifle (3)
Search Where the Magnifying Glass Sits on the Treasure Map Loading Screen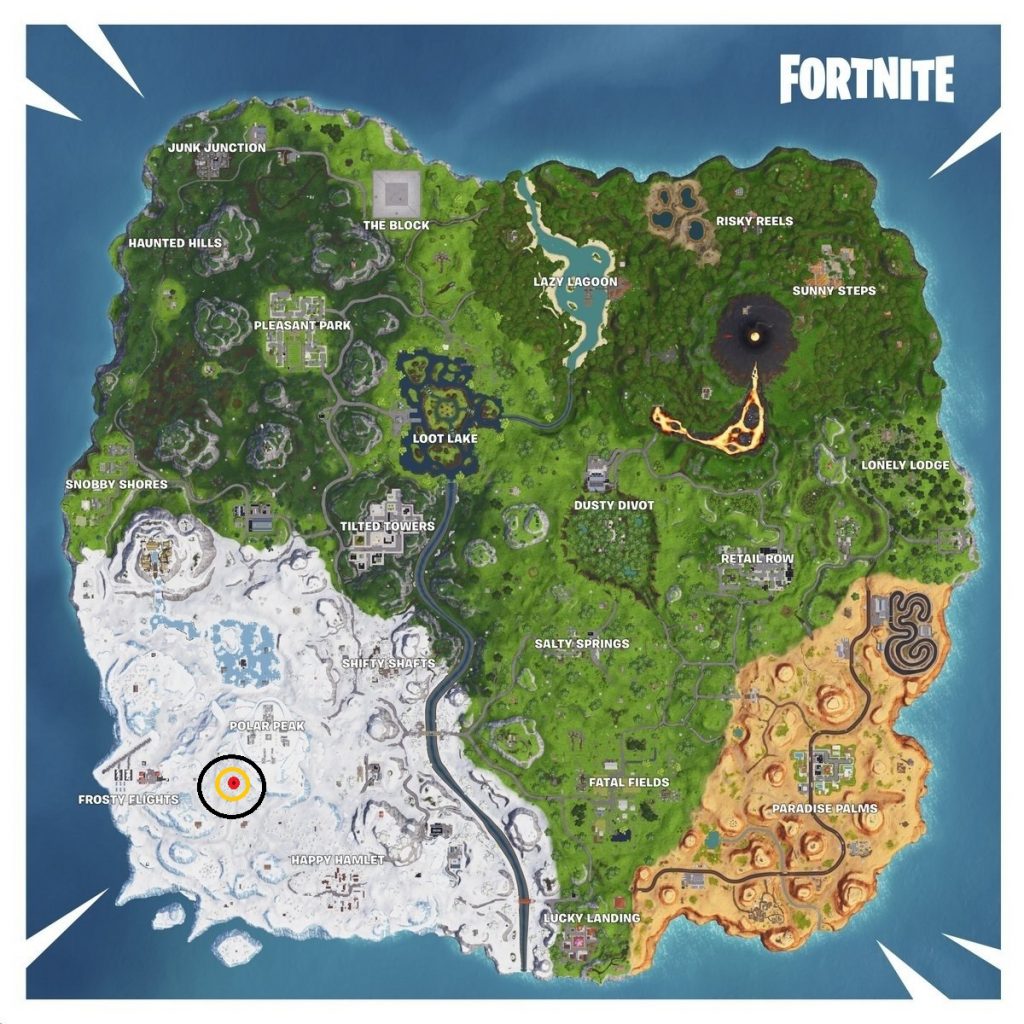 You won't be able to view the treasure map loading screen unless you: 1. Own a Battle Pass, and 2. Have reached Tier 10 to unlock it. If you want to save money on a Battle Pass, check out this link.
If you haven't see the loading screen in-game yet, you can view an image of it above. As you can see, the magnifying class is indicating a circle of trees in the southwestern part of the map (the snowy part). We've marked its location for you.
Once you're there, you'll see a statue in the middle of the ring of trees. Sitting on the statue will be a shiny Battle Star.

Which challenge are you having the most trouble with this week? Let us know in the comments below!