Fortnite Season 8 is finally here! The updated map comes equipped with a lava-spewing volcano, pirates, and of course more weekly challenges to unlock sweet new rewards. We've got all of the Week 1 challenges for you below, along with guides and maps to help you complete the toughest ones. We'll continue to post the weekly challenges all season long, so be sure to follow our blog.
Fortnite Season 8, Week 1 Challenges
As usual, many of the challenges this week are self-explanatory– simply read the description and do what it says! But some, as usual, require a good amount of traveling around the map. We've done the hard part for you and located all of the pirate camps and giant faces that you need to find this week.

Free Challenges:
Visit all Pirate Camps (0/7) = 5 Battle Stars
Search Chests at Retail Row or Junk Junction (0/7) = 5 Battle Stars
Deal damage with a Shotgun and an Explosive Weapon in a single match (0/2) = 3 Battle Stars
Battle Pass Challenges:
Visit a giant face in the desert, the jungle and the snow (0/3) = 5 Battle Stars
Use a Volcano Vent in different matches (0/5) = 5 Battle Stars
Get an elimination with a Shotgun, Assault Rifle and Explosive Weapon (0/3) = 10 Battle Stars
Deal Damage to a vehicle driven by an opponent (0/200) = 10 Battle Stars
Visit All Pirate Camps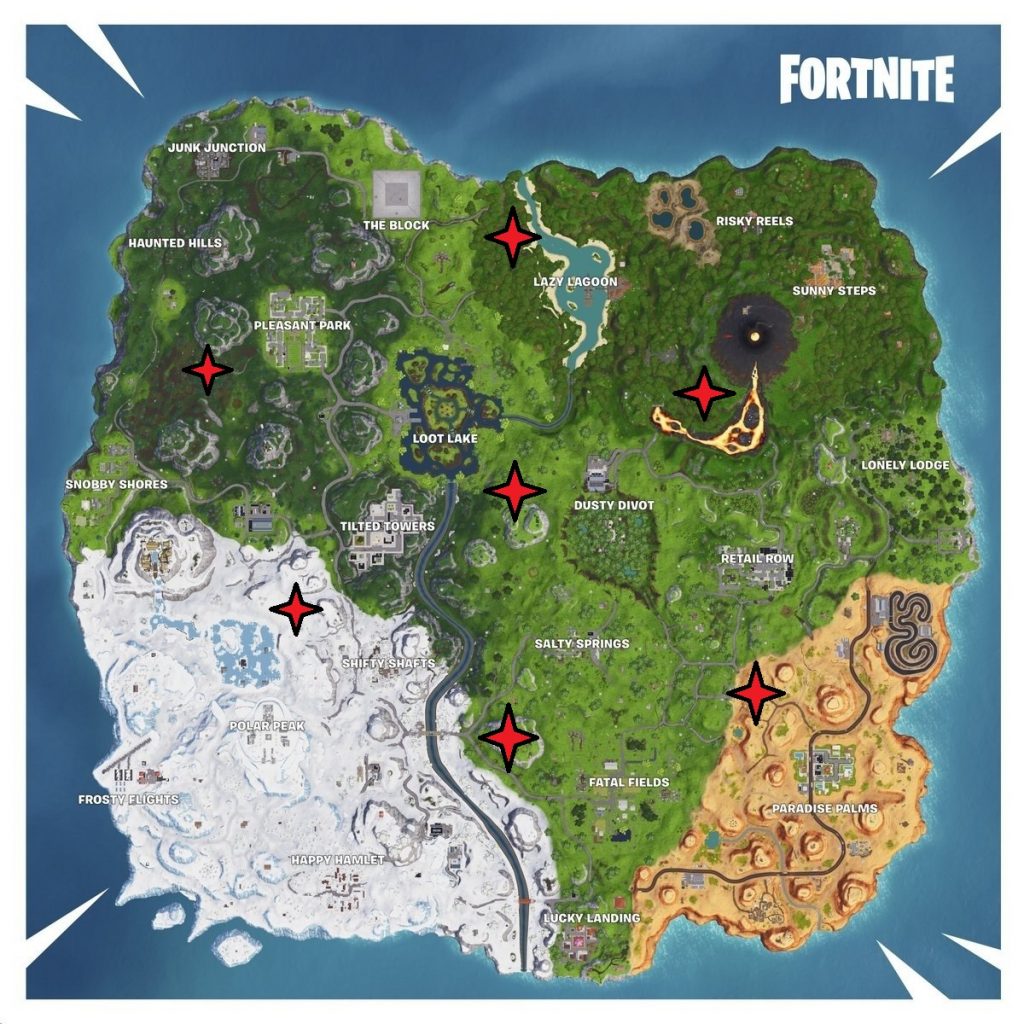 Season 8 has brought all kinds of new things to the Fortnite world, most notably– pirates! Along with these pirates have come many different pirate skins, weapons, and in this case: "camps". These new pirate camps look like broken-down wooden structures with a flag on top, and they're usually surrounded by palm trees. We've noted all 7 that you need to find on the map above.
Visit a Giant Face in the Desert, the Jungle and the Snow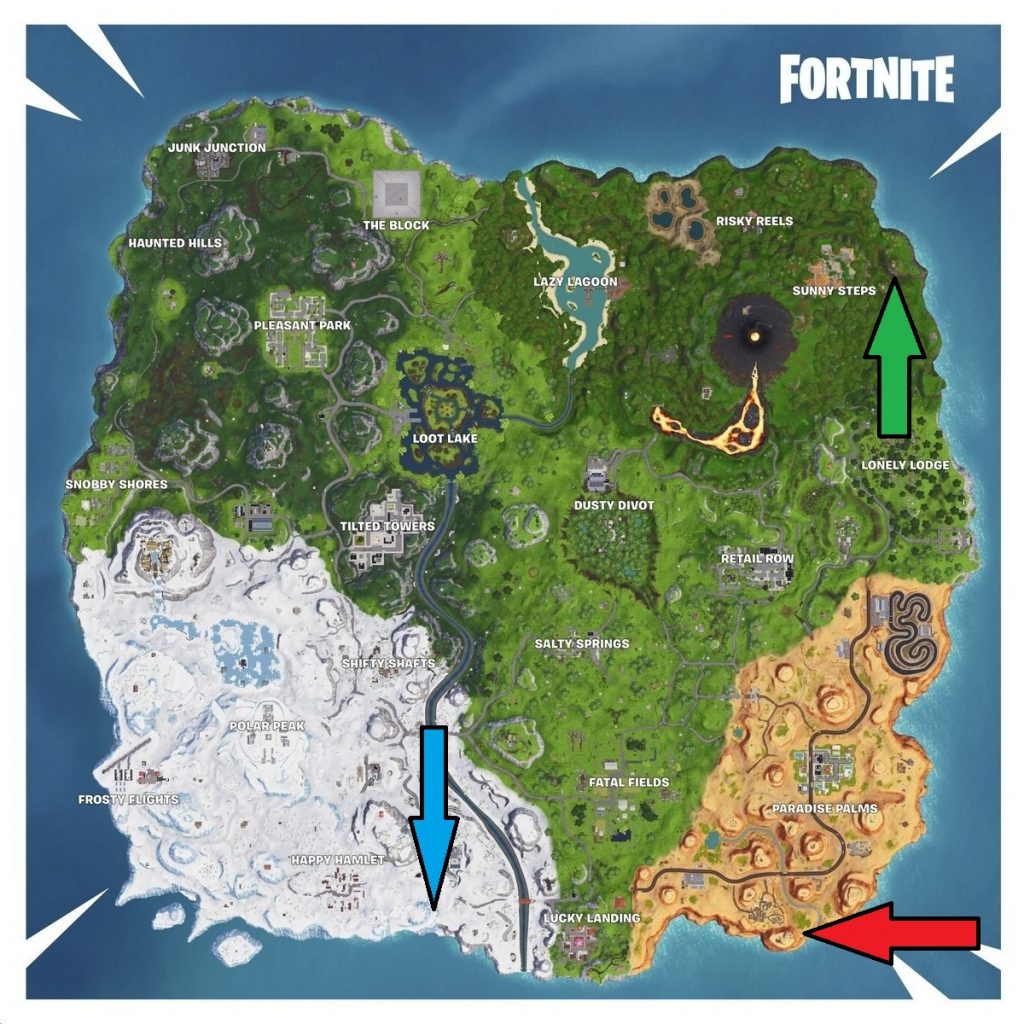 Giant Face in the Desert
This face is located just south of Paradise Palms near an abandoned town. Look for a cluster of RVs, and you'll find the giant face behind them on a cliff wall. Check out the map above for a headstart on this location.

Giant Face in the Jungle
Welcome to the jungle. This new, palm-tree filled part of the map is clustered around the Volcano that just erupted. It's in the area that used to be Wailing Woods, and you can find the face you're looking for in the eastern part of it along the cliffs on the coast. We've indicated this location on the map above to help you out.

Giant Face in the Snow
We've been to the desert, the jungle, and now we're going to the tundra. We've noted this final face location on the map above. If you're having trouble finding it, keep in mind that it's on a steep cliffside like the other two faces are.
What do you think of all the new changes that Season 8 has brought? Liking them so far? Let us know in the comments below!