Fortnite Season 10 (or "X" as it's also called) has arrived. In addition to an all-new Battle Pass filled with loot, there's an overpowered mech, Rift Zones that frequently change the map, and weekly challenges that are slightly different. Besides being called "missions" the challenges now feature a theme that changes every Thursday.
Here are all the "Spray and Pray" Missions for Week 2 of Fortnite Season X, along with a cheat sheet to help you get them done fast. If you need past week's missions, you can find them on our blog:
Road Trip Missions | Fortnite Season 10 (X), Week 1
Fortnite Season X, Week 2 "Spray and Pray" Missions
As you might've guessed, the missions this week will involve spraypaint cans and graffiti in addition to the usual tasks like eliminating opponents and dealing damage. The "challenges" are "missions" now, but they function in basically the same way. You'll need to complete the standard missions first to unlock the "prestige" ones, and Battle Pass owners will get access to more (exclusive) loot than those without.
Standard Missions
Spray a Fountain, a Junkyard Crane and a Vending Machine (1)
Spray different Gas Stations (3)
Find lost Spraycans (5)
Search Chests at Tilted (7)
Deal damage with SMGs to opponents (500)
Deal damage to opponents structures with a Minigun (3000)
Eliminate opponents with an SMG less than 15m away (3)
Prestige Missions
Spray cars or trucks in different Named Locations (x6)
Visit graffiti covered billboards in a single match (x2)
Eliminations with an SMG in a single match (x2)
Search Chests inside containers with windows (x5)
Damage opponents with a Minigun (x500)
Eliminate opponents with an SMG less than 5m away (x5)
Eliminate opponents in Tilted with the Tilted Teknique outfit (x5)
Week 2 Cheat Sheet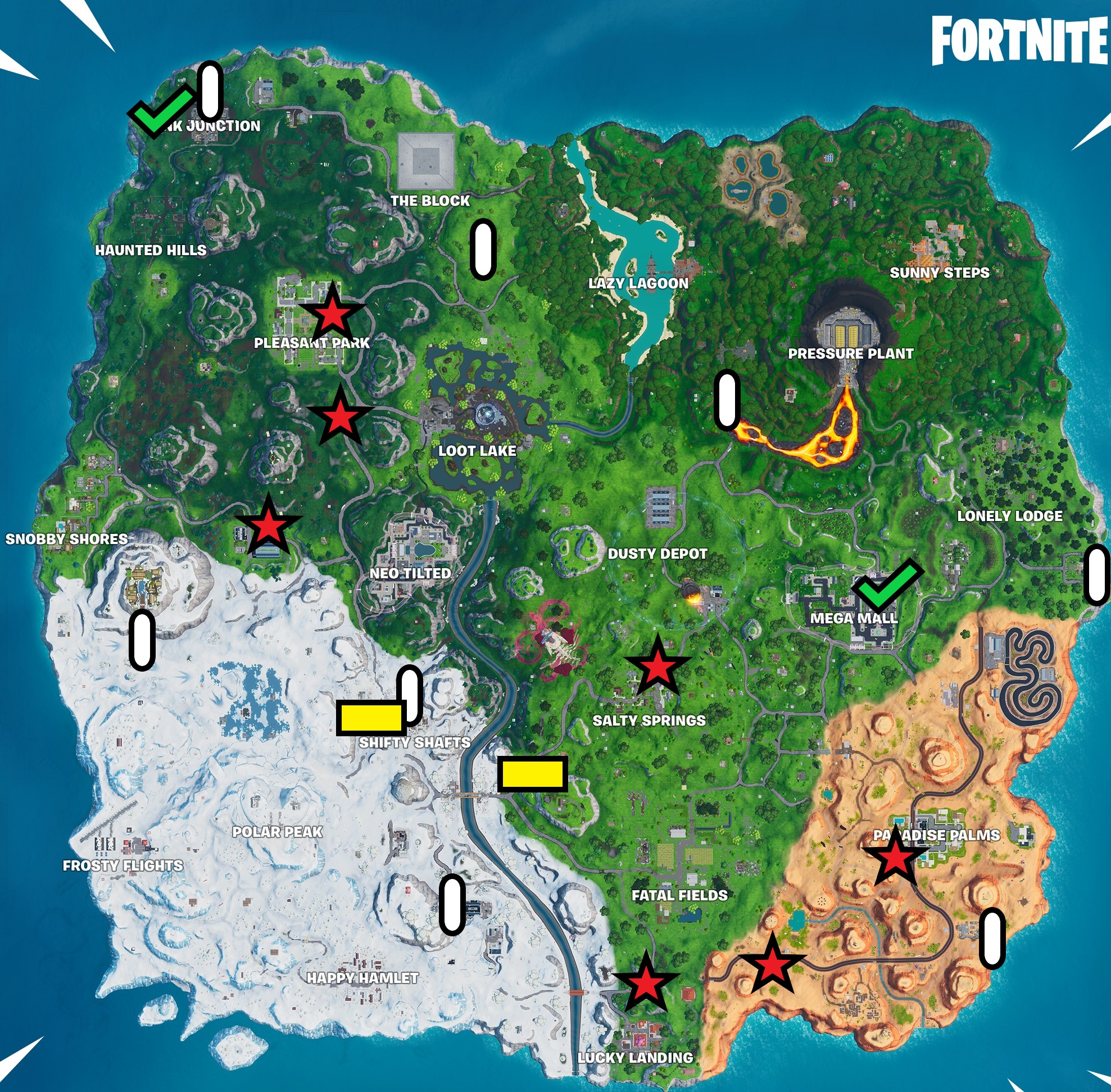 We've grouped multiple guides for the toughest challenges into one handy cheat sheet. Just follow the map above to complete this week's missions quickly and easily. Here's what all the symbols mean:
White Ovals = Where to find lost spraycans
Red Stars = Where to spray different gas stations
Yellow Billboards = Where to visit graffiti covered billboards
Green Checkmarks = Where to spray a fountain, a junkyard crane and a vending machine
Need V-Bucks for a Battle Pass or Want the Latest Console-Exclusive Skins?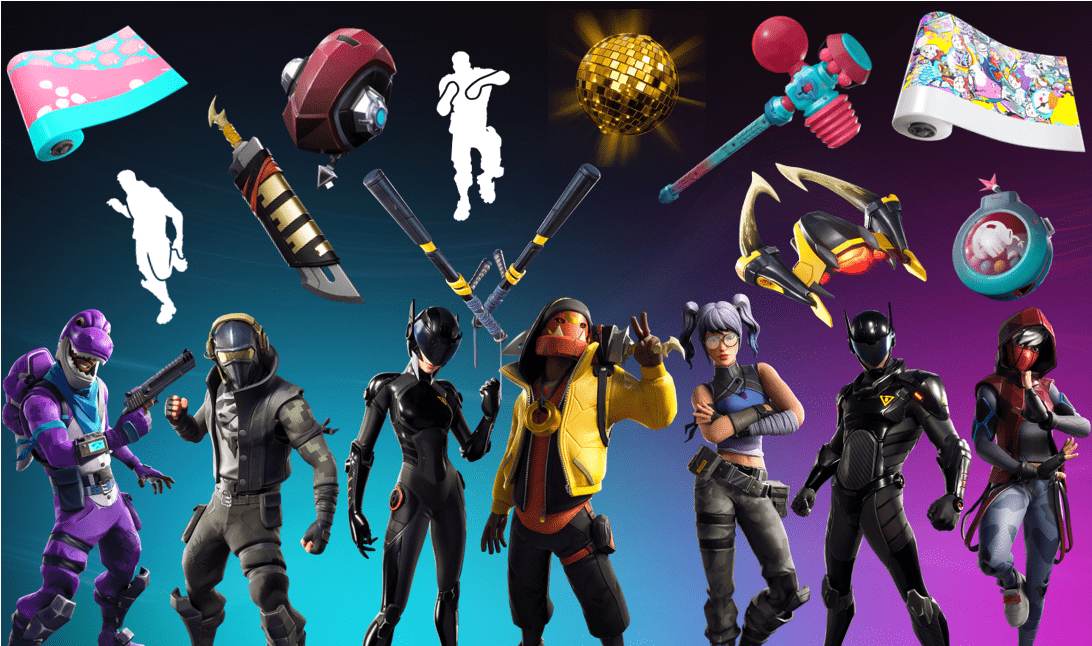 Don't want to wait weeks for the Tier 100 Ultima Knight skin? Drop-in with legendary style in the Neo Versa cosmetic set (PS4), available right now in our webstore! While you're at it, check out the Eon bundle for Xbox One and the Double Helix for Nintendo Switch.
All of these cosmetic packs also include V-Bucks. Use them to buy multiple items or even a Battle Pass in the Fortnite Item Shop.
Just need V-Bucks? We have a way for you to get discounted V-Bucks simply by using the cards available in the Top-Ups section of our webstore. Follow those links if you want to save yourself some money. Or, simply buy your V-Bucks directly while they're on sale.
That wraps up all of the new challenges (and potential loot) waiting for you in Week 2 of Season 10. If you have any questions, let us know in the comments or on Facebook and we'll help you out!