It's the most wonderful time of the year! E3 2021 is here, and the big announcements have already begun. After the news that Battlefield 2042 is coming in October and Elden Ring is coming in January, E3 officially began on Saturday with presentations from publishers Ubisoft, Gearbox, and more.
Below is a roundup of all of the conference's biggest announcements thus far. We'll keep this blog continually updated with the best of each day at E3, so stay tuned for more…
E3 Day 4
Nintendo
Metroid Dread
Metroid did indeed appear at Nintendo's E3 Direct, in the form of Metroid Dread– the first 2D Metroid game in more than 19 years. Explore what Nintendo calls a "strange new planet" on October 8th! Get a look at the announcement trailer here.
Breath of the Wild 2
Nintendo's yet unnamed sequel to Breath of the Wild is still in the works (yay!), and is slated for a release some time in 2022. To tide us over, we got an all new trailer!
WarioWare Get It Together
Wario is back! An all new WarioWare game was revealed on Tuesday, and this time around it'll include multiplayer content. WarioWare Get It Together will feature the same fast, frenetic, and often hilarious microgames that appeared in previous entities in the series, and this time, some of these mini-games will require co-op play to complete. WarioWare Get It Together will arrive on Switch on September 10 of this year, and you can check out the official reveal trailer here.
Super Smash Bros. Ultimate – New Fighter
Last but not least, it was announced that the character Kazuya Mishima from the Tekken series will be the next DLC fighter coming to Super Smash Bros. Ultimate. No specific date was revealed for when that will occur, however Kazuya's moveset looks like a lot of fun! You can see for yourself

in the reveal trailer here

.
E3 Day 3
Capcom, Take-Two, and More
Halo Infinite Multiplayer
If you thought the Halo Infinite news yesterday was good, wait till you hear about today. Microsoft revealed a hefty amount of new details on how the game's multiplayer will work.
This online mode will be free-to-play to begin with, and a Battle Pass that never expires will also be available to unlock a wide array of exclusive customization options! Check out the very informative overview video here to learn more about Halo Infinite's multiplayer component.
Resident Evil Village – DLC
Re:Verse, the multiplayer bonus game that ships free with Resident Evil Village, is coming next month! In addition, Capcom revealed that DLC is indeed in the works for Village as well. Unfortunately, no teaser trailer was provided; but you can learn more about Resident Evil Village and Re:Verse in our blog post here.
Monster Hunter Rise – New Content
Capcom has revealed details on new content to come for Monster Hunter Rise. The roadmap that was laid out for this summer includes new quests, rewards, and gear. Learn more in the trailer here.
E3 Day 2
Xbox & Bethesda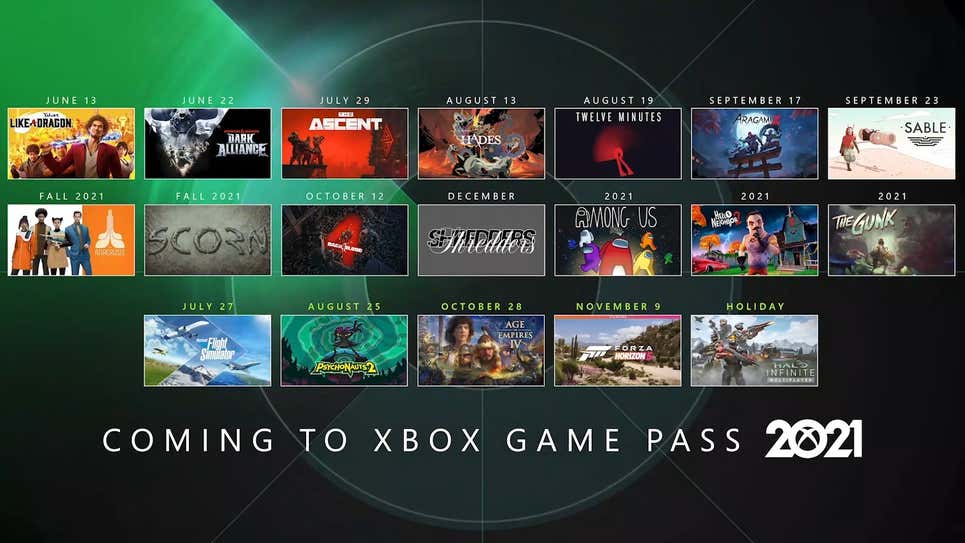 Xbox Game Pass (For console and PC)
The Microsoft/Bethesda presentation had so many big reveals, but let's talk Game Pass first. In addition to all of the games listed here being available today (thanks Bethesda!), all of the games pictured in the image above are arriving on Game Pass later this year. That includes big new releases like Forza 5, Age of Empires IV, and Halo Infinite.
Xbox Game pass remains one of the best ways to play so many amazing games for less– and it keeps getting better. Check out all of the Game Pass subscription deals (for console and PC) in the CDKeys Store.
Starfield
Don't fret, Starfield is still in the works… although now we know just how far out it is. Bethesda revealed on Sunday that their new RPG is slated to release in November 2022. For those who are unfamiliar with Starfield (it has been a very long time since we heard anything), the game respresents the first new universe for Bethesda in 25 years. In Starfield, you'll "create any character you want and explore with unparalleled freedom as you embark on an epic journey to answer humanity's greatest mystery."
See for yourself in Starfields' latest teaser trailer.
Diablo 2: Resurrected
We now have a date for when Blizzard's legendary dungeon crawler will rise from the dead. Diablo 2: Ressurrected, the remaster of the original game from 2000, will release on September 23 of this year. It will launch on PS4, PS5, Xbox One, Series X|S, Switch, and of course PC. And, it will also feature cross-progression between platforms! Here's the latest trailer with more details.
Halo Infinite
The latest Halo update did not dissapoint. Microsoft delivered a new story trailer, and the reveal of Halo Infinite's multplayer; showing off new weapons, gamemodes, and more. Microsoft also doubled down on the game's release window of "this holiday season," and confirmed that Halo Infinite will indeed be available with Xbox Game Pass day one.
The Outer Worlds 2
A sequel to Obsidian's choice-driven RPG was revealed to be in the works! No release date yet, or which platforms the game will launch on, but we did get a tantilizing announce trailer to pique our interest. Needless to say, we will be following the development of this game closely!
Forza 5
The next Forza game will take us to Mexico when it releases on November 9 for Xbox One, Series X|S, and PC! Microsoft unveiled the game with an exciting announce trailer, and then put the pedal to the metal with a gameplay reveal. Forza Horizon 5 is one of the many games coming straight to Game Pass on the day it releases worldwide.
Age of Empires IV
The Microsoft/Bethesda presentation unveiled yet another release date for yet another eagly anticipated new game. This time is was the return of Real-Time Strategy classic Age of Empires, which will see its fourth entry arrive on October 28. Take a look at new gameplay in the official trailer right here.
Square Enix

Babylon's Fall
Babylon's Fall, a new action RPG from PlatinumGames (NieR:Automata, Bayonetta), dropped a new trailer for the first time in years. This new release from one of Japan's most popular developers doesn't have a set release date yet, but we do know it will be available for PS4, PS5, and PC (on Steam).
Life Is Strange Remastered Collection / True Colors
The Remasterd Collection, which includes both the original Life Is Strange and prequel Before the Storm, got a new trailer on Sunday showing off the improvements of the enhanced version. Life Is Strange True Colors, a new game in the series that will release on Sept. 10, also got a new trailer.
Stranger of Paradise Final Fantasy Origin
Team Ninja (Nioh, Ninja Gaiden) is behind the new final fantasy spinoff due for release in 2022. You can find the debut trailer here, and expect its release on PS4, PS5, Xbox One, Series X|S, and PC.
Marvel's Guardians of the Galaxy
Marvel's Guardians of the Galaxy is really going to happen! This new single-player action game is in the works by the same developer behind Deus Ex. It will release on October 26, and you can see its debut trailer here, and the gameplay first look for a little taste of the fun.
E3 Day 1
Ubisoft
Rainbow Six Extraction
Previously known as Quarantine, Ubisoft delivered an exclusive look at gameplay footage for recently renamed Rainbow Six Extraction. Described as a tactical co-op shooter "where Rainbow Six operators are dropped into alien territory," Extraction's release date was revealed to be September 16th, 2021. Ubisoft also announced that crossplay will be supported across all available platforms (PS4, PS5, Xbox One, Xbox Series X|S, PC, and Stadia).
Check out the cinematic reveal trailer and the gameplay deep dive reveal.
Far Cry 6
Far Cry 6 will release on October 7, and on Saturday we were treated to a new cinematic trailer for the game. Ubisoft also unveiled new details on the Season Pass, most notably the feature to play as one of the maniacal villains from past games. Owners of the game's bonus content pack will be able to take control of Joseph Seed, Pagan Min, and Vass for the first time in Far Cry history.
Watch Dogs: Legion – Bloodline DLC
The protagonist from the first Watch Dogs, Aiden Pearce, will return in the upcoming expansion for Watch Dogs: Legion. Available as part of Legion's season pass, Bloodline is set before the events of the main game, and sees Pearce meet up with Wrench (and his nephew Jackson) in London. "Caught between a powerful military robotics corporation and a returning DedSec member with an opposing agenda, Aiden must rely on his grit and experience to navigate a hostile city, try to outmaneuver his enemies, and keep his family intact."
Check out the Watch Dogs: Legion — Bloodline trailer, and look for deals on the base game and/or your season pass in the CDKeys store.
Assassin's Creed Valhalla – The Siege of Paris DLC
A lot of content has been added to Assassin's Creed Valhalla in the past few months, and there is a lot more yet to come. Ubisoft dropped a trailer on Saturday detailing what's coming very soon to the game; including free updates, and most prominently, the second expansion "The Siege of Paris". Valhalla is available on PS4, PS5, Xbox One, Series X, and PC. Both the base game and DLC Season Pass are available (at a discount) in the CDKeys Store.
Avatar: Frontiers of Pandora
Last but not least, Ubisoft announced an entirely new Avatar game that will be available sometime in 2022 for PS5, Xbox Series X|S, PC, and Stadia. Entitled Avatar Frontiers of Pandora, we were given an exciting first look in the trailer here. According to Ubisoft, in this new standalone story you'll "play as a Na'vi and embark on a journey across the Western Frontier, a never-before-seen part of Pandora."
Gearbox

Tiny Tina's Wonderlands
Yes, that's the Tiny Tina from Borderlands. But Wonderlands is not simply a sequel. This new looter shooter (with RPG elements) is an entirely new standalone story. And while it may be inspired by Gearbox's wildly popular Borderlands franchise, Tiny Tina's Wonderlands is set in a brand new fantasy environment (albeit with plenty of nods to the Borderlands past). There is also a star-studded cast of talent involved; including Andy Samberg, Will Arnett, Wanda Sykes, and of course Ashly Burch.
Check out the official announcer trailer for Tiny Tina's Wonderlands, and let us know in the comments what your thoughts are. If you're new to Borderlands, you can get yourself up to speed with discounted copies of each game in the series in the CDKeys Store.
Godfall – Fire and Darkness DLC
Previously a PC and PS5 exclusive, Godfall will be making its way to PS4 soon. In addition, the new Fire and Darkness expansion for the game will arrive on August 10 along with the free Lightbringer update. Get a look at both batches of new content in the E3 showcase trailer here.
Devolver Digital
The Devolver Digital E3 showcase was as hilarious and inappropriate as ever, just like make of the publisher's games. New game Wizard with a Gun was revealed, along with Trek to Yomi. Devolver also delivered new trailers for Shadow Warrior 3, Phantom Abyss, and Death's Door— which we hope will come to Game Pass!
Look out for ongoing coverage of the biggest E3 news right here on our blog, on Facebook, and over on our YouTube channel.