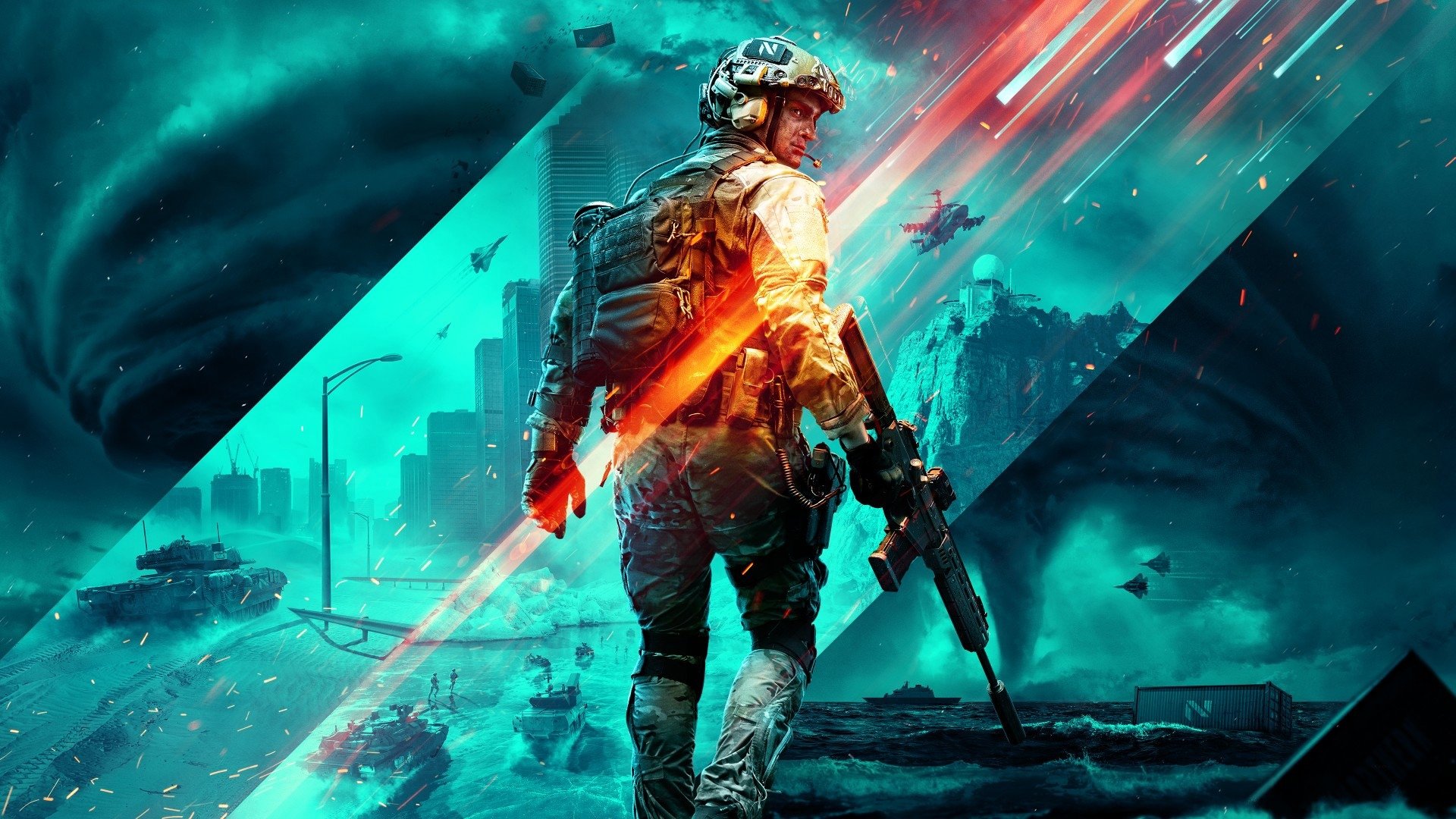 It's going to be hard to choose between Call of Duty: Vanguard and Battlefield 2042 this month… Oh, we're definitely playing both, it's just a question of which one we're going to skip work to binge.
Battlefield 2042 is out now for PC, PS4/PS5, Xbox One, and Series X|S. Trying to decide if this latest entry is right for you? Well, does dynamic battlegrounds supporting 128 players, a new Hazard Zone survival experience, and a near-future arsenal sound at all appealing to you? If so, then Battlefield 2042 should definitely be on your radar.
The Rules of War Have Changed
Battlefield, the legendary series that helped to define modern multiplayer shooters, is re-writing the rules with its latest entry. Battlefield 2042 features the return of all-out online warfare, in addition to an all-new sandbox experience and the ability to battle across the wide universe of the Battlefield franchise.
Upgrading to the Gold Edition of the game will unlock the Year 1 Pass; getting you exclusive access to 4 New Specialists (1 per Season), 4 Battle Passes (1 per Season), and 3 Epic Skin Bundles ("Blistered Earth", "Tempest", and "Cold Blood")
In addition to everything at the Gold level, if you upgrade to the Ultimate Edition you'll also get "Midnight Ultimate cosmetic bundle, digital artbook, soundtrack, and more!
Check Out All Battlefield 2042 Deals in the CDKeys Store Now
Battlefield 2042 Features and Gameplay
Check out gameplay in the video above and the list of features below for a taste of what you can look forward to in the future of Battlefield.
Welcome to 2042
Battlefield™ 2042 is a first-person shooter that marks the return to the iconic all-out warfare of the franchise. Adapt and overcome in a near-future world transformed by disorder. Squad up and bring a cutting-edge arsenal into dynamically-changing battlegrounds supporting 128 players, unprecedented scale, and epic destruction.
All-Out Warfare
The next generation of fan-favorites Conquest and Breakthrough features the largest Battlefield maps ever and up to 128 players. Experience the intensity of all-out warfare on maps filled with dynamic weather and spectacular world events.
Battlefield Portal
Discover unexpected battles and enter the wide universe of Battlefield in a community-driven platform that gives you the power to change the rules of war. The possibilities are endless when you can customize weapons, gear, rules, and more in this creative sandbox mode. Replay classic experiences with select content from Battlefield 1942, Battlefield 3, and Battlefield: Bad Company 2, or leverage the modern content from the world of Battlefield 2042 to discover, create, and share something completely new.
Battlefield Hazard Zone
A tense, squad-focused survival experience, Battlefield Hazard Zone combines edge-of-your-seat gameplay with the best of the Battlefield sandbox. Inserted as a four-member squad, you must locate and retrieve critical Data Drives scattered throughout the battlefield, while competing against opposing squads with the same objective and local militias. Succeed by gathering the Data Drives and choosing when to extract before a storm overtakes the area in this high-stakes, one-life experience. Every bullet, every skirmish, and every decision counts.
Find more new games to play in our Top 5 New Games of November post.
… And don't miss the upcoming Black Friday Weekend Sale! This is your chance to snag some of our biggest discounts of the year. Visit CDKeys from 26th to 29th Nov to see just how far the discounts will go… And don't hesitate to grab what you want while it's available!