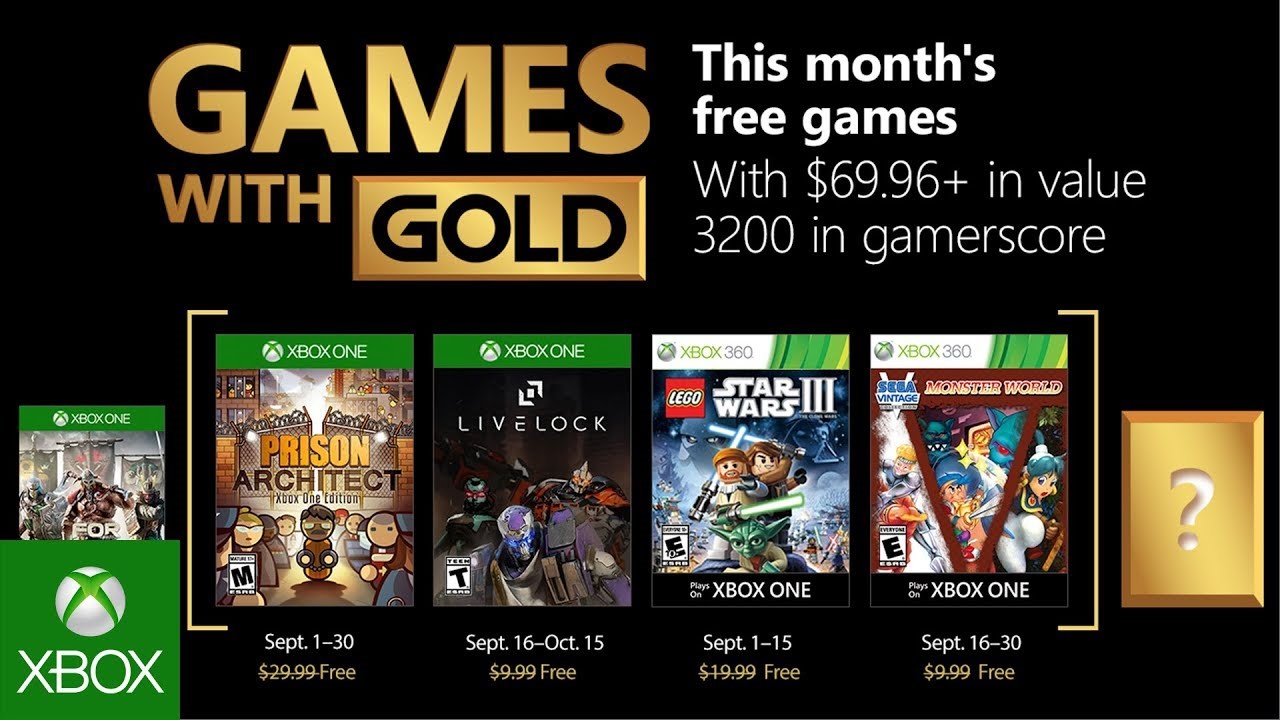 Not an Xbox Live Gold member yet? No problem. Pick up a one month subscription HERE that gives you access to all the new games below, and new ones every month for $13.39. There's over $69.96 worth of games in this month's drop alone…
What does Xbox Live Gold get you?
Free games, twice a month, that are yours to keep forever
Access to special sales that give you up to 75% off games in the Xbox Store, every single week
Demos and other cool content way before before basic Xbox Live subscribers
A better way to group up with friends. And in addition a way to chat cross-platform between Xbox One and Windows 10 PC players.
Those features, along with these games can be yours for FREE this month, as long as you have an Xbox Live Gold subscription:
Prison Architect ($29.99 ERP)
Available Sept. 1 to 30 on Xbox One
Before this game, we never realized how much fun prison can be! Well… running the prison at least. And that's not all you'll do in Prison Architect. As the name implies you'll design and construct your own prison, but you'll get a chance to design every nuance of prisoner life. It's like Sim City behind bars!
Livelock ($9.99 ERP)
Available Sept. 16 to Oct. 15 on Xbox One
Livelock is a lot like Diablo in that it's an isometric game, but it has more action than RPG elements, and more robots than demons. Oh, and guns too. A lot more guns. You can play it solo, or in co-op multiplayer which is a blast!
Lego Star Wars 3: The Clone Wars ($19.99 ERP)
Available Sept. 1 to 15 on Xbox One and Xbox 360
All of the Lego games are so well made, and this one is no exception. They truly are fun for all ages. Play through all the action of The Clone Wars animated series that takes place during a violent time in the Star Wars universe when the Jedi Knights were struggling to restore peace and preserve their dwindling numbers.
Sega Vintage Collection: Monster World ($9.99 ERP)
Available Sept. 16 to 30 on Xbox One and Xbox 360
Get ready for a blast from the past, as you venture into Monster World in three classic action RPG titles bundled into one one package– including Wonder Boy in Monster World which is available for the first time ever outside of Japan.
Free games are available every month so you might want to subscribe for longer than just September. A 12 month Gold membership is the best deal; it gets you 12 times the games for only slightly more. Check them out, we have all different membership options available HERE for cheaper than Microsoft.
Follow us on Twitter, Facebook, and Instagram to know more about our sales right when they happen!