If you missed Fortnite Battle Royale's big birthday party back in July, here's another chance for you to take part in a limited time event! We've seen lots of new game modes come and go, but an event like this one (that also includes a new mode) is still a new thing for the game.
"High Stakes" is the name, and "Getaway" is the game. Let's get into everything you need to know about this new event, and about the challenges that are set to drop this week.
New Skin
We had to start with these new skins because they just look so… dangerously dapper. The "Wildcard" skin, as it's called, is customizable– you can swap out 4 different playing card themed masks to top off your white suit.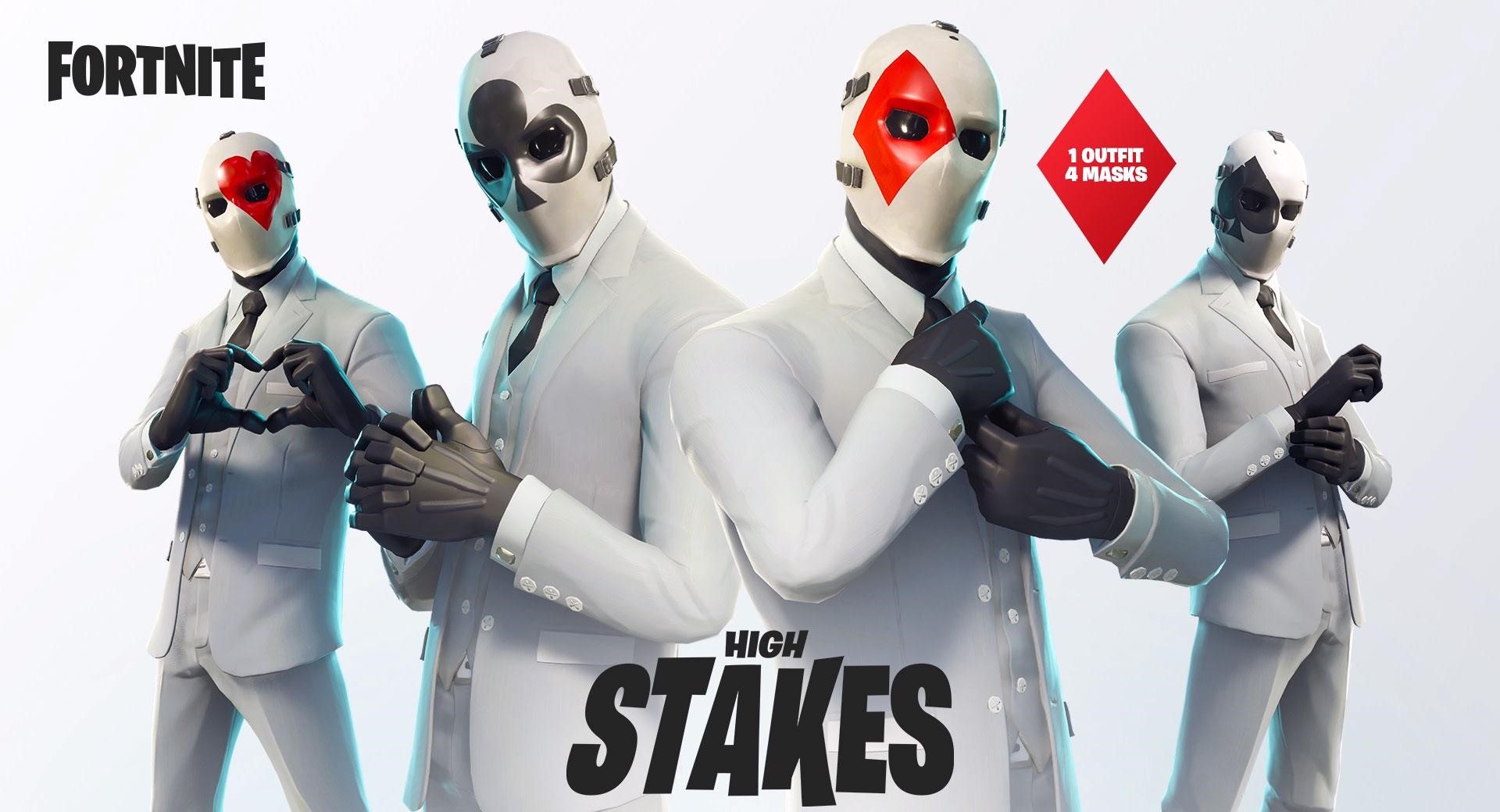 The skin will also come with a slick metal briefcase with a handcuff security-link. It'll end up being equipped on your back, not dangling from your wrist, but it still looks pretty darn cool.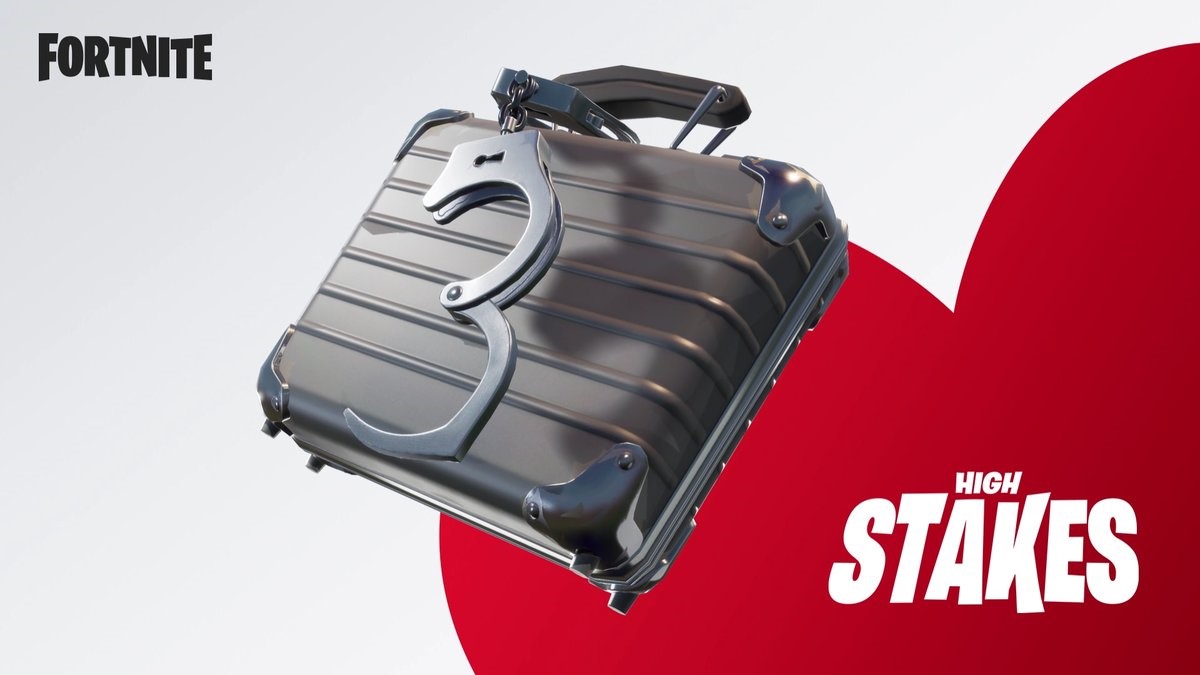 And of course, no outfit is complete without a matching glider! This one features a vault door and all the goodies a thief like you might steal.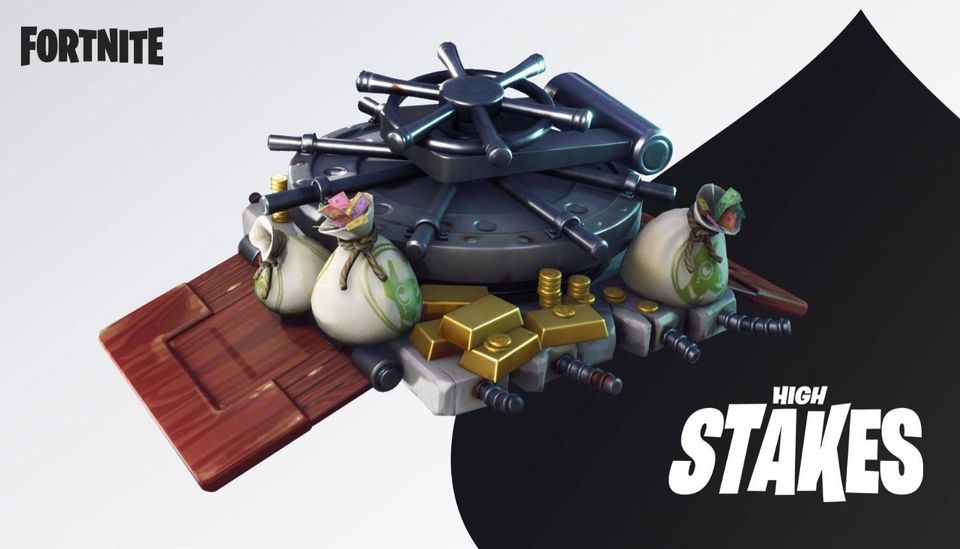 This is one cosmetic you're not going to want to let pass you by. Pick up some V-Bucks in our webstore now so you'll be the first to have this skin when it sneaks into the item shop.
New Limited Time Mode: Getaway
This heist themed event will have you working as a squad of thieves in the new game mode. Your mission is to drop in as a team (along with several other teams), and find a safe before your opponents do. In this safe will be a prized crystal llama. Your crew will need to pick the lock, grab the llama, and, as the name of the mode might suggest, make a clean getaway in your team's van.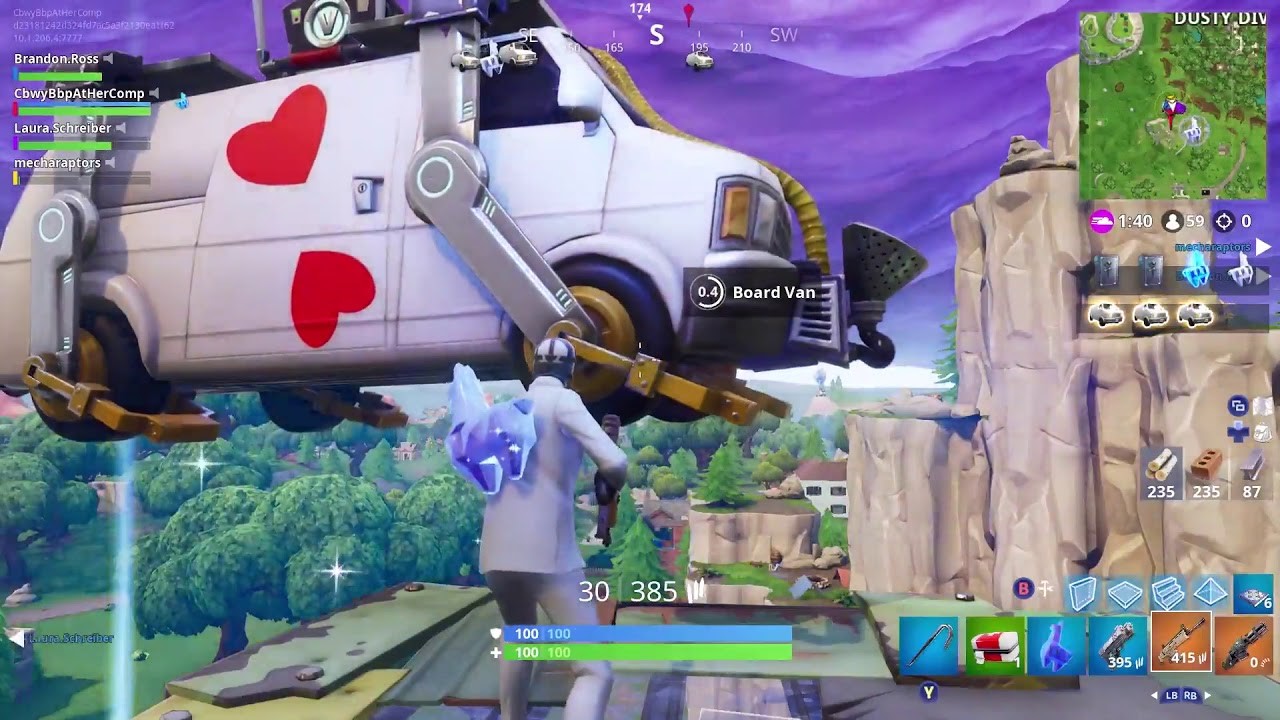 There will be more than one master thief chosen: the first four teams have a chance at winning in this game mode. Think you're up for the challenge? Make sure you have teammates you can trust… Get in on the action on September 6th, sometime after 4am EST.
New Weapon: The Grappler
This weapon will launch with the new update, and will be available to use in not only the new Getaway mode, but in Battle Royale as well! One of Epic's developers called this an "escape plan in your back pocket", and you can see its potential for that in the video below.
https://clips.twitch.tv/CrispySpikyMetalKeepo
The Grappler could be used for a lot more than just running away. Think of all the Spider Man-like moves you could pull with this new toy, and all the deadly combinations you could create with your secondary weapon!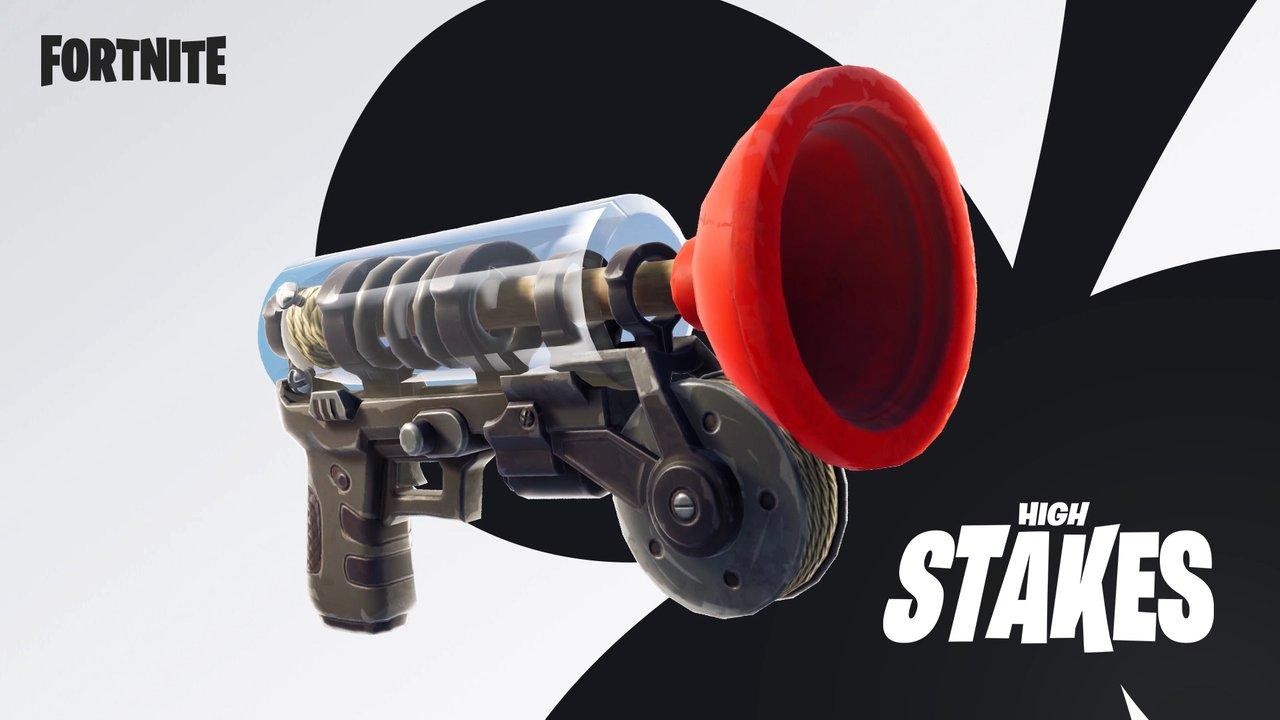 Season 5, Week 9 Challenges
Do you already have a Battle Pass? You'll need one to get the loot from most of the challenges. You can buy a Battle Pass in-game with V-Bucks, and you can pick up those V-Bucks HERE. And remember, even if you buy a Battle Pass now, you'll still have access to all the past challenges this season– they don't go away! But you can only complete the "free" challenges without one.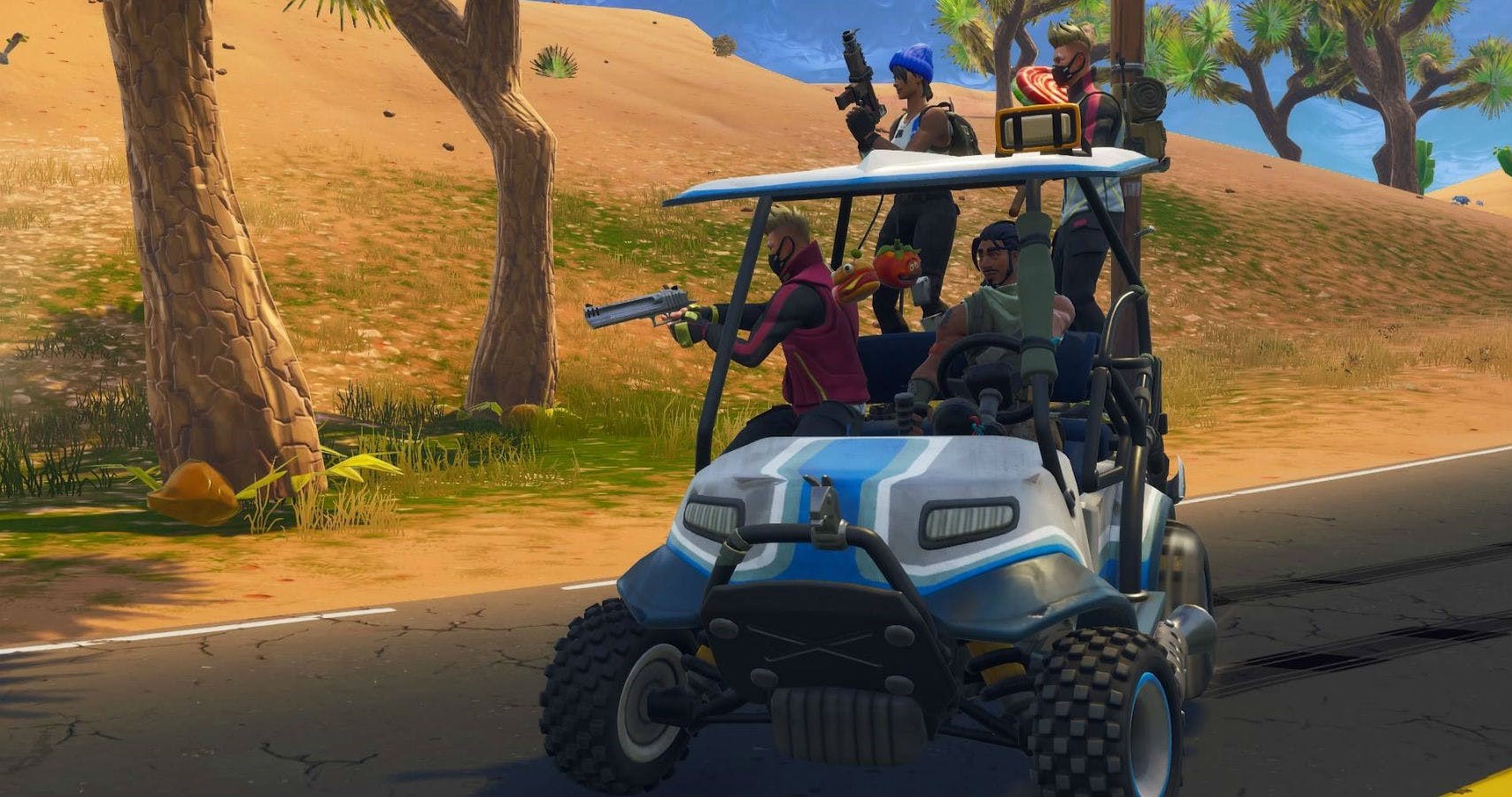 Free Challenges
Deal damage with Explosive Weapons to opponents (500) = 5 Battle Stars
Use an ATK (All Terrain Kart) (1) = 5 Battle Stars
Follow the treasure map found in Shifty Shafts (1) [HARD] = 10 Battle Stars
Battle Pass Challenges
Search Chests in Pleasant Park (7) = 5 Battle Stars
Dance Off with another player near Loot Lake (1) = 5 Battle Stars
Assault Rifle Eliminations (5) [HARD] = 10 Battle Stars
Eliminate opponents in Tomato Temple (3) [HARD] = 10 Battle stars
Deal Damage with Explosive Weapons to Opponents
The weapons that fall into the explosives category are: grenades, clingers, C4, and also grenade and rocket launchers. Explosives aren't as powerful as they used to be, so this challenge might take a little time, but it's just "damage" not "eliminations" so this shouldn't be too hard.
To complete this challenge faster we recommend you load up 50v50, find any one of those explosive items, head to a close-quarters area, and spam, spam, spam for damage! Tomato Temple might be a good choice of location this week, as there will be a lot of players there to complete one of the other challenges coming up.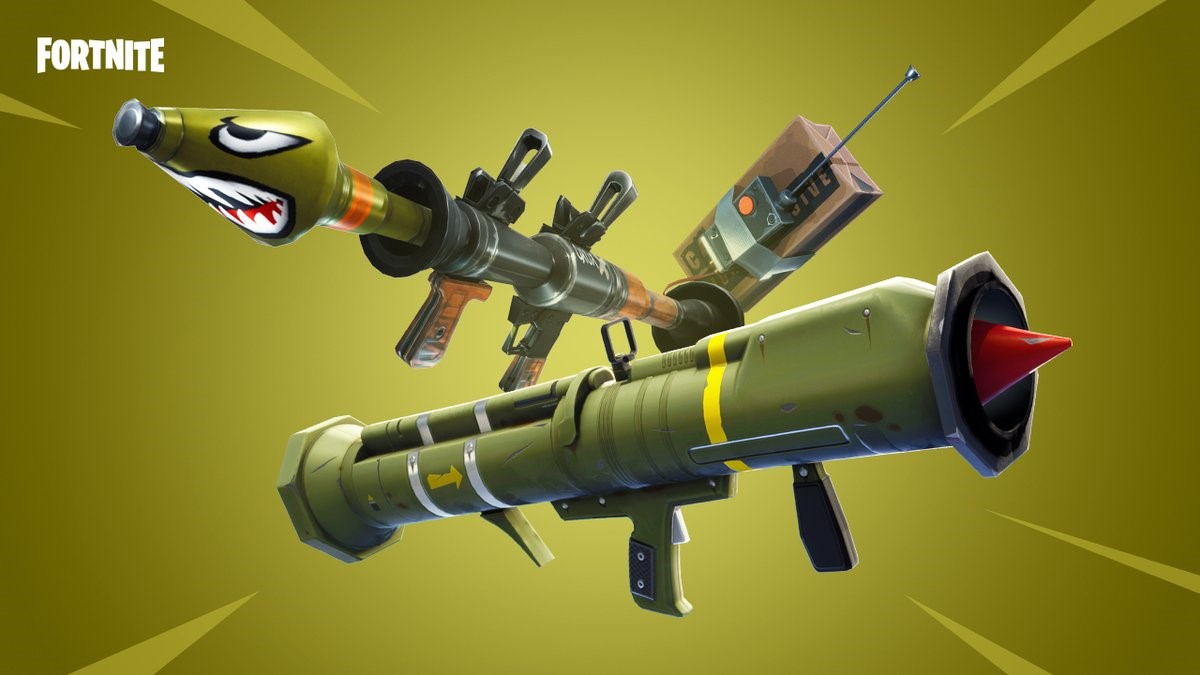 Use an ATK (All Terrain Kart)
The only tricky part is finding a Kart, but they're all over the map so this task is really pretty easy. However, with thousands of other players trying to complete this challenge at the same time this week, finding an ATK could prove more chaotic than usual. Luckily we've got all the locations rounded up here to help you: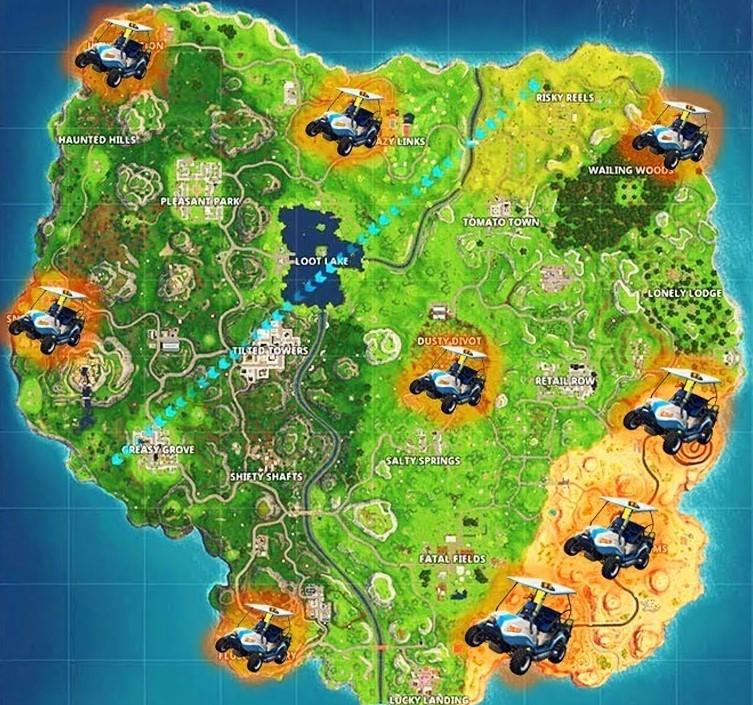 You can find ATKs scattered around the map: there are a bunch at Snobby Shore, Lazy Links is another likely location of a few, Flush Factory, Junk Junction, and Wailing Woods can spawn one, Paradise Palms has like 5, and the Racetrack of course has one.
Follow the Treasure Map Found in Shifty Shafts
After you head to Shifty Shafts and check out the map, the location of the Battle Star you're looking for will be southwest of Dusty Divot on top of one of those irregularly shaped cliffs. Check out the map below to see where we mean: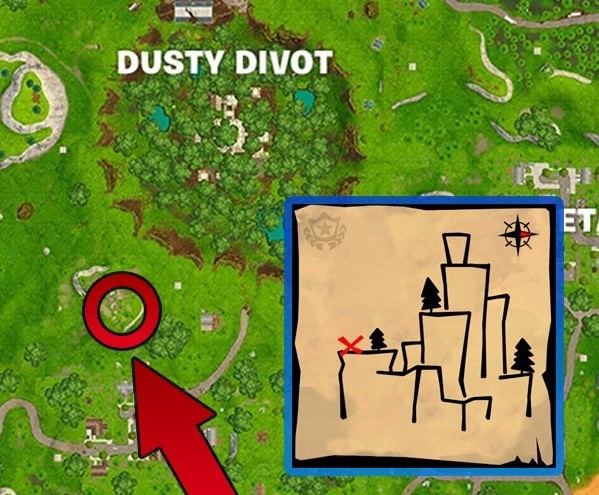 Search Chests in Pleasant Park
The park will be packed with players this week, as you might of guessed, which will make this challenge more difficult– and fun! There are a good amount of chests scattered around Pleasant Park, so get in there and grab some for yourself by whatever means necessary!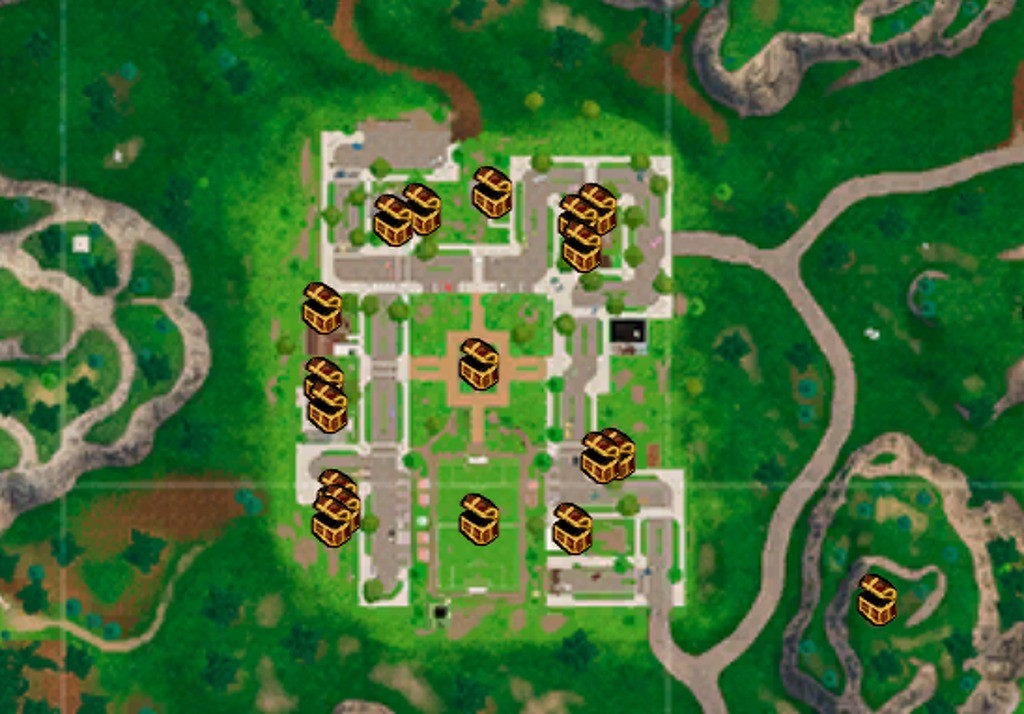 Dance Off with Another Player Near Loot Lake
It's time to get your boogie on… and earn Battle Stars in the process! Head over to the dancefloor to the west of Loot Lake, and make sure you have a dance emote equipped. Try this one in 50v50 mode, and let us know in the comments how it works out!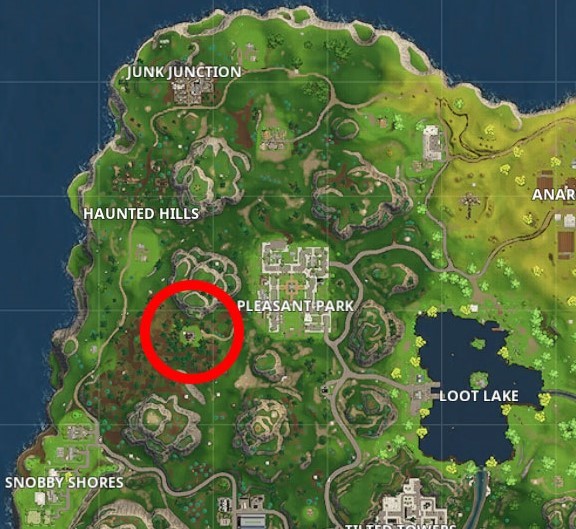 Assault Rifle Eliminations (5)
Having an assault rifle handy is really useful, and for many of you we bet it's even your weapon of choice. The SCAR is a great weapon to use for this challenge. And remember you can get your eliminations a bit easier by finishing off downed enemies in team modes like duos or squads.
Eliminate Opponents in Tomato Temple (3)
This is definitely a great opportunity to get one or two other challenges done at the same time. Bring an assault rifle and/or an explosive device (maybe rocket launcher?), get to high-ground, and then rain down on your enemies. Like the chest-searching challenges, this area is going to be packed with other players this week, so factor that into how you approach the temple.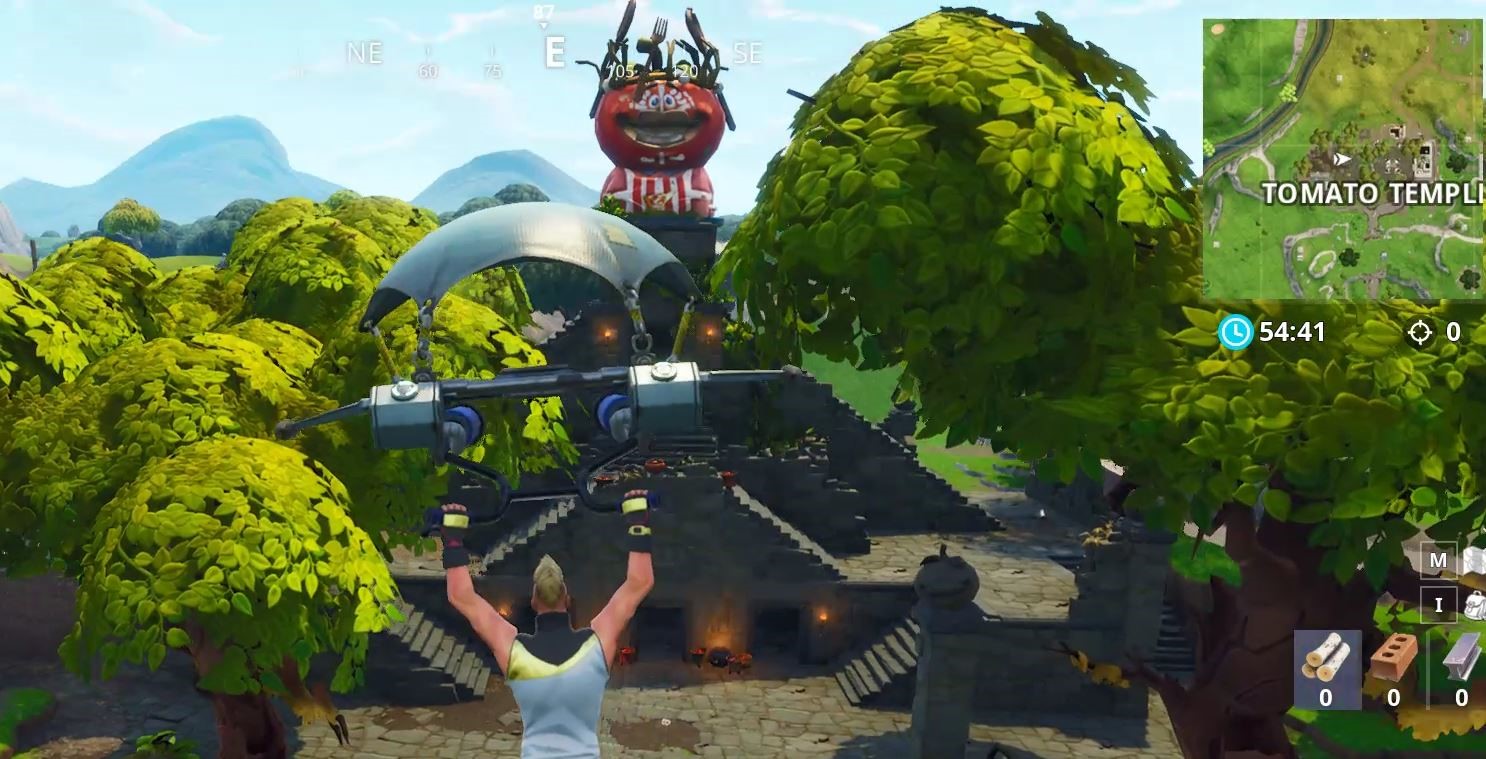 What do you all think of the challenges this week? As Season 5 winds down what crazy things do you think will happen before the end? Join the Fortnite community on our Facebook, Twitter, and Instagram and let us know