Say hello to the new Game Pass subscription tier on the block.
In an effort to "continue our commitment to give players more choice and value," Microsoft will soon launch Xbox Game Pass Core as the "evolution of Xbox Live Gold". Here's everything you need to know about the next phase of Xbox's online multiplayer service, and how to pick the Game Pass plan that's right for you.
Out With the Gold and In With the New
Originating way back in 2002, Xbox Live Gold has granted players across multiple generations of Microsoft consoles access to online multiplayer and voice. Until now, Xbox Live Gold was required if you wanted to play nearly any online game. However, as of September 14th, "Gold" will be phased out and replaced with Game Pass Core– Xbox's newest tier level in their extremely popular subscription service.
So what's changed? Game Pass Core will be priced the same as Xbox Live Gold at 9.99 per month (or even less from CDKeys), however, the monthly free games that were gifted with Gold will be replaced with a new, scaled-down selection from the Game Pass catalogue. The full list is available further in this post, but you can expect popular first-party titles like Forza 4, Psychonauts 2, and Gears 5 to be included.
What Happens to Current Xbox Live Gold Members?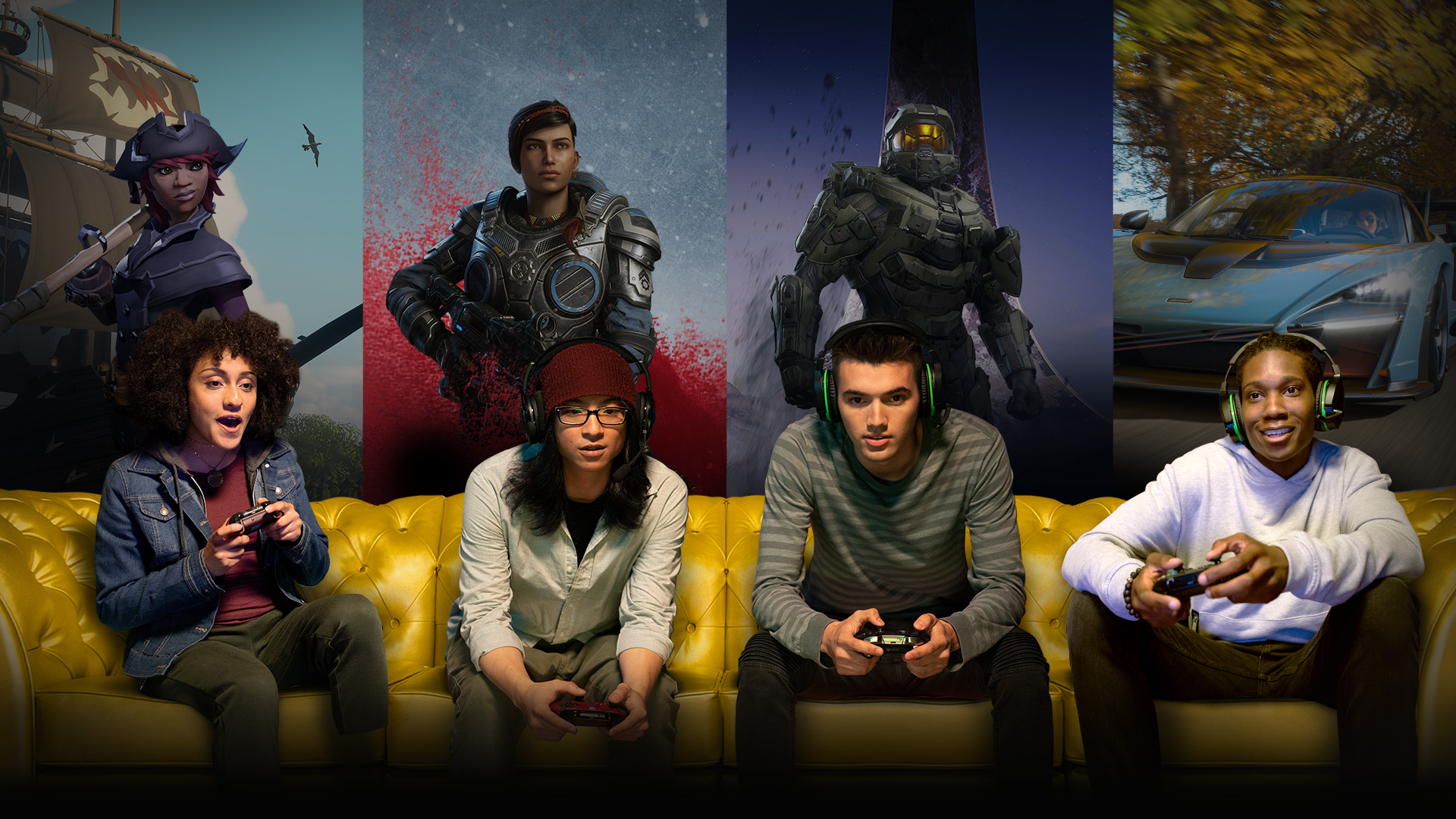 If you're currently paying for a Gold subscription, Microsoft has ensured members that the transition to Core will be completely seamless.  Xbox Live Gold subscribers will see no change in monthly rates, and will instead see a new library of games at their fingertips. So, if you can stack up a few more months of Gold for a good price before the transition, that would definitely be a good idea.
For current Xbox Live Gold members:
On September 14, Xbox Live Gold members will automatically become Game Pass Core members, with no change in pricing, and have immediate access to a new library of over 25 high-quality games.
Member deals & discounts will also be part of Xbox Game Pass Core.
Games with Gold will come to an end on September 1.
Players can continue to access any Xbox One games they previously redeemed through Games with Gold if they remain a Game Pass Core or Game Pass Ultimate member.
Regardless of subscription status, any Xbox 360 titles redeemed via Games with Gold in the past will be kept in a player's library.
Shop All Last Minute Xbox Live Gold Deals
All Xbox Game Pass Plans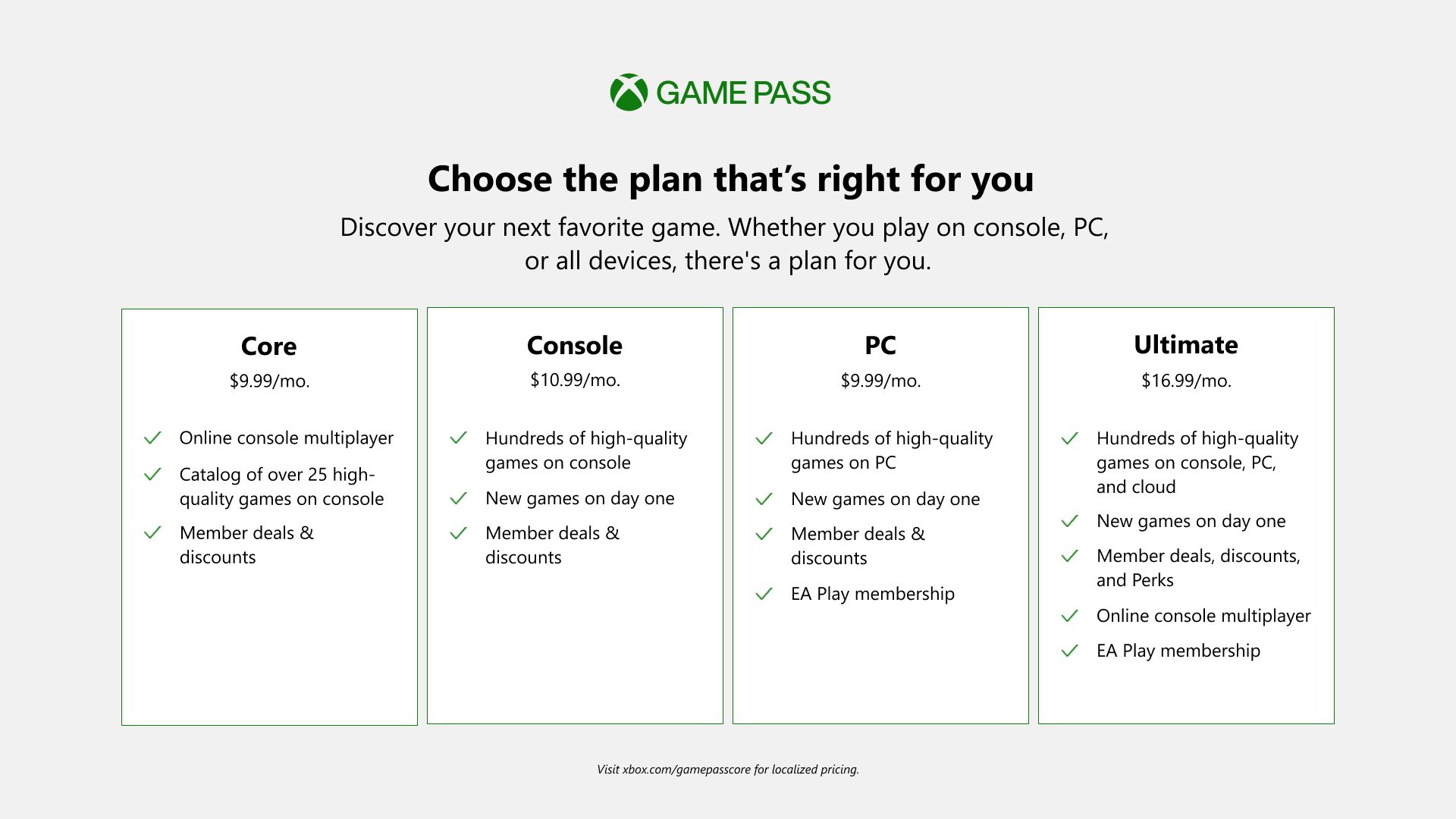 If you're simply looking for the cheapest way to play Xbox online with friends, then Core (the rebranded Xbox Live Gold) will be the option you'll want to pick. But if you're interested in a little more than just online support (like the "Netflix for games" experience), or if you play on PC too– then you may want to consider some of the other choices on the Game Pass menu. Here's what those choices will be when Core officially launches on September 14th:
Core (launching September 14)
As mentioned above, Core is the rebranded Xbox Live Gold; now with a modest game library to choose from instead of free games given away monthly.
Online console multiplayer
Catalogue of over 25 high-quality games on console
Member deals and discounts
Console
You'll get a larger catalogue of ready-to-play games with this plan, and access to first-party games on day one. This means you'll be able to play titles like Starfield, Forza, Halo, and possibly forthcoming COD games without waiting.
Play hundreds of high-quality console games on console
New games are added all the time
Xbox Game Studios titles the same day as the release
Member discounts and deals
Unlock Riot Games benefits
PC
The plan for the "Master Race". This plan adds a wide variety of PC-exclusive titles.
Play hundreds of high-quality games on PC
New games are added all the time
Xbox Game Studios titles the same day as the release
Member discounts and deals
Unlock Riot Games benefits
Ultimate
As implied by the name, this is the ultimate Game Pass package complete with all the bells and whistles.
Play hundreds of high-quality games on console, PC, and cloud
New games are added all the time
Xbox Game Studios titles the same day as the release
Member discounts and deals
Free Perks including in-game content and partner offers
Unlock Riot Games benefits
Get Yourself Game Pass for Xbox and/or PC
All Games Confirmed for Game Pass Core
If you're an Xbox Live Gold member making the switch, or if you're thinking of downgrading from a higher tier Game Pass Plan, these are the games that have been confirmed (so far) to be available to all Core subscribers. Microsoft has stated that new titles will be added 2-3 times per year.
Among Us
Descenders
Dishonored 2
Doom Eternal
Fable Anniversary
Fallout 4
Fallout 76
Forza Horizon 4
Gears 5
Grounded
Halo 5: Guardians
Halo Wars 2
Hellblade: Senua's Sacrifice
Human Fall Flat
Inside
Ori & The Will of the Wisps
Psychonauts 2
State of Decay 2
The Elder Scrolls Online: Tamriel Unlimited
Follow CDKeys on Twitter, Facebook, and Instagram for more updates on the latest releases!
Check out our blog for more informative posts like this one.