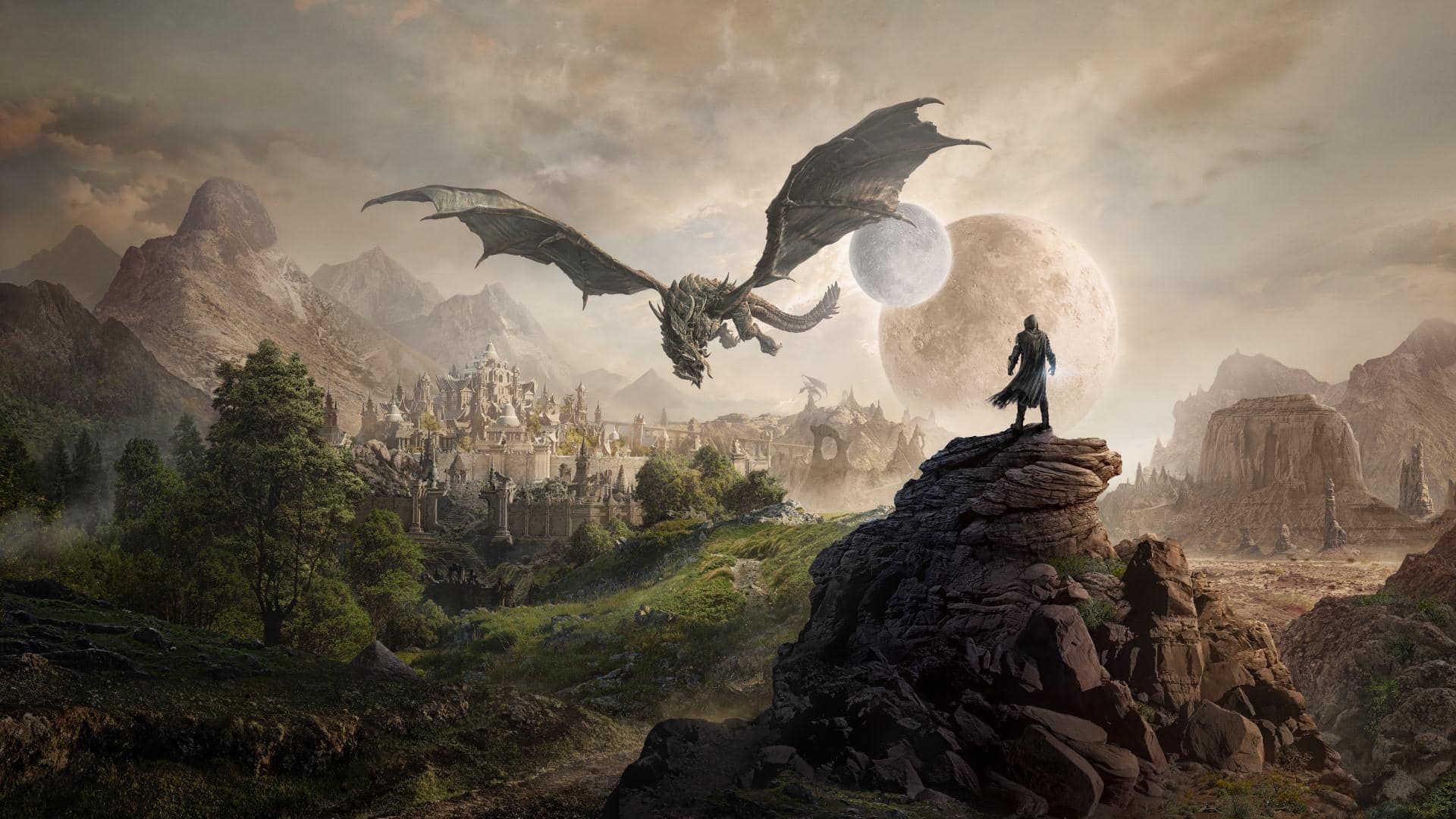 From open world adventure to Lovecraftian mystery, June is packed with exciting new releases that are waiting to be played. All the games below are available in the CDKeys webstore at discounted prices. Pick them up while you can!
The Elder Scrolls Online: Elsweyr
4th June 
Dragons make their return to Tamriel with the addition of the land of Elsweyr! Pick up the upgrade if you already have the base game, or grab the full version of Elsweyr for everything you need to start your journey in The Elder Scrolls Online.
In the new Elsweyr Chapter, you'll experience the mystical home of the Khajiit. Explore at your own pace, or help to defend the land from an ancient evil. As a part of the year-long Season of the Dragon event, you can expect to encounter these fearsome beasts in your adventures. In addition, you will now be able to try your hand at commanding the undead with the new Necromancer class!
In the Elder Scrolls Online, you can return to your favourite locations from previous Elder Scrolls games or travel to new ones. ESO is constantly updated with new content so the adventure never ends.
Play alone or with friends in an immersive world featuring an all-new combat system. And, because any class can use any weapon in Elder Scrolls Online, you can truly play the way you want– something most MMOs don't offer!
Warhammer Chaosbane
4th June
Prepare to experience the first hack-and-slash game set in the Warhammer universe!
In Warhammer Chaosbane, you are the only chance that the Empire of Man has to survive against the ruthless Chaos Hordes. With over 180 powers at your disposal, you'll fight your way through the battle-ravaged streets of Praag down through the sewers of Nuln.
Try out four different unique classes (Dwarf, High Elf, Wood Elf, or soldier from the Empire of Man), and take on over 70 different monsters. You never know what kind of breast you may face next!
Warhammer Chaosbane is optimised to be played with friends in both local or online co-op. Group up with your buddies and combine your different skills and abilities to form the ultimate dungeon crawling squad.
MotoGP 19
6th June
Feel the rush of the Moto Grand Prix and achieve the glory of winning it all. The ultra-realistic motorcycle racing simulator is back with another round of high-octane, immersive gaming. New tracks and new features make MotoGP 19 better than ever, and players will experience smarter, faster, and more intense competition thanks to the new Neural AI.
Race solo, or try out a wide variety of multiplayer modes with players from around the world. Plus, you can relive some of the greatest moments in motorcycle racing with the historical challenges included in the game.
A wide variety of tournaments await, from the Red Bull Rookies Cup to the upper echelons of motorcycle racing!
Kingdom Come: Deliverance Royal Edition
11th June
Kingdom Come: Deliverance is a critically acclaimed RPG set in an immersive and realistic open world. You are the son of a blacksmith living in the Holy Roman Empire who has just been thrust into the midst of a brutal civil war following the murder of your parents.
It's time to avenge your family's murder, make influential decisions, and experience the ultimate Kingdom Come experience with this deluxe bundle. The Royal Edition includes every piece of DLC for the game including the Woman's Lot expansion that just released on 28th May.
Sudden Strike 4 Complete Collection
18th June
Sudden Strike is back with more tactical Real Time Strategy action!
The Sudden Strike 4 Complete Collection brings fans the ultimate WWII strategy experience. This deluxe bundle includes all previously released DLC! Prepare yourself for more units, enhanced graphics, bigger battlefields, and new legendary commanders.
In Sudden Strike 4 you'll embark on three challenging campaigns set during the peak of WWII. You'll take command of over 100 different German, Allied, and Soviet units, and, for the first time ever, Sudden Strike 4 allows you to choose from one of 9 historical commanders. From Bernard Montgomery to George Patton, these special leaders will allow you to utilise unique tactics and abilities on the battlefield.
Steel Division 2
20th June
Push the limits of your World War II experience with the historically-accurate real-time strategy game Steel Division 2. This new release is packed with 25 maps to explore and over 600 units to control as you face off against the Nazi armies in Bielorussia.
Play as a General in the 1:1 scale turn-based Dynamic Strategic Campaigns, as a Colonel in the epic real-time Tactical Battles or as a Weapon Expert in the brand-new Deck Building System. Plan your battalion movements, manage your supplies and execute your strategy carefully!
Pro Cycling Manager 2019
20th June
Step into the role of sports manager and lead your team to victory through the challenging 2019 cycling season. Pro Cycling Manager 2019 features a totally redesigned Pro Cyclist mode, a sleeker user interface, and smarter AI that provides ultra-realistic behaviours.
Play solo, or compete with (or against) your friends in an online multiplayer mode that supports up to 16 players. The Tour de France awaits, and your team is counting on you!
F1 2019 Legends Edition
25th June
For the first time ever, the newest F1 game will ship a full two months earlier into the F1 season! Plus, you can get 3 extra days of early access (and other bonuses) if you pick up the Legends Edition.
F1 2019 is based on the actual Formula One World Championship and includes all of the tracks, teams, and drivers who are involved in real life. Experience the most accurate F1 car simulator to date, featuring all of the cars actively involved in the championship, all of the cars from last season, and more classic cars than ever.
In addition to 3 days early access, the Legends Edition of F1 2019 includes:
Ayrton Senna and his 1990 McLaren MP4/5B
Alain Prost in his Ferrari F1-90
Exclusive Senna and Prost themed multiplayer car liveries
Drivers' likenesses added to Career mode
Two race-winning cars from 2010 season: the Ferrari F10 and McLaren MP4-25
Redeemer Enhanced Edition
25th June
In Redeemer, you'll play as Vasily, a man who tried to find peace as a monk but was too haunted by his violent past and desire for redemption to do so.
Being a peaceful monk didn't work so well for Vasily, but brutal revenge sounds good! In Redeemer, you'll put your mercenary past to good use as you wield a variety of powerful jump, charge, and combo attacks. Learn the patterns of enemies and take them down swiftly with the parry system. With the right timing, you'll be unstoppable!
Monster Jam Steel Titans
25th June
Steel Titans brings you the ultimate monster truck experience. Prepare yourself for real trucks, real stadiums, and all the stunts and smashing you crave!
Steel Titans features real monster truck action, a variety of game modes, and 25 of the most popular monster trucks (including Max-D and Grave Digger).
Hear the roar of the crowd in Stadium mode, or experience off-road monster trucking in the outdoor Racing mode. Monster Jam Steel Titans also includes a Stunt Challenge mode and the fan-favourite Destruction mode. Or, you can practice your skills like the pros in Monster Jam University!
The Sinking City
27th June
It's the 1920s, and you're a private investigator who's been sent to the half-submerged town of Oakmont in search of answers. In The Sinking City, your mission is to discover what happened to this dark and corrupted coastal town, and what has possessed the mind of its inhabitants. Enter a world of supernatural horror, strange science, and mind-altered cultists intent on bringing about the end of the world.
The Sinking City was pushed back from its original March release date so that developers give the game the care it deserved. A delayed game is better than a bad one, right?
Which new game are you most excited about this month? Let us know in the comments below or on our Facebook page!