Video Games just keep getting better and better… Or do they?
When it comes to graphical achievements, online features, and meticulous details, a lot can change in just a year. But were the games in 2019 as good as the ones in 2018– or we're they better?
Below are our picks for the best games of the past two years. Let us know in the comments which you think is better. And let us know, too, if there's a game you think should be added to either list (or even removed).
Top 5 Best Games of 2018
Assassin's Creed Odyssey
Assassin's Creed Odyssey drops you into Ancient Greece, and into a game world more detailed than any other Assassin's Creed title before it. The combat is fluidly executed, the world is huge, rich, and diverse, and the path through it all is decided by you.
Celeste
Celeste combines all the ingredients of a classic, side-scrolling adventure you might find on an SNES, and updates it all for the new era. The smooth controls, vibrant visuals, and moving story really shine in the Switch's handheld mode too.
God of War
While RDR2 took home numerous awards at the 2018 Game Awards, God of War claimed the coveted title of Game of the Year.
2018's God of War is the 8th game in the award-winning series, and it provided more emotional depth and narrative-driven gameplay than ever before. Yet, at the same time, God of War somehow managed to make the brutal combat the series is known for even more intuitive and satisfying.
Red Dead Redemption 2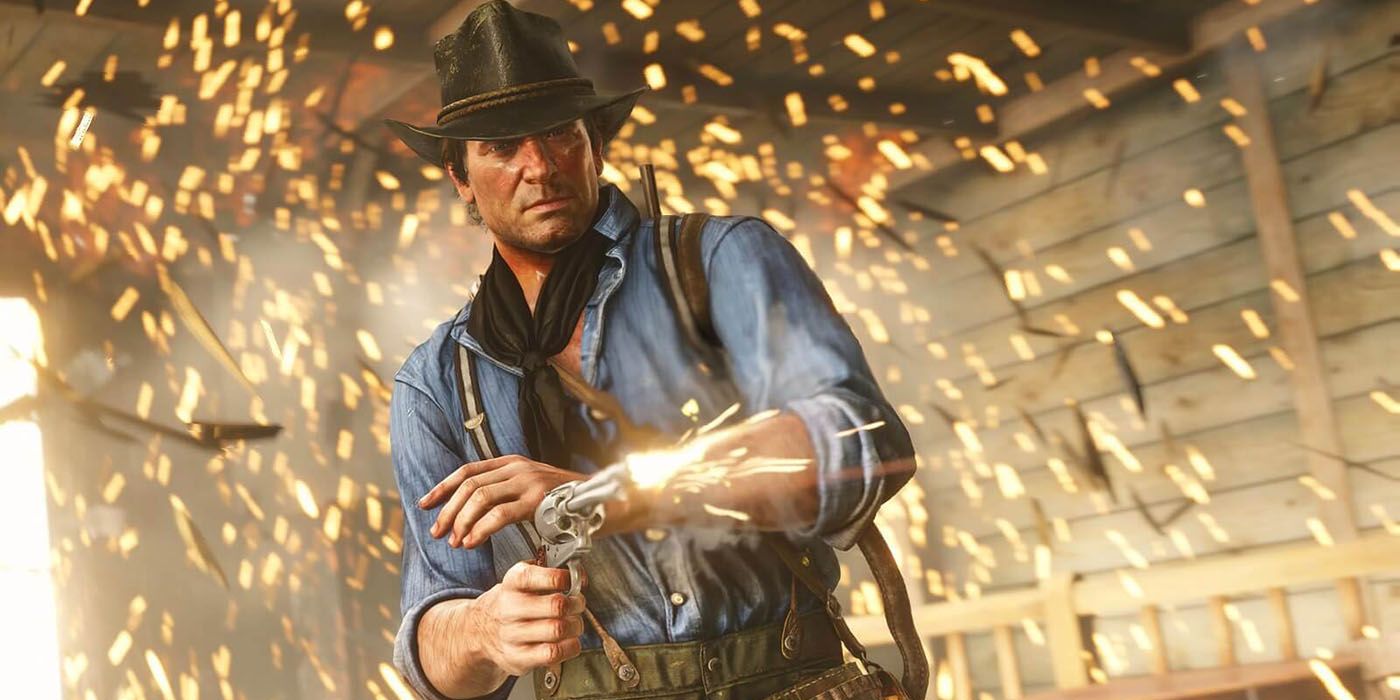 A game like Red Dead Redemption 2 is a very rare thing.
Sure, there are plenty of excellent action/adventure games, open-world games, and games with exceptional stories. But very few are exceptional in all of these aspects at once. If you don't take our word for it, check the reviews; like IGN's perfect score, Game Informer's perfect score, or The Guardian's perfect score.
Super Smash Bros. Ultimate
Yeah, this game was pretty good… It was only the biggest and most ambitious Super Smash Bros game ever made. Loads of icons from the Nintendo universe have gathered for the ultimate showdown! From Pikachu to Bayonetta, 74 different fighters await your challenge (plus even more with the DLC).
Top 5 Best Games of 2019
Pokemon Sword/Shield
While Let's Go: Pikachu and Eevee brings tons of Pokémon fun to the Switch, it's essentially a reboot of the original Red and Blue Gameboy titles. Sword and Shield, the 8th release in the core Pokémon series, bring an entirely new RPG experience.
Death Stranding
Death Stranding is more than just a game. With a star-studded cast of TV and Film stars, a bizarre premise and cinematic aesthetic, Death Stranding is somewhere between a video game, a movie, and a fever-dream.
Apex Legends
Apex Legends was the hottest new Battle Royale on the market in 2019. Respawn Entertainment's competitive first-person shooter topped more than 50 million players in its very first month – and it hasn't slowed much since.
Resident Evil 2 Remake
The RE2 remake is the perfect mix of classic survival/horror gameplay updated with next-gen graphics and controls. As Dualshockers puts it in their review of the game: "Resident Evil 2 is likely the single most excellent video game remake ever. I'm hard-pressed to think of anything else that could even compare." So it goes without saying that the Resident Evil 2 remake is one of, if not the best games in the long-running Resident Evil series.
Sekiro: Shadows Die Twice
Sekiro delivers more heart-pumping shinobi action than you can shake a katana at. This action-adventure title proved to be yet another (extremely challenging) masterpiece from Dark Soul developer FromSoftware.
Set in a beautiful reimagining of Sengoku era Japan, Sekiro puts you in the middle of a constant battle between life and death; and the game's Metacritic score puts it in "must-play" territory!
The Outer Worlds
"Dripping with personality," a "sci-fi space romp," and the "spiritual successor to Fallout New Vegas are just some of the ways Obsidian Entertainment's new RPG The Outer Worlds has been described. It was one of our most anticipated games of 2019, and it lives up to all of the hype.
So what do you think? Was 2018 or 2019 a better year for gaming?
Keep an eye on our blog for a round-up of the most anticipated games of 2020.