The B.E.T.A. (or Break it Early Test Application) for Fallout 76 starts this week for Xbox One players, and shortly after for PC players. Then, less than a month later, on November 14th, the full game will release! This isn't how betas usually work… usually they're months before the official launch of a game. Impatient players will be happy to hear that the BETA for Fallout 76 is essentially a pre-release– it's a chance to get you hands on this genre-bending MMO before everyone else! 
Developer Bethesda Game Studios has noted that there will be some down time between the end of the BETA and the official release of the game (for them to fix all the bugs that players report during the BETA); but basically is the entire game 3 weeks early. You'll get access to the every feature, every one of the thousands of new weapons and items, and every inch of the enormous map (more on that below). And, perhaps the best reason to take part in the BETA is:
Your Progress in the Fallout 76 BETA Will Carry Over Into the Full Game
That's right. Every player who takes part in the BETA will not only get to help Bethesda with the finishing touches, they'll also get a head start on everything that Fallout 76 has to offer. That means a head start on questing, group events, exploring the mysteries of Appalachia, or finding the codes needed to launch a game-changing nuke!
Don't Miss Your Chance to Play the BETA This Week
Xbox One players can start playing Fallout 76 on Tuesday (October 23rd) as long as they have their BETA key. PC and PS4 players can start on the following Tuesday (October 30th). Pick up your ticket to the BETA before they're all sold out in our webstore, or pre-order the full game and a BETA key will be included!  
Fallout 76 B.E.T.A keys: Xbox One, PC, PS4
Fallout 76 Full Game + B.E.T.A keys: Xbox One, PC, Tricentennial Edition!
Multiplayer for the First Time
There is so much to do in this newest open-world release from legendary game developer Bethesda Game Studio that it's hard to fit it all in one blog post. We tried to in our previous article, but really you should play Fallout 76 to believe it (or at least watch some gameplay footage): Fallout 76 – New Gameplay Footage and B.E.T.A. Keys Now Available.
The single biggest change in Fallout 76 is that this release will incorporate multiplayer for the first time in the franchise's more than 20 year history. And, as you might expect, this is both an intriguing and utterly frightening prospect for fans of the series.
Fallout 76 Full Map (Spoilers Below!)
A good way to get a sense of just how much there is to do in Fallout 76 is to check out the map. The image below in full color and detail is exactly how the map will appear in game. And true to Bethesda open-world games, every inch of that map will be accessible from the moment you step out of the Vault. Your character will be about… one millimeter on there.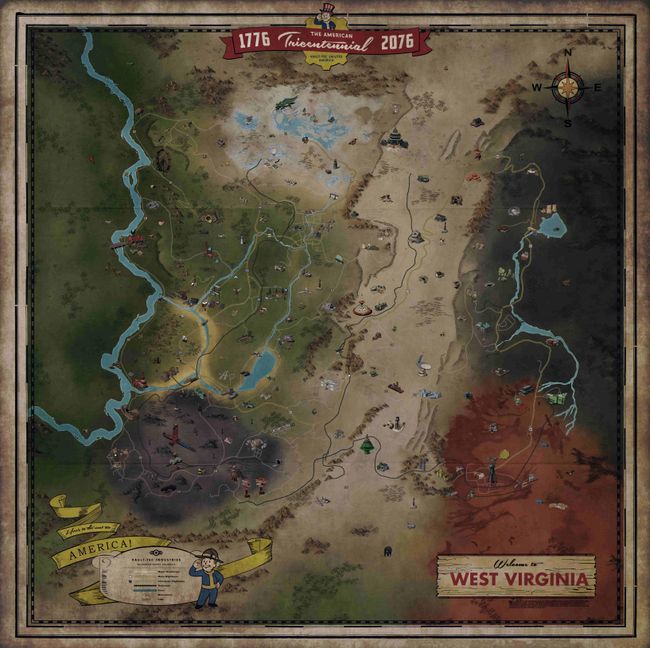 What are you most excited about in Fallout 76, and which system will you be playing the BETA on? Let us know in the comments!