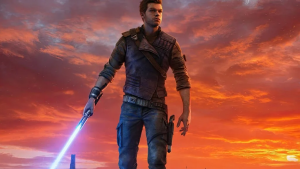 If you thought March was a good month for new releases, well, April could easily top it. One of the most anticipated games of 2023 is dropping later this month, along with another we've waited nearly a decade for… Here are the top 5 new games coming out in April.
If you're looking for something specific, you can find deals on all the biggest upcoming games of 2023 in our Coming Soon section of the CDKeys store.
Meet Your Maker
4th April – PC, PS4, PS5, Xbox One, Xbox Series X|S
In Meet Your Maker, the latest release from the developer behind Dead by Daylight, you'll create… to destroy.
In a post-apocalyptic setting, from a first-person perspective, you'll use a variety of blocks, guards, and devious traps to build a deadly maze-like fortress. Why? To rip intruding players to shreds while you're out and about invading their fortress.
Every level of Meet Your Maker is designed by players, for players; and you'll need to outwit, cooperate, and connect to survive. Learn more about this exciting new singleplayer and online co-op experience via the link below:
Mega Man Battle Network Legacy Collection
14th April – PC, PS4, Xbox One, Nintendo Switch, Nintendo 3DS, Amazon Luna
The Mega Man Battle Network series is back! All 10 mainline games have been upgraded and updated for Nintendo Switch, PlayStation 4 and Steam. Legendary developer/publisher Capcom says it best:
Get ready to jack in to the net to face off against deadly enemy programs in electrifying grid-based battles, and search the net for rare and powerful BattleChips to build the ultimate deck of special moves!
The series that has spawned fan-favorite anime and comics is now better than ever. Plus, this bundle includes additional features (like the official soundtrack), and online play is supported from day one!
Buy Mega Man Battle Network Now
Minecraft Legends
18th April – PC, PS4, PS5, Xbox One, Xbox Series X|S, Nintendo Switch, Game Pass
Minecraft Legends is finally here! Time to dust off your pick axe and unite the overworld in an all-new Minecraft experience from developer Mojang Studios. Explore a familiar yet mysterious land full of lush biomes, rich resources, and a new campaign! And, as with the original Minecraft, Legends is even better with friends. Group up to engage in intense battles to defend your village, or rally your creations to obliterate your opponent's settlements.
Dead Island 2
21st April – PC, PS4, PS5, Xbox One, Xbox Series X|S
It's really happening! There were many, many times when it looked like this zombie-slaying sequel would never see the light of day (in the decade that it's been since the original). But it's really here, and you've… just been bitten.
That's right, you'll start off Dead Island 2 with the bane of anything zombie-themed– a bite. But don't worry you're mysteriously immune to the virus that has infected Los Angeles and turned the inhabitants into blood-thirsty monsters. In fact, you're more than just immune… you're empowered. And now it's time to slash, smash, and explode your way to discover the reason why.
Star Wars Jedi: Survivor
28th April – PC, PS5, Xbox Series X|S
Continue the story of Cal Kestis 5 years after the events of the critically-acclaimed Star Wars Jedi: Fallen Order. Survivor is a third-person action/adventure game from beloved developer Respawn Entertainment (makers of the Titanfall series). This single-player, narrative-driven sequel will allow you to explore new planets and familiar locales alike from the Star Wars universe; as Cal, no longer a Padawan, hones his skills as a powerful Jedi Knight. Protect yourself, your crew, and the legacy of the Jedi Order from the darkness of the Empire.
Buy Star Wars Jedi: Survivor Now
Watch More, Read Less
Skip the reading, and watch this instead! Discover the latest deals and the hottest games in an easy-to-digest video form.
The CDKeys YouTube channel delivers updates on special deals, informative previews, and original content like our series about life as a video game streamer. It's called the Good Game Podcast, and the 6-part series is now live!
Which new game are you most excited about this month? Join the conversation over on Facebook, and subscribe to the CDKeys Blog for the latest news and hottest deals as soon as they drop!