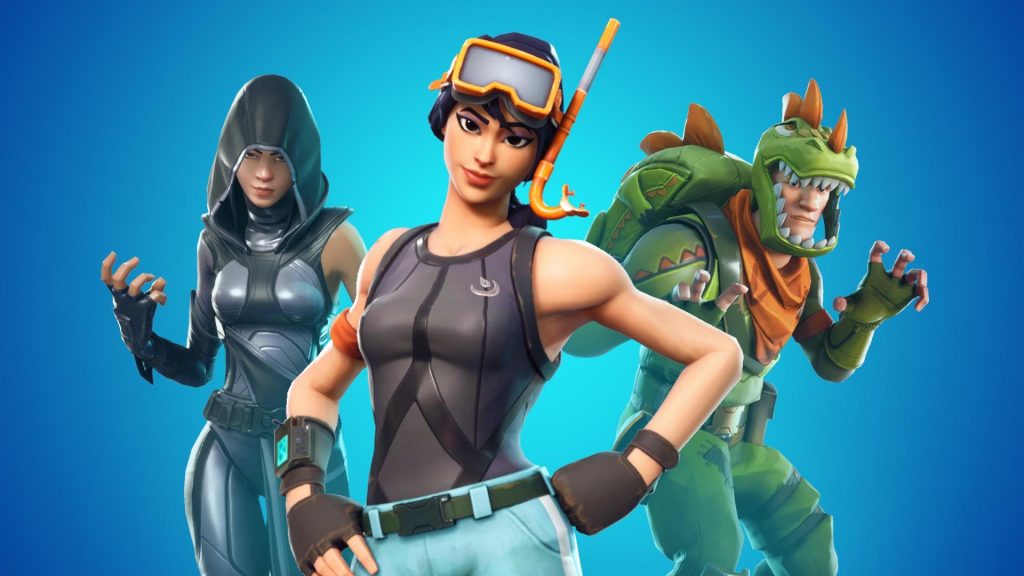 Fortnite Season 5 keeps getting more and more confusing. The rifts… the cube… Something big is on its way as the season draws closer and closer to the end. Until then, we're going to keep grinding away for those Battle Stars.
But before we get to this week's challenges, let's talk about the other thing besides the cube that's new this week: the 5.3 update! We've got a brand new hero, a brand new item in Battle Royale, and a brand new Limited Time Mode to tell you about. And if you need them, we always have V-Bucks in our webstore…
New Update – Patch v5.30
This weeks update is probably our favorite so far this season. The new item for you to play around with in Battle Royale mode is the Shockwave Grenade. This badboy will launch enemies (or yourself) flying through the air, all without any fall damage. And according to Epic, the blast from the Shockwave grenade is so strong, you can even launch other players through structures!
Solid Gold LTM (Battle Royale)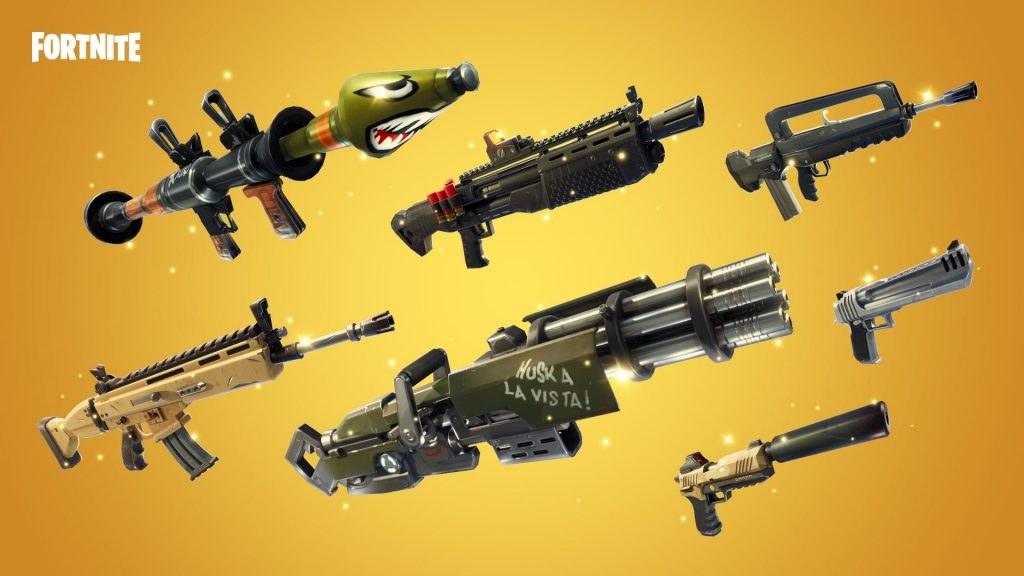 This limited time mode is so much fun! We've seen this mode before and we're glad to see it back again. What's special about this mode are the items: after you drop into battle, every single weapon you find, from pistols to rocket launchers, will be the legendary version! You'll have the best of the best at your disposal wherever you end up on the map– and so will your opponents!
New Hero
Bladestorm Enforcer is ready to help you out in Save the World mode! He's a Mythic Ninja who is ready to flip into action to slay some Husks in Fortnite's PvE mode that keeps getting better and better. Save the World mode doesn't get the attention it deserves!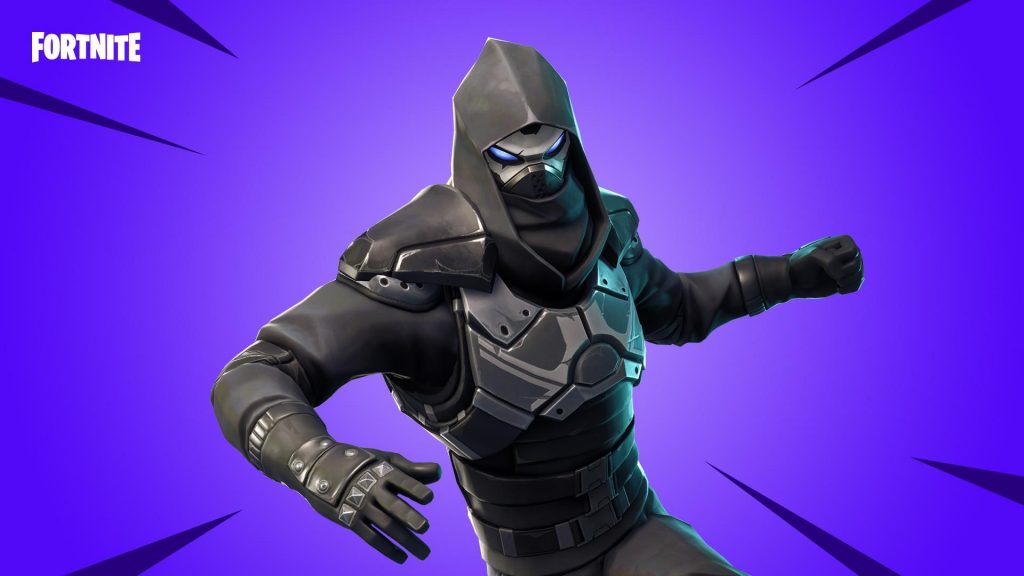 Bladestorm Enforcer's special ability is the "Kunai Storm" in which he tosses a flurry of dagger-like objects onto the zombie hordes. And of course there are unlockable perks that make this ability even stronger.
And now onto this week's challenges!

Week 8 Challenges
Do you already have a Battle Pass? You'll need one to get the loot from most of the challenges. You buy a Battle Pass in-game with V-Bucks, and you can pick up those V-Bucks HERE.
Free Challenges
● Place Traps (10) = 5 Battle Stars
● Search chests in Wailing Woods (7) = 5 Battle Stars
● Shotgun Eliminations (4) [HARD] = 10 Battle Stars
Battle Pass Challenges
★ Deal damage with a pickaxe to opponents (250) = 5 Battle Stars
★ Use a Rift at different spawn locations (10) = 5 Battle Stars
★ Search between three Oversized Seats (1) [HARD] = 10 Battle Stars
★ Stage 1: eliminate an opponent at Greasy Grove (1) [HARD] = 10 Battle Stars
Place Traps
With the help of the new LTM mode and the fact that you don't actually have to get someone with the trap, this challenge is pretty easy. With the new Solid Gold mode in Battle Royale, the items that appear in loot drops have been significantly narrowed down, and traps are still one of the items. As soon as you come upon a trap, place it!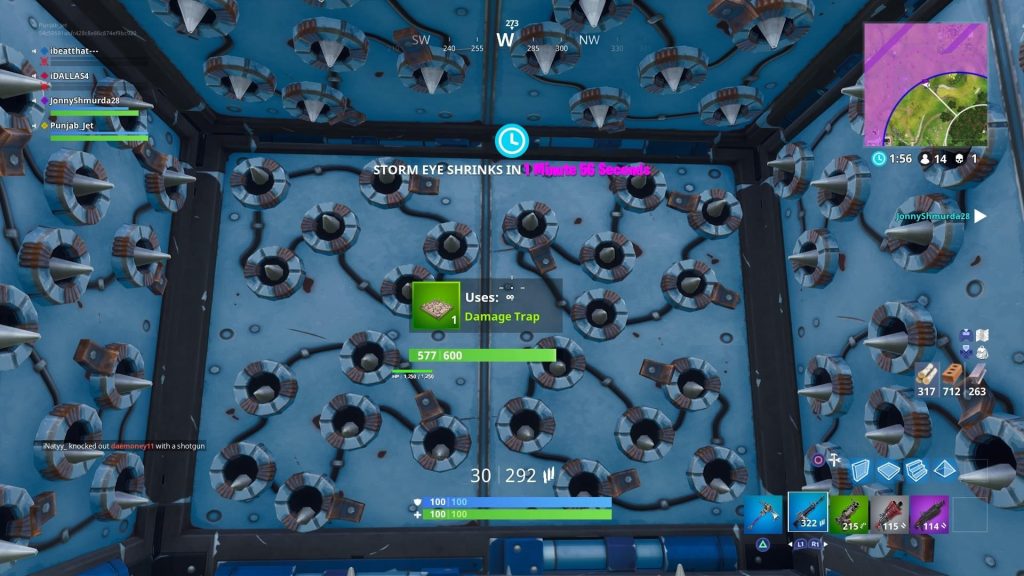 Search Chests in Wailing Woods
There are a good amount of chests to be had in Wailing Woods, and any that fall within the wooded area are fair game (check out the map below for details). However the highest concentration of chests will be found in the hedge-maze at the center of the woods. This is also going to be the most populated, craziest place to find a chest this week. We recommend grabbing a shotgun before you enter the woods– it could help you complete the next challenge on the list…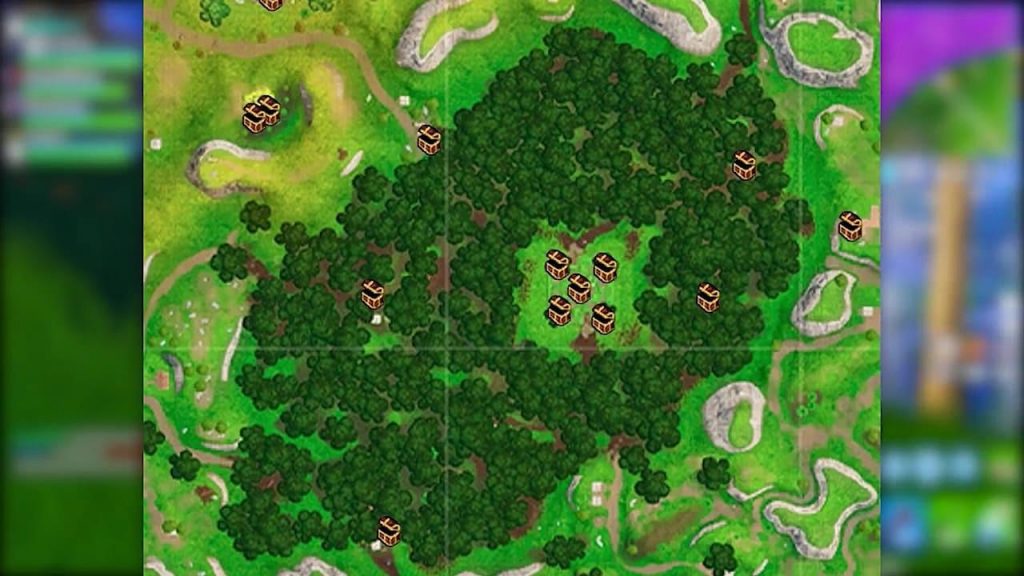 Shotgun Eliminations
This challenge isn't nearly as "hard" as most "hard" challenges this season, so it's a great chance to grab 10 Battle Stars pretty easily! Shotguns are a blast to play with (pun intended), although they're not as fearsome as they used to be. They're still very deadly at close range though– especially when you get a headshot. So head to a place with a lot of close quarters action. The best place this week seems like it would be the hedge maze in Wailing Woods; and while you're there, look for some chests using the map above.

Deal Damage With a Pickaxe to Opponents
Group up in squads or duos to make this challenge a lot easier. Work together to knock out an enemy, and then finish them off with your pickaxe– that's 100 damage right there! This challenge will be a lot harder if you try using your pickaxe from the very start but it is possible since you only have to deal damage and not eliminate your opponents. Good luck getting close to them with a pickaxe though…
Use a Rift at Different Spawn Locations
This challenge is really similar to one from week 5 that we covered HERE. This time, the 10 different rifts you need to use have to be from 10 different rift spawn locations. You can't use the same rift more than once, and you can't use the new portable rift item Rifts-To-Go. Below is a map of the location of all the rifts to help you out: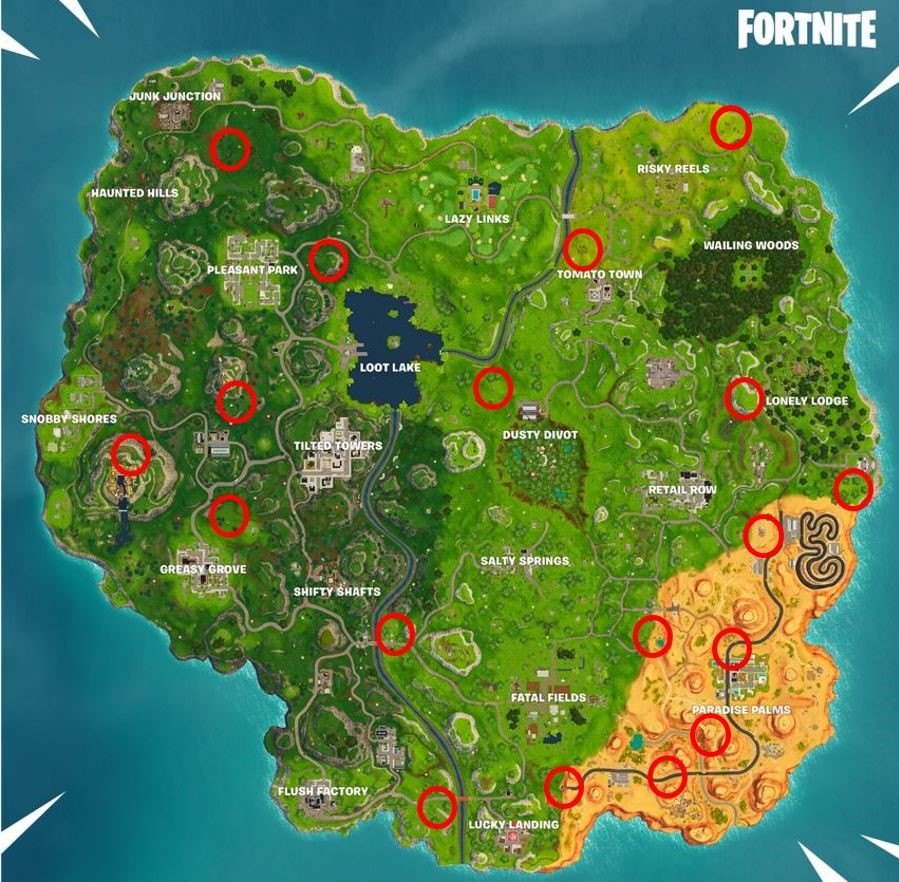 Search Between Three Oversized Seats
What you're looking for is this week's secret Battle Star, and you'll find it in Flush factory. The three "oversized seats" the challenge mentions are:
1. That giant toilet in front of Flush Factory
2. The big wooden chair that recently appeared
3. And the big armchair constructed from shipping containers that you've probably noticed
Somewhere in the middle of all three of these seats is the Battle Star you're looking for. You can try to figure it out from those clues, or you can check out the location in the image below!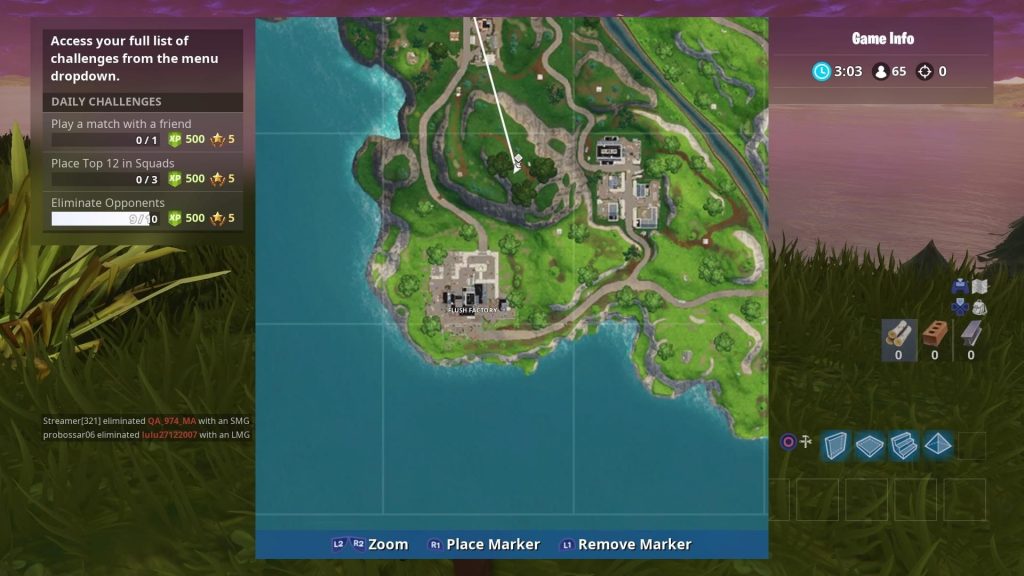 Multi-Staged Eliminations
This challenge is not terribly hard because there aren't any extra gimmicks to it. Your task is to eliminate three different opponents in three different locations in this order:
1. Greasy Grove
2. Lonely Lodge
3. Fatal Fields
Once you complete the first stage (Greasy Grove) the challenge will update. And you don't have to do every stage in one match!
These challenges might be the easiest and most fun so far this season. What do you all think of the challenges this week, and what is the deal with that cube?? Join the Fortnite community on our Facebook, Twitter, and Instagram and let us know what you think!