Season 8 is nearly over, but Fortnite Battle Royale just got a lot more interesting in Week 8.
The new Limited Time Mode "Air Royale" took flight with this week's update, and it's been a blast so far. On top of that, the challenges for Week 8 are surprisingly fresh and new. No more looking for Pirate Camps…

We post the challenges each week when they go live, so be sure to follow our blog! If you're looking for previous Season 8 challenges, you can find them here:

Fast and Easy Map and Guide | Fortnite Season 8, Week 7 Challenges
Full List, Locations and Guide | Fortnite Season 8, Week 6 Challenges
Pirate Camp Locations, Bouncy Ball Guide and More | Fortnite Season 8, Week 5 Challenges
Pirate Cannon and Baller Locations Map | Fortnite Season 8, Week 4 Challenges
Fortnite Season 8, Week 8 Challenges

You can find all the Week 8 tasks below, along with maps and guides to help you solve the toughest ones.
Free Challenges
Stage 1/2: Search the treasure map signpost found in Paradise Palms = 1 Battle Star

Stage 2/2: Search the X on the treasure map signpost in Paradise Palms = 1 Battle Star
Use Vending Machines in (3) different matches = 5 Battle Stars
Deal (100) damage to opponents while using at least one balloon = 10 Battle Stars
Battle Pass Challenges
Search (7) Jigsaw Puzzle Pieces under bridges and in caves = 5 Battle Stars
Stage 1: Dial the Durrr Burger number on the big telephone west of Fatal Fields = 2 Battle Stars

Stage 2: Dial the Pizza Pit number on the big telephone east of The Block = 3 Battle Stars

Eliminate (7) opponents at Dusty Divot or Lucky Landing = 10 Battle Stars
Eliminate (2) opponent from at least 50m away = 10 Battle Stars
Where to Find the Treasure Map and Search for the "X" Location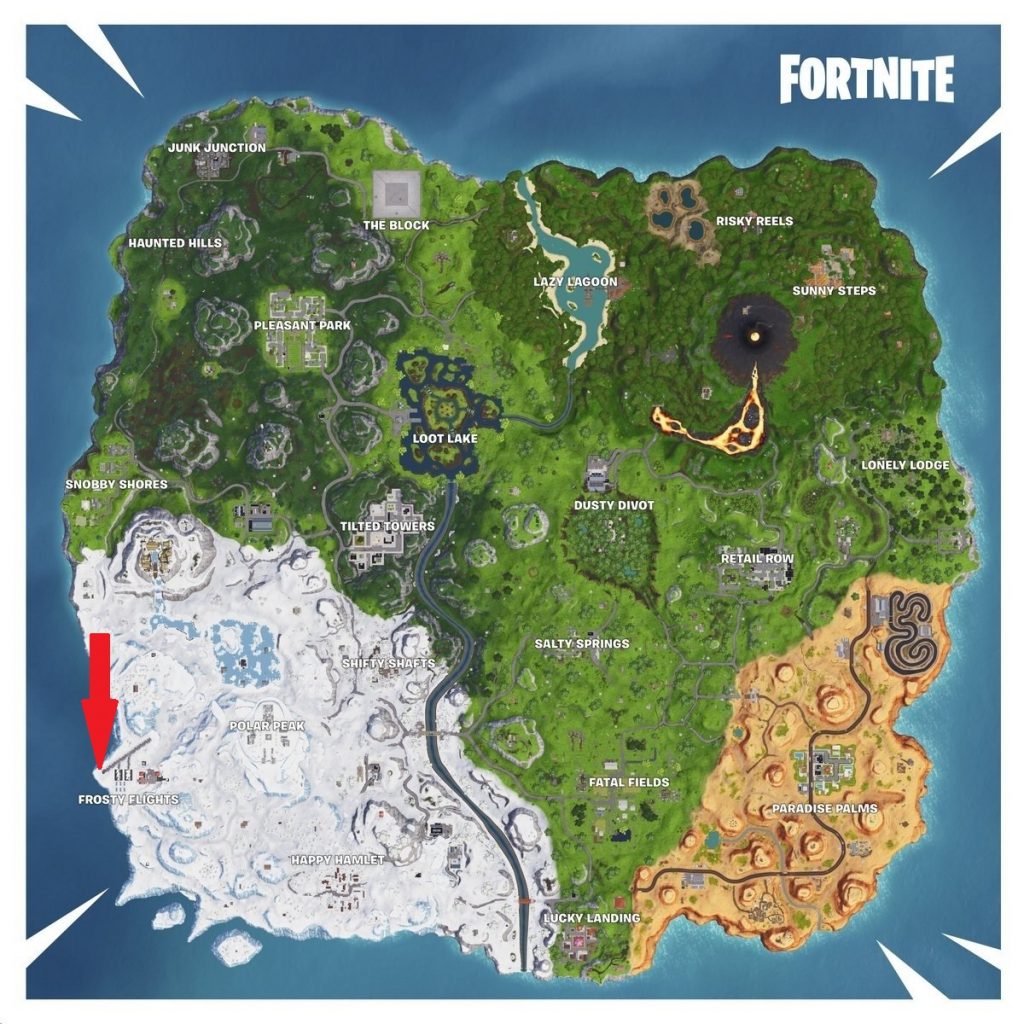 The treasure map you're looking for will appear just like the one posted earlier in this article. To get the map for yourself, you need to interact with the signpost that's located in an alleyway right in the center of Paradise Palms. When you interact with the blank map posted there, a crude drawing and a red "X" will appear.
Does the drawing on the map look familiar to you? If you've been paying attention, you'll notice that the shapes on the map look exactly like the long runway and the nearby buildings located at none other than Frosty Flights! We've marked the spot on the Fortnite island map above where a Battle Star will be waiting for you once you arrive.
Where to Search for Jigsaw Puzzle Pieces Under Bridges and in Caves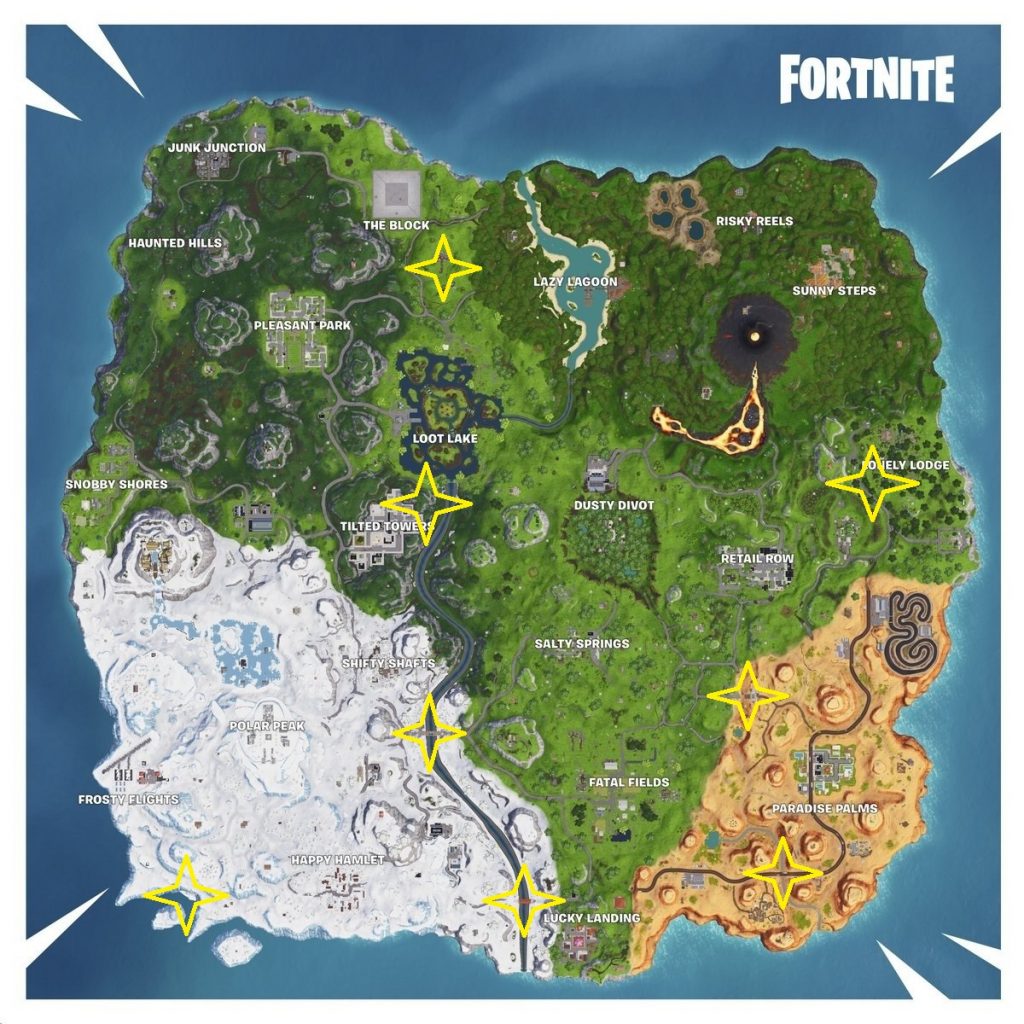 The jigsaw puzzle pieces are about the size of a pickaxe and can be a bit hard to find. As the challenge states, you'll need to locate them under the bridges and in the caves that we marked on the island map above.
We've noted more than enough to complete the challenge, but if you discover any other jigsaw locations, let us know and we'll add it to the map!
Big Telephone Locations and Numbers to Dial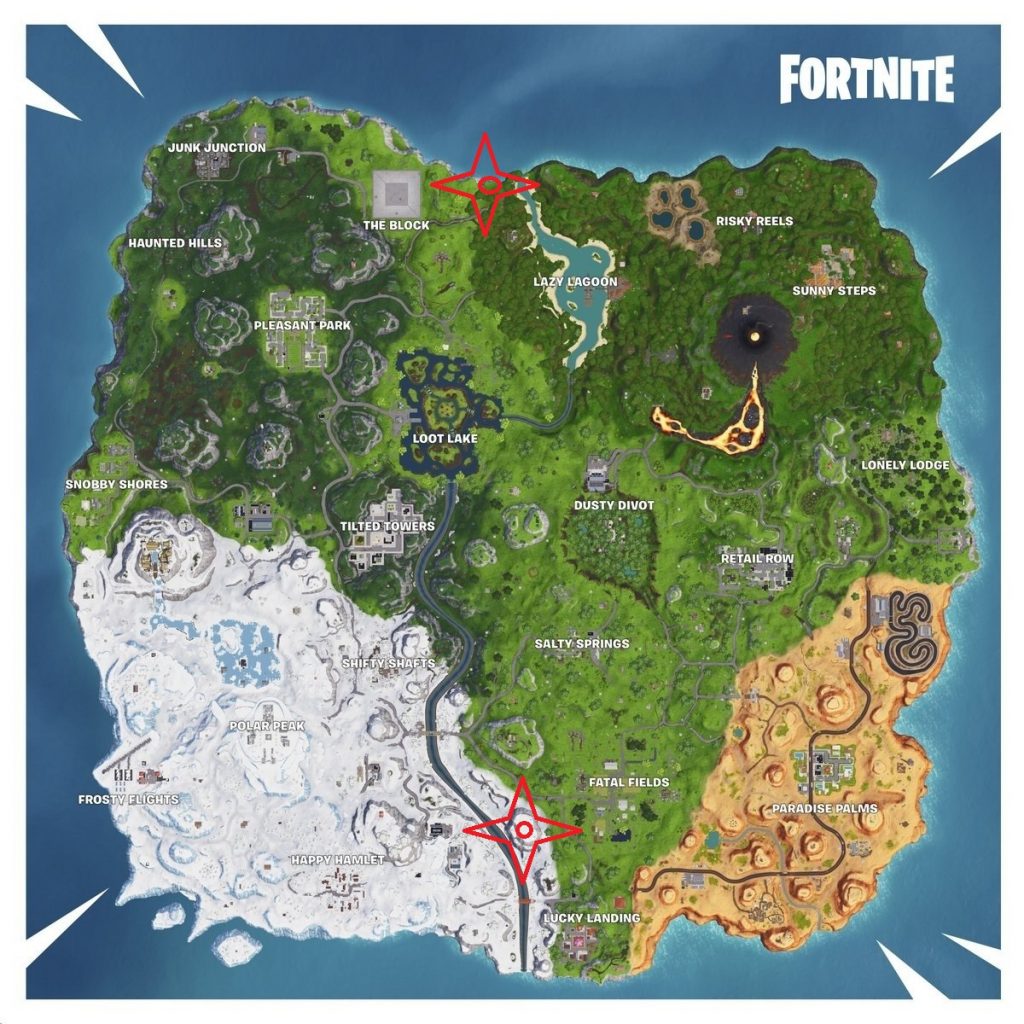 The phones you're looking for may be a little bit more… old fashioned than you're imagining. To complete this challenge you'll need to locate two rotary style phones– the kind where you need to wind the circular dial around for each number. But don't worry, in-game you'll only need to smack the numbers with your pickaxe (or shoot them)!
The first phone you'll need to locate is the one "west" of Fatal Fields. It's actually pretty far west, to be exact, on a small rocky plateau (marked on the map above). Once there, dial: 555 0512.
After that, you'll need to head east of The Block to find the next phone near the coast. Enter the next phone number (555-0198) just like you did before!
Get Your V-Bucks and Exclusive Fortnite Skins from CDKeys

Some of the Week 8 challenges are for Battle Pass owners only. To get a Battle Pass, you need V-Bucks.
We have a way for you to get discounted V-Bucks by using the cards available in the Top-Ups section of our webstore. Or you can get V-Bucks directly for Xbox One and PS4. Follow those links if you want to save yourself some money.
Which challenge do you think is the hardest this week, and which one is the easiest? Post your response in the comments below!