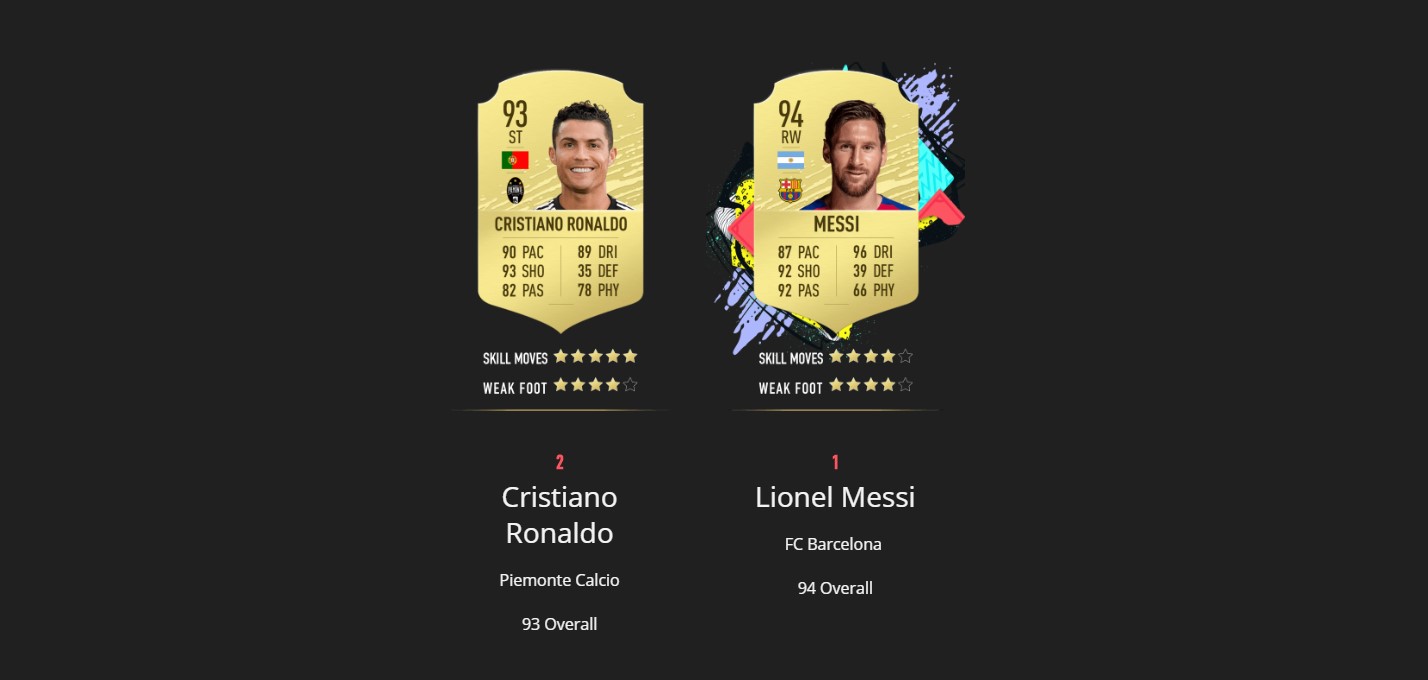 EA Sports has revealed the rankings of the FIFA 20 top 100 Ultimate Team players ahead of the game's releases on 27th Sept.  A list of the 100 best footballers in the world was added to FIFA 20's official website last week, and was updated on Monday with each player's face card stats.
Check out the top 10 below, and don't forget to grab FUT Points while they're in stock. FIFA 19 Points can be transferred over to FIFA 20, and they're deeply discounted in the CDKeys store for a limited time. Find out how to carry over your FUT Points in this blog post.
The 10 Best Players in the World
Messi, after sharing the top spot in FIFA 19, now has it all to himself. Meanwhile, Ronaldo, the cover star from last year, has taken a backseat. Below are the 10 best players in the world according to EA Sports. You can find the full list of Top 100 Ultimate Team players here.
Lionel Messi – RW – Barcelona – 94 OVR
Cristiano Ronaldo – ST – Juventus (Piemonte Calcio in FIFA 20) – 93 OVR
Neymar – LW – PSG – 92 OVR
Eden Hazard – LW – Real Madrid – 91 OVR
Kevin De Bruyne – CAM – Manchester City – 91 OVR
Jan Oblak – GK – Atletico Madrid – 91 OVR
Mohamed Salah – RW – Liverpool – 90 OVR
Virgil Van Dijk – CB – Liverpool – 90 OVR
Luka Modric – CM – Real Madrid – 90 OVT
Marc Andre ter Stegen – GK – Barcelona – 90 OVR
You may have noticed that Ronaldo's club is listed as "Piemonte Calcio" and not the legendary "Juventus". Piemonte is a fictitious name that was created after PES 2020 snagged the exclusive licensing rights for Juventus.
Footballers Leaving FUT Top 100
As you scroll through the Top 100 Ultimate Team rankings, you may also notice that some of your favourite players are missing. Injuries, poor performance, or even a switch to player-manager role has caused EA Sports to downgrade a number of player's rankings this year. Here are all of the players who are no longer in the top 100 in FIFA 20:
Gareth Bale (Real Madrid)
Gianluigi Buffon (Juventus)
Gonzalo Higuain (Juventus)
Marek Hamsik (Dalian Yifang)
Andres Iniesta (Vissel Kobe)
Alexis Sanchez (Inter Milan)
Ivan Perisic (Bayern Munich)
Mesut Ozil (Arsenal)
Nicolas Otamendi (Manchester City)
Jerome Boateng (Bayern Munich)
Naldo (Monaco)
Cesar Azpilicueta (Chelsea)
Douglas Costa (Juventus)
Nemanja Matic (Manchester United)
Radja Nainggolan (Cagliari)
Diego Costa (Atletico Madrid)
Arturo Vidal (Barcelona)
Vincent Kompany (Anderlecht)
Edin Dzeko (AS Roma)
Marco Asensio (Real Madrid)
Riyad Mahrez (Manchester City)
Will you be picking up FIFA 20 or PES 2020 this month? And what do you think about Messi being ranked number 1? Let us know in the comments.