The Final 16 World Cup of Characters 2018 have been selected!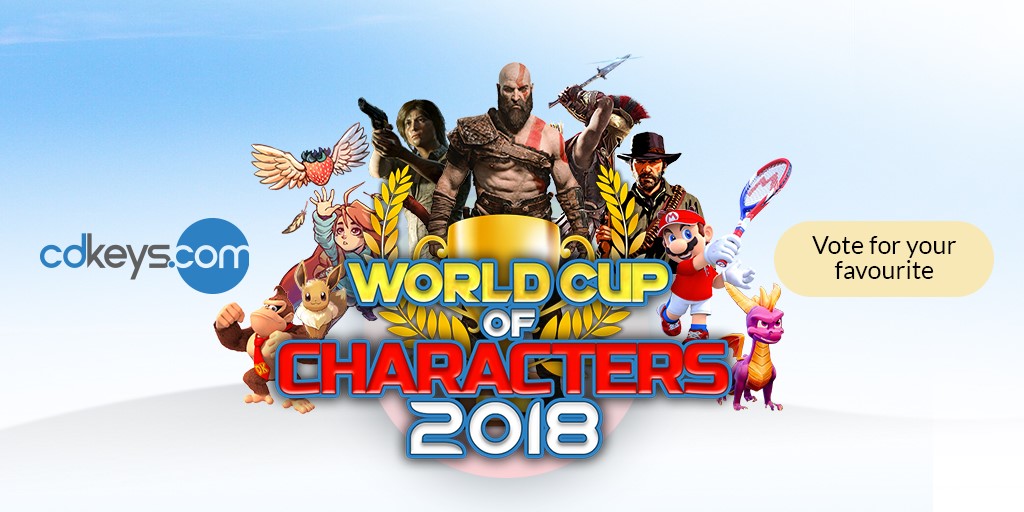 So here we are. The final 16 have been selected, and now we go on to the next stage of the World Cup of Characters. It's gods against pokemon, agents against explorers, dragons against bounty hunters. It's set to be an epic competition. But only you get to decide who deserves to lift the trophy.
Who are the final 16?
Here they are, your favourite 16 game characters who will battle it out in their groups for a place in the quarter finals.
Group A:
Lara Croft (Shadow of the Tomb Raider),
Kratos (God of War),
Pikachu (Pokemon: Let's Go Pikachu),
Agent 47 (Hitman 2)
Group B:
Spyro (Spyro Remastered)
Bomberman (Super Bomberman R)
Samus (Super Smash Bros)
Rico Rodriguez (Last Cause 4)
Group C:
Mario (Mario Tennis),
Arthur Morgan (Red Dead Redemption),
Kara (Detroit: Become Human),
Ivy (Soulcaliber VI)
Group D:
Alexios (Assassins Creed Odyssey),
Goku (Dragon Ball FighterZ),
Donkey Kong (Donkey Kong: Tropical Freeze),
Marshal Burke (Far Cry 5)
How will they get through to the quarter finals?
Every one of your favourite characters needs your votes to keep them going in the competition and lift the World Cup of Characters trophy!
To vote, let us know who your favourite character is on Twitter using the #WorldCupOfCharacters polls we'll be posting over the next two weeks. You'll get one vote in each group stage, so use it wisely. Want to get more votes? Share the poll with your friends and get them to vote too!
The top 2 winners in each group will go through to the quarter finals. From there, it's head-to-head knockout until we have a winner.
How long will the competition last for?
The competition will carry on until the 21st of December. The finals will see the top two fight it out on Twitter. Only one can be crowned 2018's best video game character.
Make sure you follow us @CDKeyscom on Twitter to take part.
May the odds be ever in their favour!