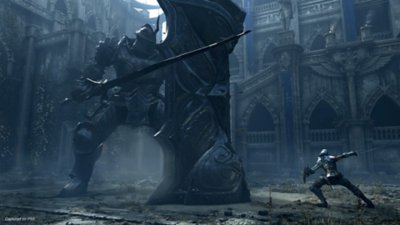 The last two months of 2020 are packed with games we've been waiting all year for and new surprises that have been recently announced. Despite the unfortunate delay of big names like Halo Infinite and Dying Light 2 (among many others), there's still plenty to be excited about this holiday season. Here are 10 games releasing before the end of the year that you don't want to miss.
Keep an eye on all the hottest upcoming releases in the Coming Soon section of the CDKeys store.
Watch Dogs: Legion
29th October
Good things come to those who wait. The next Watch Dogs game is almost here.
The third title in the series, Legion will drop players into a dystopian version of near-future London. And, like previous games in the franchise, the massive open world promises a chaotic good time.
In fact, one of the biggest new features in Watch Dogs: Legion is something designed specifically for the open-world setting– you'll have the ability to "become" almost any NPC you encounter. Check out the store page listed below for more information.
Buy Watch Dogs: Legion for PC Now
Cyberpunk 2077
18th November
Cyberpunk 2077 has been on many gamers' "must play" list since it was first unveiled at E3 2018. Developer CD Projekt RED is behind this Blade Runner-like RPG– the same team responsible for the award-winning Witcher series.
Pre-Order Cyberpunk 2077 at a Discount from CDKeys.com
Dirt 5
6th November
Codemasters (F1, GRID) is set to bring us the next iteration of their adrenaline-pumping off-road racing series. Dirt 5 is promised to deliver more dynamic races thanks to new features and more intelligent AI. In addition, the game's Story Mode will be upgraded; with famous gaming voice actors Troy Baker and Nolan North along for the ride.
You'll be able to play Dirt 5 on PC / Xbox One first, and then on the Series X when it releases November 10th. Plus, the game includes Microsoft's Smart Delivery feature, granting you a free copy for Series X if you've already picked it up on Xbox One first.
Pre-Order Dirt 5 for PC in the CDKeys Store
Destiny 2: Beyond Light
10th November
Not an entirely new game, but about the size of one, Destiny 2's latest expansion will take players to Jupiter's frozen moon of Europe and face-to-face with a mysterious dark empire. Wield the darkness yourself with "Stasis" — a new power that each class will utilize differently. And of course, Beyond Light will deliver new locations, quests, raids, and many coveted new exotic rewards.
See All Versions of Beyond Light in the CDKeys Store
Assassin's Creed: Valhalla
10th November 
We knew that another Assassin's Creed game was coming in 2020. We also knew that it was going to have some pretty high expectations to live up to after the 2018's "Odyssey." From what we've seen so far, Valhalla certainly looks promising. Build your own Viking legend next month in one of Ubisoft's most ambitious open worlds yet.
Save on Your Assassin's Creed Valhalla Pre-Order Now
Demon's Souls Remake
12th November 
The original entry in FromSoftware's well known "Soulsborne" lineup will soon return in an updated version on the PlayStation 5. Demon's Souls has been entirely rebuilt from the ground up and it really shows. Be sure to follow the CDKeys blog to stay up-to-date on Demon's Souls news (and pre-order deals) as they arrive.
Look for Demon's Souls Soon in the CDKeys Store
Call of Duty: Black Ops Cold War
13th November
2020 wouldn't be complete without a new Call of Duty release, and this time, Black Ops is back. The gripping single-player campaign will bring players face-to-face with some of the Cold War's most challenging moments and iconic locales. The Black Ops multiplayer experience will return as well, with its tactical gameplay, deniable operations, and cross-play straight from day one. Grab your beta key from the link below and give it a try before it releases next month.
Call of Duty: Black Ops Cold War Beta Access for PC, PS4, and Xbox One
Yakuza: Like a Dragon
13th November
Like a Dragon, also known as Yakuza 7, was already released in Japan (on PS4) earlier this year. Sega's newest crime drama will arrive on the Xbox Series X and PC next month, and hopefully, Like a Dragon will join the rest of the collection on Game Pass soon as well.
Save Big on Your Pre-Order of Yakuza: Like a Dragon
Empire of Sin
1st December 
Travel from 2020 to 1920 in an all-new strategy game experience. Empire Sin is your chance to play as one of fourteen real and historically inspired mob bosses in 1920s Chicago. To survive and thrive in the prohibition-era criminal underworld you'll need to hone your empire management skills. Speakeasies, casinos, supply chains, and more will all be under your control, and rival gangs are sure to want a piece of it… Learn more about Empire of Sin via the link below.
Pre-Order Empire of Sin for PC
The Medium
10th December 
The Medium will feature music from Akira Yamaoka, the renowned composer known for his work with the Silent Hill franchise. The game will be a horror thriller from the same team behind Layers of Fear and Blair Witch, and is set to arrive on Xbox Series X and PC as a stand-alone or with an Xbox Game Pass subscription.
Play it on Day One with Xbox Game Pass
Which 2020 release are you looking forward to most? Let us know in the comments below or join the conversation on the CDKeys Facebook page. Be sure to follow our blog too for the hottest gaming news and deals.