July's line-up of free PlayStation Plus games is pretty impressive, featuring a diverse mix of highly-original titles. Across the PS4, PS3, and PS Vita, players can enjoy high-octane futuristic racing, a beautiful love story, and a stunning rain-based adventure – to name just a few!
Let's take a closer look at the games you can get your hands on soon (all titles are available from the 7th of July).
Rocket League (PS4)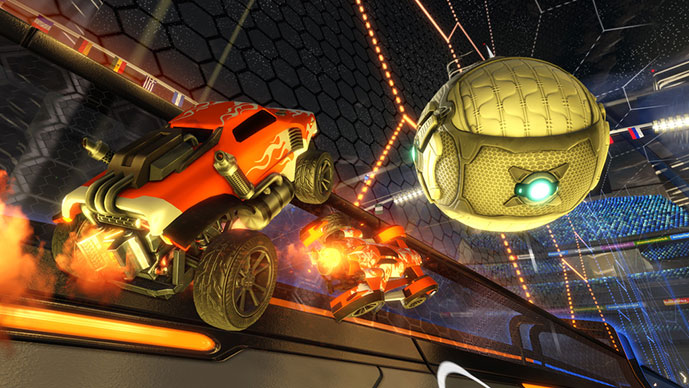 This is an action-packed, vehicle-based sports game developed by Psyonix. As a sequel to Supersonic Acrobatic Rocket-Powered Battle-Cars, this combines football and demolition derbies into one awesome mix!
Players take control of a rocket-powered car, which they need to use to hit a ball (much bigger than the vehicles themselves!) towards the opposing team's goal area to win points – crazy, physics-cheating stunts are part of the fun, and there's a huge range of cars to choose from. Single-player and multi-player modes are available.
Entwined (PS4, PS Vita)
If you're tired of all the macho soldiers, post-apocalyptic cityscapes, and zombies that many of today's bigger games hit you with, why not try the gorgeous Entwined? This is a massive departure from the vast majority of games in both its concept and visuals: as a rhythm game, this puts you in dual control of a colourful bird and fish, with each one moved by an individual analogue stick.
The bird and the fish are in love, but unable to be together – it's up to the player to guide them through nine 'lifetimes' (or levels) until they can finally unite their souls. Each lifetime is stunning to look at, popping with colour and dynamism, while the bird & fish themselves are beautifully simple & elegant in their design. The soundtrack is as uniquely memorable as the game itself, and players can set high scores to compete against their friends in Challenge mode. Definitely a game to check out!
Styx: Master of Shadows (PS4)
This is a stealth-based game, starring the titular Styx: a goblin with some amazing skills perfect for slipping through levels undetected while doing away with bad guys in spectacular fashion. Players need to make their way through the courtyards, alleys, gallows, and halls of the Tower of Akenash, using Styx's agility to climb, swing, and creep without being spotted (enemies can be killed or simply evaded, as you see fit).
Thanks to the magical Amber in Styx's veins, he can see enemies' heat-signatures through walls to help plan routes, and even turn invisible. Armed with just a dagger and throwing knives, players will have to make the most of their quick-thinking and the countless shadows.
Mousecraft (PS4, PS3, PS Vita)
Along with Entwined, this is another great, simple concept: move Tetrominos from one place to another to help a group of mice reach cheese. That's it! This is a fun little puzzle game, as you guide the mice through a series of levels, all under the watchful eyes of a cat scientist developing an enigmatic mouse-powered machine!
Featuring gorgeous visuals, addictive gameplay, and a fair design that's suitable for gamers of all skill levels, Mousecraft is sure to provide hours of fun.
Rain (PS3)
This game puts players in control of a young boy who follows an invisible girl he can only see in the rain: once he finds himself invisible too, he tries to help her escape the ghostly creatures chasing her, using the rain as a guide and protector.
Rain makes brilliant use of an imaginative concept, telling a gripping story in a great setting. Puzzles must be solved to progress, and both the boy's and the enemy's invisibility must be used to your advantage. This is a deep adventure with an engaging storyline – well worth a play.
Geometry Wars 3: Dimensions Evolved (PS Vita)
The Geometry Wars franchise is going strong with this third entry. Featuring new 3D grids and the same exciting shoot-em-up action, this is stunning to look at and very challenging, keeping new and returning players alike on their toes!
Gamers must use their nimble little ship to destroy various shapes and survive without actually touching them – it's just as challenging and awesome as it sounds!