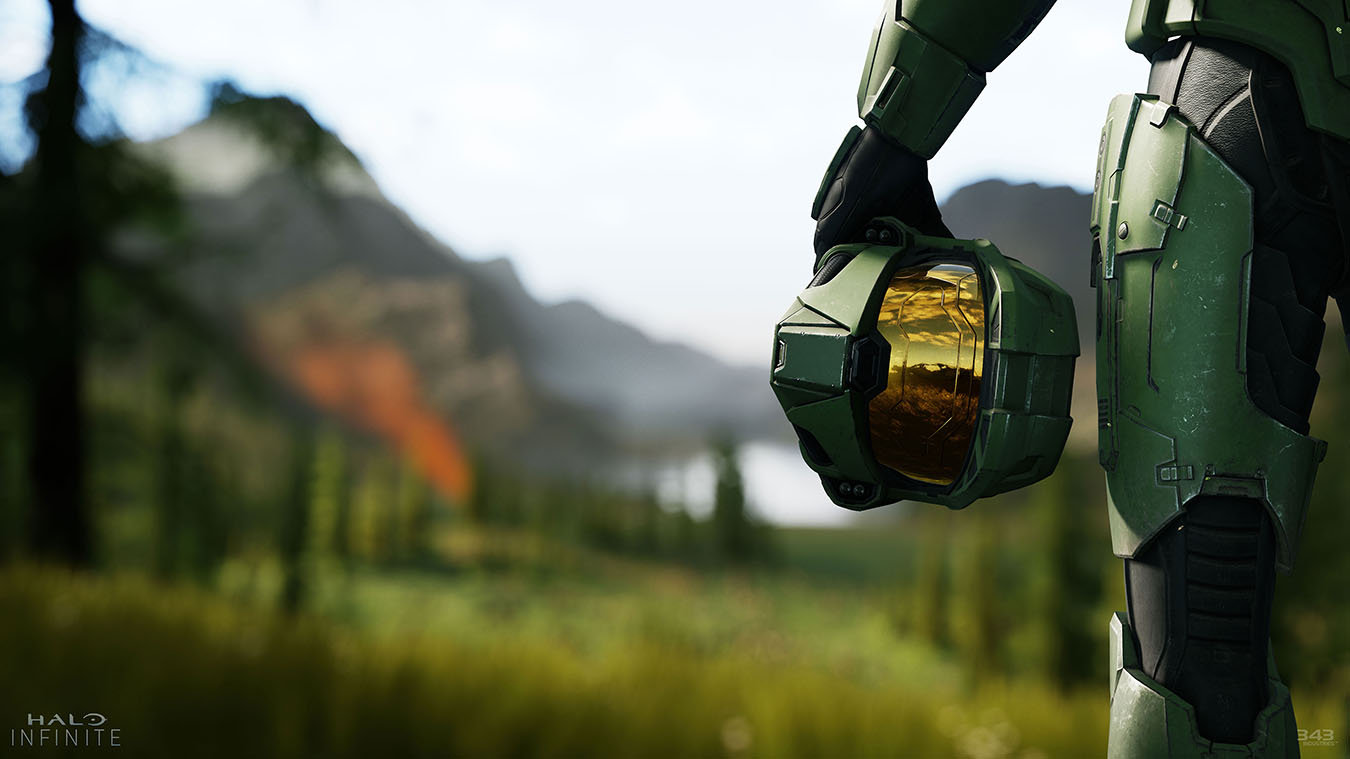 The Halo franchise turned 20 years old in November, and Halo Infinite proves the series is as fresh as ever. It's out now for PC, Xbox One, and Xbox Series X|S.
The next generation continues the evolution of combat; revitalizing the series while maintaining the core aspects that make Master Chief a living legend. Best of all, Halo Infinite lays the foundation for much more Halo to come (both in campaign and multiplayer content).
Buy Your Copy (On Sale) Right Now
Play Halo Infinite Right Now With Game Pass (On Console or PC)
Campaign
All hope is lost.
Humanity's fate hangs in the balance.
Master Chief is our only hope.
You've been here before…
But what you haven't experienced before is the massive, ambitious, incredibly immersive new direction that the Halo Infinite campaign takes. For the first time ever, you'll be able to explore the epic expanse of the Halo ring with newfound freedom. As IGN explains in their 9/10 review:
By shifting to an open-world map while retaining the classic gameplay both on foot and in its iconic vehicles, [Halo Infinite] offers a level of freedom in combat not seen in any prior Halo game.
Multiplayer
Since the surprise launch of the multiplayer beta on November 5th, 343 Industries has been hard at work putting the final touches on the mode ahead of its full launch. Some of the game modes, weapons, and Battle Pass unlockables have been revealed already– but this is only the beginning. A steady stream of events, maps, and other updates will support the next generation of Halo's multiplayer experience.
Legendary Multiplayer, Freed
Halo's celebrated multiplayer returns, reimagined and free-to-play! Seasonal updates evolve the experience over time with unique events, new modes and maps, and community-focused content.
Arena
Halo returns to its roots with fair starts, on-map equipment, and 4-player squads to offer the ultimate arena-shooter experience.
Big Team Battle
Create endless combat possibilities by mixing and matching a rich variety of weapons, vehicles and equipment to experience big-team mayhem and fun that embraces the full spectrum of the Halo sandbox.
Spartan Customization
Become a Spartan that's uniquely your own with a rich and deep player customization system. Earn and discover new cosmetic items simply by playing campaign or multiplayer. Or to obtain even more cosmetic rewards, purchase a Battle Pass that never expires and unlock new
Features
As the first mainline game since Halo 5 in 2015, Halo Infinite has been eagerly anticipated for years now. With a multiplayer mode that harkens back to the series' golden age (Halo 3), and a campaign mode that's more ambitious than ever, Infinite is not a game any FPS fan should sleep on.
Halo Infinite is built for PC. From advanced graphics settings, ultrawide/super ultrawide support and triple-key binds to features like dynamic scaling and variable framerates, Halo Infinite is the best Halo experience on PC to date.
Check out The Best New Games in December for more great titles to play!
Follow us on Twitter, Facebook, and Instagram for more updates on the latest releases!