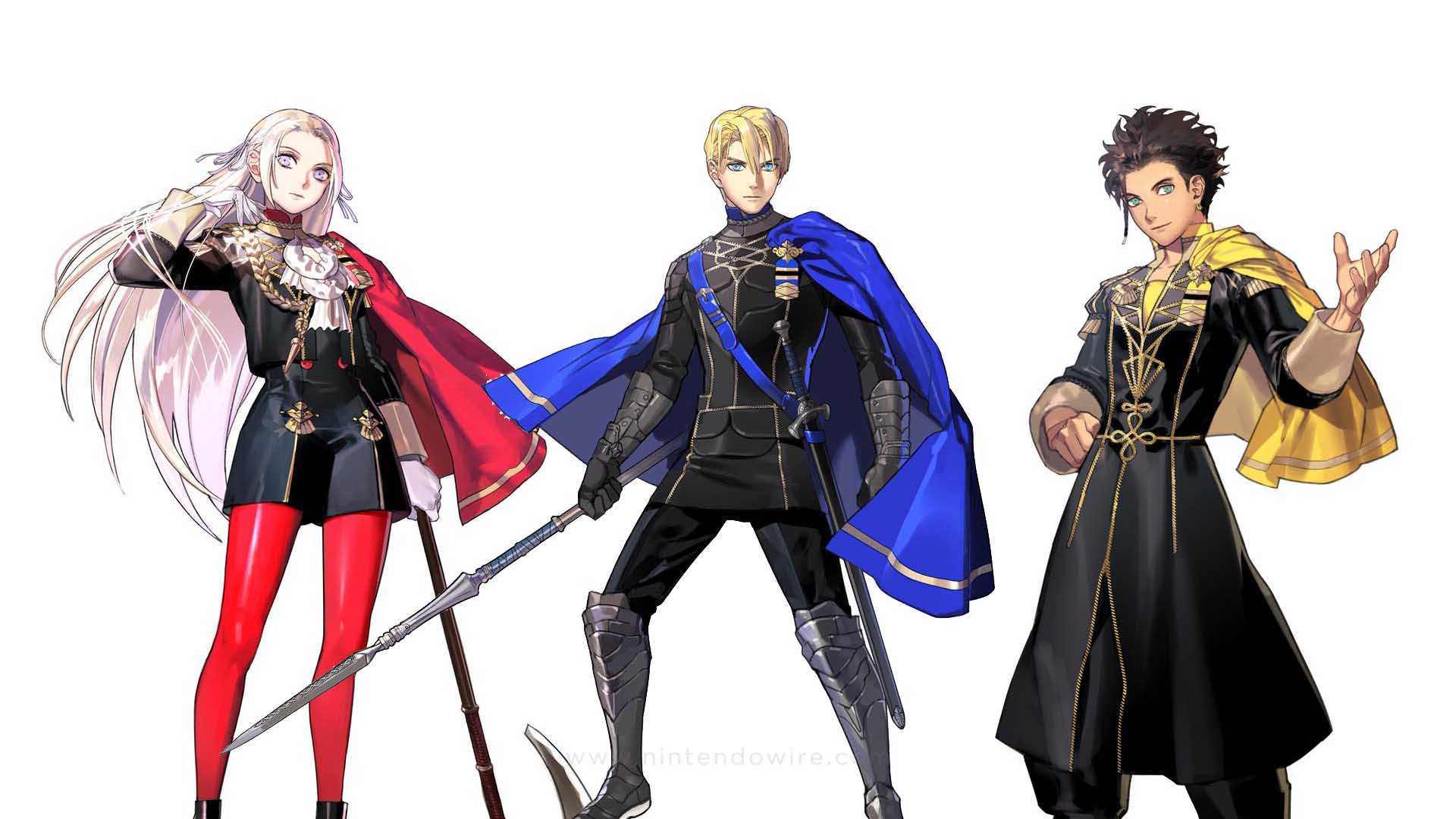 Three Houses is the 16th entry in the Fire Emblem series, but this one is a huge deal. Why? Because it's the first Fire Emblem game on a Nintendo home console in over a decade! And now, with the power of the Switch, you can play it on your TV or on-the-go.
Three Houses is filled with adventure, mystery, and surprises, but perhaps the most important moment of the game comes at the very beginning– choosing which House you'll pledge your allegiance to. The Black Eagles, The Blue Lions, and The Golden Deer will each lead you down a different path filled with their own challenges and rewards.
Fire Emblem: Three Houses
Three Houses is still a tactical RPG like previous entries in the series, but it now features larger confrontations and new 3D battle arenas. You can freely roam fully rendered areas of the map, and, for the first time ever, experience battalions of troops supporting the main characters on the battlefield.
You don't need to have played the other Fire Emblem titles to appreciate the gripping new story of Three Houses, but you'll want to make sure you choose the House that's right for you.
War is coming to the realm of Fodlan, and as a (male or female) professor at the Officer's Academy, it'll be up to you to lead your students both in the classroom and on the battlefield. Forming a bond with the House leaders (and future rulers of the land) will be essential to your success.
Which path will you take when Fire Emblem Three Houses releases on Friday 26th July?
Get Your Copy of Fire Emblem Three Houses and the Expansion Pass on Sale Now (EU Only)
The Blue Lions
Do you place honour above all else? Do you demand dedication, hard work, and chivalrous behaviour at all times? If yes, then The Blue Lions are the House for you. This noble group represents the northern kingdom of Faerghus, a holy land that wears its core values proudly.
As lance-wielding warriors, The Blue Lion's prefer close-range melee combat. Their leader, the blonde and beautiful Dimitri, is a fierce and relentless warrior. However, he may be hiding a dark secret beneath his composed demeanour.
The Golden Deer
Claude is the soon-to-be noble of The Golden Deer clan, a group that doesn't bow down to one king but is instead governed by a council of nobles. He's charming, carefree, friendly and easy to get along with– much like the House as a whole. The Golden Deer prefer discourse and alliances over combat and bloodshed.
When they are pushed to fight, The Golden Deer are masterful archers that can rain death from above (but need to stay far away from enemy units). This group of warriors is perfect for players who prefer combat as a last resort, and who enjoy dealing ranged damage from a safe distance.
The Black Eagles
Edelgard leads The Black Eagles, a house that's the exact opposite of the Blue Lions. She's extremely driven, determined, and focused on completing her goals. As a result, Edelgard can seem a bit cold.
The Black Eagles, as a whole, are very similar. They're a group of highly talented students, who will put nothing in front of achieving victory– least of all fitting into social norms.
The members of this House wield a variety of magic powers, including both healing and damage spells. They can be incredibly useful on the battlefield in almost any situation, but can be vulnerable to melee attacks.
Get Your Copy of Fire Emblem Three Houses on Sale Now (EU Only)
Which House will you choose? Let us know in the comments which is the best and keep an eye on our blog for more updates!