Platform: PC, Xbox One, PS4
Developer: FromSoftware
Publisher: FromSoftware / Bandai Namco Entertainment
Rating: TBA
The Dark Souls games have been massively successful for FromSoftware, winning global acclaim for their varied gameplay, challenging difficulty-level, and great concept. While these are third-person action role-playing games in the style of many others, their structure is actually pretty original: these are based around death and repetition, throwing the player into a world where being killed is just another chance to try again.
This gives them the opportunity to try different techniques and methods in combat, which helps to even out the games' notorious difficulty. Playing as an undead character, titled Lordran, gamers are tasked with fighting through an open world and, unusually, putting much of the story together themselves (rather than having endless cut-scenes and conversations overwhelming you with exposition).
Dark Souls 3 was announced at E3, with an awesome trailer. This gave us little to go on, but presented more of the same dark, grim world established in the first two games: we see ruins, destroyed castles, and other crumbling structures, with ash coating much of it – the overall look and feel of the trailer highlights the apocalyptic storyline and tone its director has discussed (which we'll get into below), showing the effects of a powerful darkness falling across the world.
New Gameplay Features
Little has been revealed about Dark Souls 3 so far, but the rumours are giving us plenty to get excited about. One of these suggests that bosses, such a key feature in the series, will once again return – with fifteen new ones to fight against. Does this mean the game will be easier or harder to play? Will it introduce other new gameplay mechanics?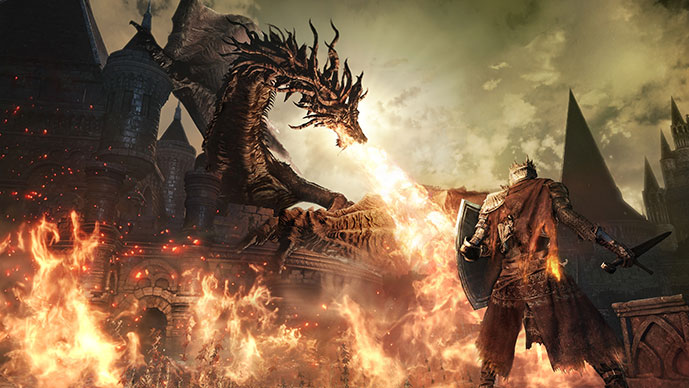 The game's director, Hidetaka Miyazaki, has said he wants to create a world with a huge scale and immersion, as well as more heroic lore and an evolution of the series' well-established concepts. He's also promised that the game's extreme challenge will remain intact, to ensure players feel a sense of real accomplishment as they progress – this is a fair aim, demanding more of gamers than some other titles dare to.
New-Gen Graphics
This is the first game in the series to be designed exclusively for the current generation of consoles, so will obviously look even more beautiful than Dark Souls 1 and 2. Though the trailer showed no actual gameplay, the gorgeous visuals we've seen before in the previous games will be taken to stunning new levels. With the apocalyptic setting, the game will also present us with eerie, nightmarish landscapes, though Miyazaki is apparently keen to make sure the world is actually still beautiful, rather then grim and washed-out (like the sun-bleached worlds plenty of games before have given us).
Apparently, players will also have more than 100 weapons to experiment with in Dark Souls 3, as well as more than 40 new sets of armour, with possible new rush & evasion mechanics integrated into combat for a more fluid experience. Storytelling may also shift slightly, with a rumoured one-hour of cut-scenes telling the story, differing from previous games' more minimalistic approach.
So, we don't have a huge amount to go on so far, but there's no doubt fans will be glad to see Dark Souls 3 when it hits the market in 2016. Expect FromSoftware to keep feeding us more and more delicious glimpses in the next few months!