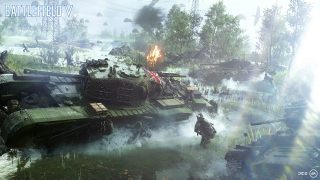 Battlefield 5 takes on "mankind's greatest conflict," returning to its roots to bring you a unique portrayal of WWII. Here's everything you need to know about Battlefield 5 ahead of its release next week on November 20. Pre-order your copy now to get early access.
Battlefield 5 Returns to WWII
Battlefield games have always been about showing you a realistic and detailed depiction of war, and this 5th entry in the series is no different. Battlefield 5 is the most raw, intense, and emotionally gripping shooter in a long time. You'll have both extensive single and multiplayer gameplay in what could easily be our favourite Battlefield yet.
Single player – Featuring War Stories
First introduced in Battlefield 1, War Stories is back and more ambitious than ever. This single-player campaign lets you play through the experiences of different World War II soldiers — both axis and allies. You'll travel the globe and encounter "different voices, different nationalities, and different adventures". See the war through the eyes of a young resistance fighter in Norway. Or play as a British ex-con searching for redemption in the North African campaign. Battlefield 5 will put you in the boots of soldiers to tell their stories.
Multiplayer – Featuring Grand Operations
Multiplayer is a huge part of the Battlefield experience. Online play is tighter and more tactical this time around. New maps and game modes are there in Battlefield 5, and Grand Operations lets you experience it all at once. In this mode, you'll fight across multiple maps and game modes within one large-scale historical battle.
Battlefield 5 didn't forget about classes and customisation either. The iconic roles of Support, Assault, Recon, and Medic make their return; along with the ability to progress and unlock new customisation options.
All New Mode – The Company
The Company is an all-new experience for Battlefield 5. This new game mode puts you in control of a custom collection of weapons, vehicles, and soldiers. It's up to you to assemble and manage it all. More than ever, your "squad" will be crucial to your success. The Company is unlike anything you'll find out there. It also really sets Battlefield apart from Call of Duty Black Ops 4.
Battlefield 5 will release on November 20 for PC, Xbox One, and PS4.