While the Marvel Cinematic Universe only started in 2008 (with the one-two hit of Iron Man and The Incredible Hulk), it's hard to imagine a time when the comic-book giant's characters weren't so deeply entrenched in the mainstream consciousness.
With Captain America: Civil War heading our way, Marvel fever continues to build, revving fans up for an inter-hero smackdown. Without doubt, the likes of Spider-Man, Captain America, and the Hulk have been massively popular for decades – but few fans could have expected them to explode as they have.
Still, as well as comic books, toys, and films, Marvel's characters have starred in their fair share of games over the years too.
From side-scrolling beat-em-ups to RPGs, Spider-Man and pals have brought their own brand of colourful heroics to a huge variety of genres – and their quality has been just as diverse.
Gamers have some quality titles to choose from, though – including this lot …
8: Deadpool
While Deadpool didn't exactly set critics' world aflame, fan-reception was generally warmer. Many of the complaints centred on its repetitiveness, but High Moon Studios delivered a fun, action-packed game that made up for in original storytelling what it lacked in innovative gameplay.
Taking Deadpool's fourh-wall-breaking humour and running with it, High Moon Studios centres around the character's self-awareness: not only does he know he's in a video game, he actually interacts with the developers and critiques the script. It's a brilliant, bold step that helps to make Deadpool a unique experience.
7: X-Men: Mutant Academy 2
The X-Men are almost tailor-made to star in video game spin-offs, boasting a huge roster of characters and uncanny super-powers to play with. While there have been many adaptations over the years, X-Men Mutant Academy 2 is one of the best, putting a mutant-tastic spin on the fighting-game genre.
Starring 18 heroes and villains (including three unlockable fighters), Mutant Academy 2 features plenty of moves to master – but it's not easy. Fighting as beloved muties like Gambit, Sabretooth, Wolverine, and Storm is fun for fans and newcomers alike, particularly in some of the more awesome stages, such as the ravaged futuristic New York, with Sentinels soaring by behind the action.
6: The Punisher
Not for gamers with a weak stomach, The Punisher is a blast from start to finish, and impressively faithful to the comic books.
Taking on the role of Frank Castle, players are invited to dish out extreme punishment as only he can. Generally, this involves blasting holes in bad guys with all manner of guns, but close-combat is also there to play with. Get within grabbing distance, and Frank can take scumbags down with a well-timed knife to the throat, a neck-snap, or the old TV-over-the-head trick.
Like Deadpool, this is a pitch-perfect adaptation, featuring cameos from the likes of Iron Man, Daredevil, and Black Widow – even Nick Fury shows up. A must for fans (but only those over 18, kids).
5: Marvel VS Capcom 3: Fate of Two Worlds
A fighting game starring Ryu, Viewtiful Joe, Chun-Li, Spider-Man, the Hulk, and Thor shouldn't work, but it does.
As the third game based around this wacky concept, Marvel VS Capcom 3 is fast-paced, challenging, and endlessly-replayable. Pitting Albert Wesker against Wolverine or X-23 against Dante never gets old, and the ability to switch between three fighters at the touch of a button allows for all kinds of bizarre team-ups.
Just be prepared for an unforgiving final battle against Galactus – Marvel's planet-muncher puts up an all-mighty fight.
4: X-Men Legends
X-Men Legends was an innovative take on Marvel's mutants when it was released back in 2004, and it still stands strong today.
This RPG centres around Magma, a young girl with lava-based powers, joining Professor X's team of heroes, but players can choose any four X-men to play with. Characters progress and upgrade in true role-playing fashion, unlocking more powerful abilities and additional costumes.
The combat is fun, with plenty of character-specific moves, and the storyline is gripping from start to finish. Dozens of hidden gems lie throughout the levels, unlocking bonus missions, comic covers, and concept art – ensuring there's lots to come back for.
3: Spider-Man
It's hard to believe Neversoft's unforgettable Spider-Man game is more than 15 years old. Throwing Mavel's web-slinger into a gorgeous 3D New York, this adventure is still one of the character's best games, with a generous helping of laughs along the way.
The humorous tone and colourful graphics all feel perfect, with characters from Spidey's rich history showing up, including Mysterio, Doctor Octopus, Venom, Mary Jane, and even J. Jonah Jameson. There's even occasional narration from Stan Lee.
It might look a little rough around the edges now, but there's still massive fun to be had with Spider-Man.
2: Marvel Ultimate Alliance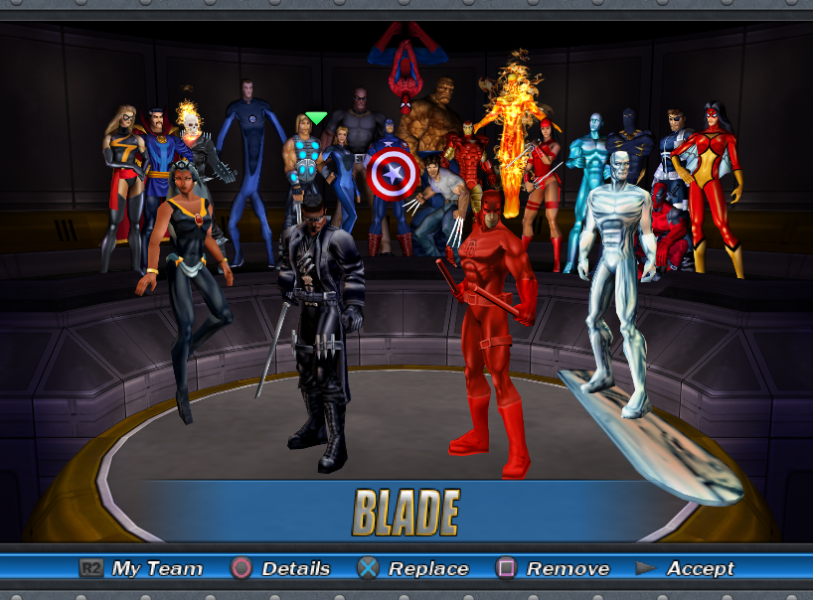 An RPG in the mould of X-Men Legends, Marvel Ultimate Alliance offers players the chance to build their own super-team. Unite an awesome foursome from Thor, Deadpool, a pre-Carol Danvers Captain Marvel, Iron Man, the Thing, the Human Torch, Doctor Strange, and many more. Even characters like Silver Surfer and Blade can be unlocked along the way.
This is a huge game, taking the heroes to Asgard, the S.H.I.E.L.D. Helicarrier,, and even into space to fight Galactus.
1: Spider-Man 2
Treyarch's adaptation of Sam Raimi's Spider-Man 2 was the game fans had waited years for: an open-world adventure that allowed them to explore the Big Apple, fight crime as and when, and generally become the character in a way no other game had made possible.
While subsequent adaptations have improved on certain aspects of Spider-Man 2, this remains a classic due to the sheer amount of freedom it offers. Want to go straight through the missions to complete the story? Want to combat infinite random crimes? Prefer to take pictures for the Daily Bugle? You can do it all.
Of course, if none of that appeals, you can just help Spidey deliver pizzas instead.
Exciting, addictive, diverse, almost endless – Spider-Man 2 is still one hell of an achievement. Still have a copy? Dig it out and give it a spin, just for old times' sake.
What's your favourite Marvel game? Which characters do you want to play as in the future? Let us know!