Assassin's Creed Mirage is a heartfelt homage to the game that started it all. Experience a modern take on the iconic features and gameplay that have defined the franchise for over 15 years. Here are 5 important things to cover, though, so you won't need to take a "leap of faith"…
Assassin's Creed Mirage Release Date, Platforms, Info
Platforms: PS5, PS4, Xbox Series X|S, Xbox One, PC, iOS(!!!)
Release Date: 5th October
The Assassin's Creed series returns to its roots in what PC Gamer calls "the purest stealth game Ubisoft has made in 15 years".
Mirage tells the story of Basim– a talented thief haunted by nightmarish visions. In the search for answers, Basim discovers an ancient organization, learns to understand a new creed, and changes fate itself. Explore an immersive city, meet historical figures from the Golden Age of Baghdad, and become the most versatile Assassin in franchise history.
Assassin's Creed Mirage will also be one of the first AAA games dropping on iOS alongside current-gen consoles and PCs. Making it the first Assassin's Creed game shipping directly to your phone! …Your iPhone 15 Pro to be exact.
Buy Assassin's Creed Mirage Now
Is Assassin's Creed Mirage Open-World?
The short answer is "Yes"; Mirage features an open world for you to roam through.
However, Ubisoft has gone a different direction this time around, and has chosen to hone to experience down to a more intimate scale– focusing on the game's character-driven story and intricate quest lines in a smaller map. The reduced land size should be welcome news to everyone who felt that AC Origins, Odyssey, or Valhallah's worlds were a little too large, unmanageable, or sparse at times.
Is Assassin's Creed Mirage on Steam?
Sorry Steam fans, Assassin's Creed Mirage is exclusive to the Epic Games Store and the Ubisoft Connect launcher– at least for now. The previous game in the series, Assassin's Creed Valhallah, is available to play via Valve's launcher (and on the Steam Deck). So for all you PC players loyal to Steam, perhaps you can hold out hope that Mirage will arrive on your launcher of choice in…say.. a year or so?
Assassin's Creed Mirage Standard Vs. Deluxe Edition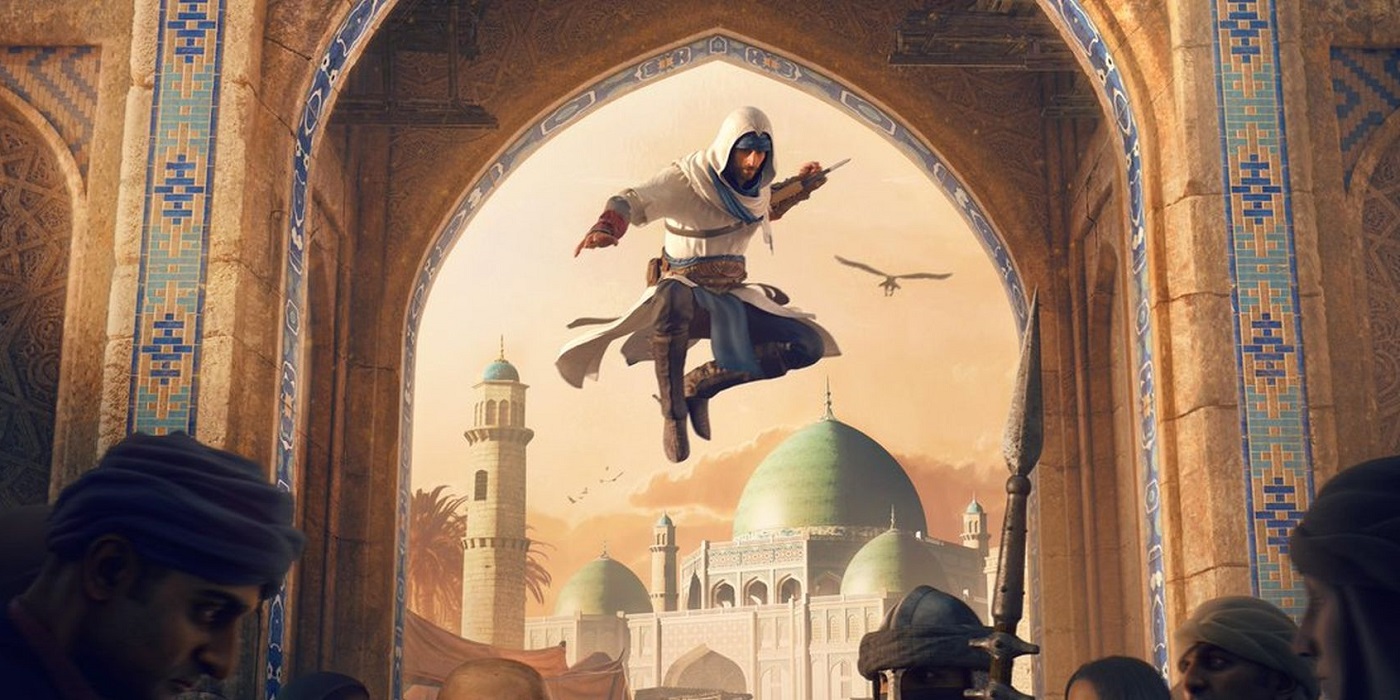 Here's exactly what comes in the Standard Edition and the Deluxe Edition of the game to help decide which one is best for you. In addition to the versions described below, there's also a version of Mirage that includes physical bonuses (Collector's Case Edition). But we're going to focus on the purely digital versions below.
No early access this time around if that's what you're wondering!
Assassin's Creed Mirage (base game)
Pre-order for the bonus quest "The Forty Thieves."
AC Mirage (base game) + pre-order bonus
Digital Artbook
Digital Soundtrack
Deluxe Pack – "Prince of Persia"-inspired outfit, eagle & mount skins, weapons, and more…
Is There Online Multiplayer or Local Co-op?
Assassin's Creed Mirage is a strictly single-player experience. There is no online or local multiplayer gameplay supported. Perhaps we will see the addition of a competitive multiplayer experience like the one featured in AC Brotherhood or Black Flag– but only time will tell. Something similar to GTA Online in the detailed open world of Mirage sure would be an assassiny good time…
Check out this list of The Best New Games in October for even more great titles to play!
And be sure to follow us on Twitter, Facebook, and Instagram for more updates on the latest releases!